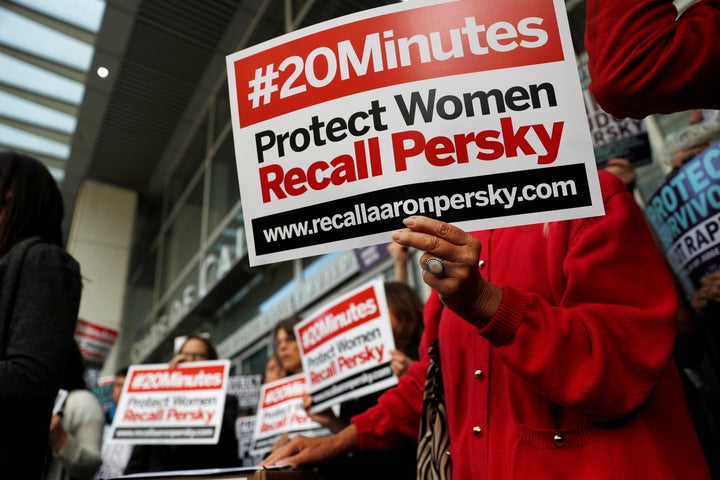 A juror who served in the Brock Turner case had some strong words for Judge Aaron Persky: "Shame on you."
The male juror, who chose to remain anonymous, recently sent a letter to Persky expressing his "shock" and disappointment at the judge's "lenient" sentencing of Turner, the ex-Stanford swimmer convicted of sexual assault.
"After the guilty verdict I expected that this case would serve as a very strong deterrent to on-campus assaults, but with the ridiculously lenient sentence that Brock Turner received, I am afraid that it makes a mockery of the whole trial and the ability of the justice system to protect victims of assault and rape," the letter read. "It seems to me that you really did not accept the jury's findings. We were unanimous in our finding of the defendant's guilt and our verdicts were marginalized based on your own personal opinion."
Turner was arrested on Jan. 18, 2015 after two Stanford graduate students who were cycling by an on-campus frat party spotted him "thrusting his hips atop an unconscious woman lying on the ground."
One of the grad students allegedly shouted at Turner, prompting him to jump off the victim (referred to in the letter as Emily Doe). The student then pursued Turner, who ran from the scene.
In justifying the light sentence, Persky said Turner's age and lack of criminal history factored into his decision.
"A prison sentence would have a severe impact on him," said the judge. "I think he will not be a danger to others."
In the letter to Persky, the unnamed juror in the Turner case slammed the judge for perpetuating a culture that fails to protect survivors of sexual assault.
"Justice has not been served in this case," the juror wrote. "The jury's verdict of guilt on all three felony counts of sexual assault was completely disregarded in an effort to spare the perpetrator a 'hardship.' What message does this send to Emily Doe, and indeed all victims of sexual assault and rape, especially those on college campuses? Your concern was for the impact on the assailant. I vehemently disagree, our concern should be for the victim."
Popular in the Community