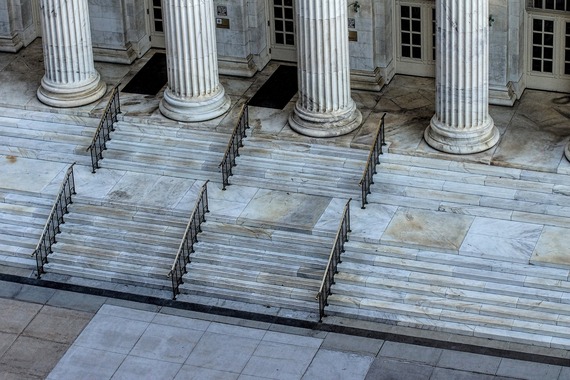 Image: Court. Stock Photo. Pixabay.com
It's no secret that corruption is rampant in most countries in the former Soviet Union.
What usually comes to mind when we think of such graft is monetary gain: an official getting a bribe in return for his signature on a building permit, for example.
But corruption in the region doesn't always involve a money payoff.
The reward can also be a prize in an academic, music, sport or other kind of competition -- or even a beauty-pageant crown.
A friend who teaches at the highly regarded Kazakh Turkish Girls School in Almaty gave me a firsthand account a few years ago of corruption in an academic competition there.
In addition to teaching Kazakh and Turkish, the school has what most educators agree is Kazakhstan's premier English-language-skills program.
My friend, whom I'll call Ali, had the best English student he'd had in years. He was sure she would win the national high school competition for best English speaker.
To take part in the national competition, a student first had to win a top prize in a regional competition.
Ali watched his student with pride as his student blew away the other contestants at the regional event.
His pride turned to shock when the judges awarded first place to a girl who Ali said "couldn't even string two English sentences together."
It was obvious that the winner's family had bribed the judges.
The normally mild-mannered Ali protested so vehemently about the miscarriage of justice that the judges actually reversed themselves and awarded the gold medal to his protege.
It was a pyrrhic victory, however. The incompetent English speaker won the much more important national competition, with his student coming in second. This time Ali's protest failed to reverse the blatant bribery that had occurred.
The worse part of what happened, he told me, was how cynical his student became after being deprived of an honor that was rightfully hers. She asked why she had bothered to study so hard when a fistful of cash could ensure that the top prize would go to a lazy student.
At first glance, you might wonder why someone would bother trying to fix what in the former Soviet Union is called an Academic Olympiad.
It doesn't take long, however, for you to realize that students' victories in national competitions can lead to admissions at top universities and full-ride scholarships. And those plums, in turn, can assure a student of having a good career upon graduation.
In the past several years news accounts of rigged music competitions have popped up in a number of former Soviet countries.
A prime example was the Aram Khachaturian International Violin Competition in Armenia's capital of Yerevan in June of 2015.
Twenty-five students from 17 countries took part. The awards generated howls of protest. Two of the five prize winners were students of competition judges and a third was a student of the event chairman's mother.
There have been allegations for decades that the Russians, and the Soviets before them, have cheated at the Olympics. I'm not talking about doping, which the Soviets and Russians have wholeheartedly embraced. I'm talking about bribing judges in competitions where evaluations of athlete performance is subjective.
Most of the time, suspicions of competitions being rigged in favor of Russian athletes can't be proven. But sometimes evidence of bribes does surface -- such as in the 2002 Winter Olympics in Salt Lake City, Utah.
A few months after the competition, in August of 2002, Italian police arrested an ethnic-Uzbek Russian mafia figure on allegations that he used bribes to fix Olympic skating events.
U.S. prosecutors alleged that Alimzhan Tokhtakhounov conspired to have Russian and French judges award gold medals to each other's teams.
"The disclosures reignited the international controversy that flared in February, when a French skating judge said she was pressured to cast a deciding vote for a gold medal in pairs skating to the Russian team, even though many experts believed the Canadian pair of Jamie Sale and David Pelletier had deserved to win," the Los Angeles Times reported.
American prosecutors alleged that Tokhtakhounov's motivation for fixing the events was to curry favor with the French skating team that he could parlay into an extension of his French visa.
Usually the goal in Olympic jury rigging is more sweeping than something as mundane as obtaining a visa extension.
The Soviet Union, and Russia after the break-up of the USSR, have used Olympic victories as propaganda tools as a way to try to show the world the superiority of their systems.
Sometimes jury rigging in the former Soviet Union is so blatant that it's almost comical.
That was the case in the 2006 Mrs. World competition in St. Petersburg, Russia.
The first thing that occurred to stack the deck in favor of the Russian competitor was that Russian immigration officials refused to grant visas to 20 of the competitors from other countries.
Thirty-six of the 37 competitors who were allowed to show up didn't realize until the end that they had had no chance to win the crown.
When the smoke cleared, the winner was Russian ballerina Sofia Arzhakovskaya, who was by far the youngest contestant at only 18 years of age.
Her husband, 50-year-old Sergei Veremeenko, co-owner of the Russki Ugol mining company, had obviously plunked down a hefty chunk of money to stay on the good side of his beautiful young wife.
When other contestants asked the jury chair, David Marmell, how much Veremeenko had given him to rig the competition, Marmell tried to joke it off, saying he had needed a "couple of bucks."
Marietta Shipindell, the 2005 Mrs. World, was one of those who failed to see the humor in it. She vowed that she would do everything she could to make sure Russia never got the competition again.
Although the jury rigging shocked those contestants who were from outside the former Soviet Union, it didn't shock those living in the region. That's because fixing beauty pageants is common there.
Why would you pay a bribe to assure your girlfriend or daughter a beauty crown?
In some cases, it's a simple matter of a briber trying to make a loved one happy.
Beauty-pageant victories offer payoffs far beyond feel-good rewards, however: A crown can open the door to a lucrative acting or music career.
Those of us who live in the former Soviet Union know from hard experience that in any given competition in the region -- academic, music, sport, beauty or whatever -- the fix may be in.
So we've learned to take competition outcomes with a grain of salt.
If you're coming in from outside to take part in a competition in the region, I have a simple piece of advice for you: Buyer beware.
Armine Sahakyan is a human rights activist based in Armenia. A columnist with the Kyiv Post and a blogger with The Huffington Post, she writes on human rights and democracy in Russia and the former Soviet Union. Follow her on Twitter at: www.twitter.com/ArmineSahakyann
REAL LIFE. REAL NEWS. REAL VOICES.
Help us tell more of the stories that matter from voices that too often remain unheard.