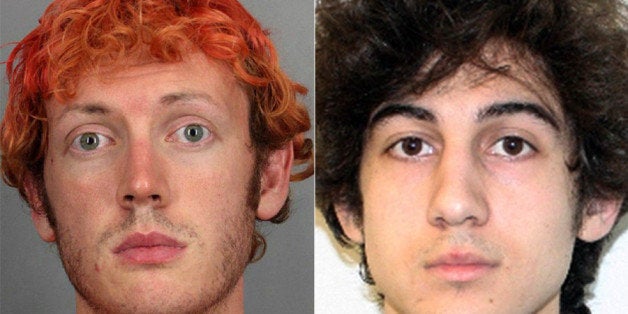 Heather Abbott is wearing high heels again, and that's no small accomplishment.
Time hasn't been so kind to those who want to see 21-year-old accused bomber Dzhokhar Tsarnaev answer for his alleged crimes. Jury selection in the federal death penalty trial drags on, as it does across the country, in Colorado, where the state court trial of accused theater shooter James Holmes simmers in drawn-out jury selection.
A key reason for each trial's uncertain start date is the death penalty. While there are capital punishment advocates who want to see defendants in both cases pay the ultimate price, nobody denies that the slow progress frays nerves.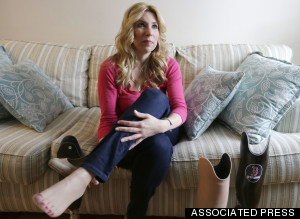 "I'm anxious for the whole thing to be over with," Abbott told HuffPost from Newport, Rhode Island. "It's almost two years [since the bombing] and that's a long time."
Tsarnaev faces a 30-count federal indictment, including 17 charges punishable by death, for his alleged role in the bombings that killed three and wounded 260, plus the fatal shooting of an MIT police officer.
Prosecutors' choice to seek the death penalty, numerous studies show, nearly guarantees that the trial will be far more expensive than If Tsarnaev were to face a maximum sentence of life without parole.
Unfolding in Colorado is the death penalty trial of James Holmes. He's accused of killing 12 and wounding 70 during a screening of "The Dark Knight Rises" on July 20, 2012. From the start, his trial also is destined to be slow and costly.
"If the government is going to charge death, it's basically going to be running the meter at a much faster rate," said Jon Gould a professor at American University who's studied the costs of federal capital punishment trials.
Cases where federal prosecutors seek the death penalty cost eight times more than cases where the death penalty is permitted, but not sought, according to a 2010 study co-authored by Gould. In Colorado, a 2013 study found that capital trials there consume six times as many days in court than "comparable" cases with prosecutors seeking a sentence of life without parole. Increased resources for the defense and expert testimony are some areas that soak up more time and money.
These reports don't factor in the extra appeals and access to lawyers guaranteed to death row inmates.
One area making death penalty cases more expensive is jury selection, and lawyers in Tsarnaev's trial are deeply mired in this phase because of the case's unique complexities.
Jurors must be open to imposing capital punishment, even though it has been abolished for state crimes in Massachusetts and unpopular with voters. They must also grant Tsarnaev a presumption of innocence in the most-publicized domestic attack since 9/11 at a cherished Boston event. His older brother Tamerlan was killed during the brothers' getaway.
"Right off the bat, we have an uphill battle," said James Acker, a criminal justice professor at the State University of New York at Albany, about the jury selection phase of Tsarnaev's trial. "Many people are going to have a very tough time saying, 'I can render a verdict based on what I hear in court.'"
The terrorism trial already lags behind schedule. To find what's called 12 "death-qualified" jurors and six alternates, U.S. District Judge George O'Toole cast a wide net, with roughly 1,300 people from eastern Massachusetts filling out questionnaires on Jan. 5.
Lawyers' opening statements were tentatively planned for Jan. 26, but the sluggish pace of finding qualified jurors forced the court to push the date back.
"The process of selecting a jury is … progressing, but in the interest of thoroughness is taking longer than originally anticipated," Ginny Hurley, a coordinator for federal court in Boston, said in a statement on Jan. 22. "It is not possible yet to specifically target a new start date." Another two days were lost this week due to the blizzard that covered parts of New England.
The challenges of assembling a qualified jury is unfolding on a massive scale in Holmes' 166-count indictment.
Sorting through 9,000 prospective jurors started on Jan. 20 and may not be completed before June. In the end, there will be 12 jurors and 12 alternates for a trial that probably will stretch into the fall.
The trials of Tsarnaev and Holmes are distinguished by clear differences. For one, Holmes will be tried in state court in Colorado, where there's been strong public support for the death penalty. Another difference is that Tsarnaev, 21, has pleaded not guilty. Holmes' lawyers concede he was the gunman, but have pleaded their client not guilty by reason of insanity.
The extraordinary measures to seat juries for these cases foreshadow the heavy commitment of money and time to be poured into them until a verdict is in hand -- and beyond, if the trials result in the death penalty.
It's imbalanced to make comparisons to life-without-parole trials, some death penalty supporters say, because only the worst of the worst crimes are punished by death.
"I don't think that dollars should be the controlling factor when we're talking about justice," said Kent Scheidegger, lawyer for the pro-death penalty Criminal Justice Legal Foundation. "I don't think doing whatever is cheaper, when we're talking about the worst cases, is very convincing."
Avoiding a lengthy trial for either Tsarnaev or Holmes hasn't looked likely. One of Tsarnaev's attorneys, Judy Clarke, reached life-sentence plea deals for Ted Kaczynski, the so-called Unabomber, and Jared Loughner, the shooter who killed six and wounded former Rep. Gabrielle Giffords in Arizona. But prosecutors in Boston don't appear interested in a similar offer. Prosecutors rejected an early guilty plea from Holmes to avert the death penalty.
It's tough to estimate the cost of these trials, as much of the information about spending is not publicly available, such as the budget set by the judge for Tsarnaev's public defenders. A gag order restricts information about Holmes' trial.
A Seattle University study published data this month showing death penalty trials cost $1 million more than life-without-parole cases in Washington. The public there, like residents in Massachusetts and Colorado watching the trials, should know how much prosecuting death penalty cases cost, said the report's co-author, Peter Collins.
"I want to know if they're being responsible with the money," Collins told HuffPost. "It's up for the voters and people we elect to decide."
CORRECTION: An earlier version of this article misspelled the name of the movie showing in Aurora during the mass shooting. It was "The Dark Knight Rises," not "The Dark Night Rises."
REAL LIFE. REAL NEWS. REAL VOICES.
Help us tell more of the stories that matter from voices that too often remain unheard.
BEFORE YOU GO
PHOTO GALLERY
Boston Marathon Bombing Anniversary