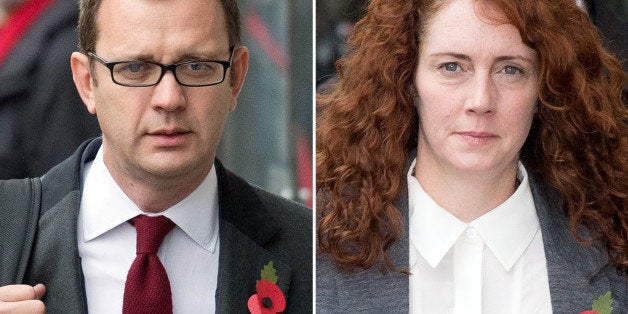 * Ex-News of the World editors Brooks, Coulson on trial
* Both accused over phone-hacking, illegal payments
* Five others, including Brooks' husband, on trial (Adds background)
LONDON, June 11 (Reuters) - A jury retired on Wednesday to consider whether two ex-Rupert Murdoch editors, one the media mogul's protege and the other a former close aide to the British Prime Minister, were guilty over phone-hacking offenses and illegal payments to officials.
Seven months of testimony have yielded graphic details about the "dark arts" of British tabloid journalism and its role in the unfolding of a scandal that has gripped not only Murdoch's empire but the entire British political class.
The jury of eight women and three men at London's Old Bailey court will have to decide whether Rebekah Brooks and Andy Coulson were complicit in illegal activities with their staff.
Brooks and Coulson are both ex-editors of the News of the World Sunday tabloid, a 168-year-old paper which Murdoch shut down three years ago when it was acknowledged staff working for it had hacked into voicemails, including those on the mobile phone of a murdered schoolgirl, Milly Dowler.
The trial has revealed hacking victims included Queen Elizabeth's grandsons William and Harry, and William's wife Kate. ***************************************************************
For previous stories from the trial click on ****************************************************************
Brooks, who later also edited sister title the Sun - Britain's top-selling daily paper - went on to become chief executive of News International, the British newspaper arm of Murdoch's News Corp..
Meanwhile, Coulson became media chief for David Cameron and stayed with him when he became Prime Minister in 2010. He quit the following year as the hacking scandal unfolded.
Since last October, the jury have been given an eye-opening taste of life inside the world of cut-throat tabloids, hearing about cases of bullying, lying, the payment of huge sums for salacious stories, and how one journalist even threatened a colleague with a replica gun.
There have also been appearances by figures including a former Archbishop of Canterbury, a senior royal aide and film stars Sienna Miller and Jude Law, who learned while giving evidence that a close family member had been paid for stories.
Public interest in the case was stoked by the revelation that Coulson and Brooks, whose papers had regularly exposed the affairs of the rich and famous, had themselves been involved an on-off affair running over a nine-year period.
"You are under no pressure of time and you must take all the time that you need to reach your verdicts," judge John Saunders told the jury. He had previously urged them not to be "dazzled" by the high-profile defendants and to ignore the vitriol directed at Brooks and Coulson in the past.
Brooks, Coulson and the paper's ex-Managing Editor Stuart Kuttner are accused of conspiring to hack voicemails on mobile phones.
Coulson is also accused along with the News of the World's ex-royal editor Clive Goodman of sanctioning illegal payments to police officers for internal royal phone directories, and Brooks faces charges she authorized some 40,000 pounds ($67,000) in cash payments to a Ministry of Defense employee when she edited the Sun.
The trial was told that in the two years before police arrested Goodman, when Coulson was editor, there were more than 6,800 hacking calls made by News of the World journalists or a private investigator involving over 280 victims.
Also on trial are Brooks' husband Charlie, her former personal assistant, and the head of security at News International, all accused of helping Brooks hide evidence from police. They all deny the charges, but if convicted, Brooks and Coulson are likely to face jail terms.
Dan Evans, an ex-reporter who has pleaded guilty to hacking under Coulson's editorship, said the practice was so rampant that even the office cat knew about it.
"We didn't have an office cat," Coulson quipped when he rejected this accusation from the witness box.
The phone-hacking affair dates back to 2006 when Goodman and Glenn Mulcaire, a private detective who worked for the paper, admitted illegally accessing voicemails on mobile phones of aides to the British royal family amongst others.
News International asserted at the time that the practice was limited to a single "rogue reporter", but since new evidence came to light in 2011, three former senior news editors from the News of the World have now pleaded guilty. (Editing by Ralph Boulton)
REAL LIFE. REAL NEWS. REAL VOICES.
Help us tell more of the stories that matter from voices that too often remain unheard.