"What have you done over the past four days?  Helped someone?  Sacrificed yourself for the good of others?  Inspired hundreds, if not thousands?
Me either.  But I know one woman who did all three.
Meet morphmom, retired Marine Major veteran,and my dear friend, Bridget Guerrero.
Some of you may have read my recent piece on US Navy Captain Nancy Lacore. Nancy founded Valor Run to honor 160 servicewomen who lost their lives fighting for our freedom in the global war on terror.  Bridget, who currently hails from Washington, picked up the baton and began "Valor Run NW", in order to continue the movement form the West Coast, vowing to run 160 miles around the Puget Sound in honor of these fallen female heroes.
True to form, that's exactly what Bridget did.  Forty miles a day for four days.
The outpouring of support she garnered is almost as inspiring as the feat itself.  Some came to cheer her on.  Some -- Bridget's husband and kids included -- followed behind in an RV with provisions and medical supplies.  Others set up support stands at various check points along the route. Still others jumped in and ran or walked for bits and pieces of the course.  Some wept silently with fellow sisters- and brothers-in-arms.
Many came to remember and honor their lost family members and friends, flying in from across the country or providing virtual support online from all around the world.
And all of the while, Bridget just kept running.
But my description of her four-day odyssey can never do it justice.  Instead, I share with you below some excerpts from Bridget's own reflections following each of those four days.  Take it away, Bridget ...
Day 1: (40 miles completed)
What a day full of emotion, love and remembrance. The morning was really emotional. Joining us at the memorial ceremony was Re McClung, Gold Star mother of Major Megan McClung, who was killed in Iraq in 2006...[Began the day with] a remembrance of the bravery of our servicewomen, highlighted the fact that our fallen women are not victims, but women of strength who answered the call to serve. After the service, we headed out, walking the first mile..and then I was on my own...I was running my last few miles of the day... and a man pulled his car off the road ahead of us., and stopped to give us every last dollar in his pocket. He also proudly shared that he was a Navy dad, and his daughter was in the process of changing duty stations from Bahrain to Suba Bay, Greece. His gesture reenergized me for the last few miles. I finished feeling so loved by my support crew. My son, Sam, kept me on schedule with food, hydration and smiles, and my husband kept us all safe and sound as the "rear guard" with the RV. I feel great now, and am hopeful tomorrow is as inspiring as today.
Day 2:(80 miles completed)
Pain is weakness leaving the body. Once a Marine always a Marine.
And Day 2 is down- Harder than yesterday, not as bad as it could have been. We started the day off with a beautiful memorial ...a reminder that the Fallen are part of God's greater being now, I stepped off feeling at peace. That is, for 30 seconds..... I dodged semi's on roads with no shoulders and was attacked by a dog. I was so relieved to get to an area with sidewalks and relative safety, even if it was just a big shopping mall. The Honor Station at Cabela's was run by a very large group of super loving people... The station looked beautiful, and the people were even more spectacular... three phenomenal Harley riders from Combat Veterans International motorcycle club escorted us through Everett. They literally wrapped around us (with Dan behind) so we could run in one full lane of traffic. This kept me off the up and downs of the sidewalks for about two hours- luxury travel, for sure. Again, this afternoon was highlighted by people stopping to hand us donations..Super cool, and truly another great day out there. Thanks to all of you for your love- it has kept me going.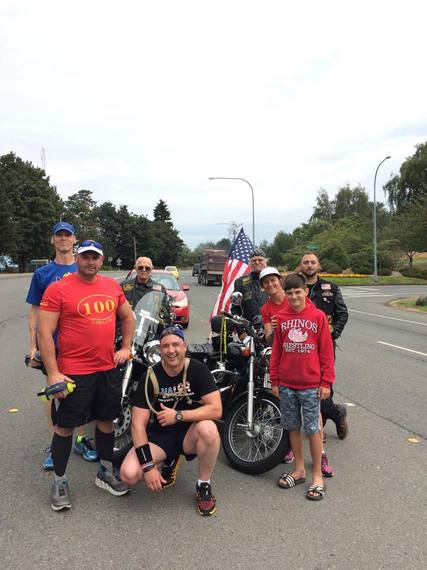 Day 3:(120 miles completed)
How'd it go? Awesomely magical, thanks to friends and family. I have to start with 3am to do it justice. Woke up like one of those women in the Niquil commercial, eyes wide open, thinking the following thought, "Holy makerel, I just passed the half way point. Wait, that means I'm ONLY half way and this is L.O.N.G." Then I forced myself to give it up to God, reminding myself to continue to pray at every mile, savor every minute and love the sense of comradery and commitment to the fallen. I decided to eat again and I opened up FB. Suddenly, I noticed a message from Matt Denney, 29.5 years a Marine and adventure racing partner from 1995 (yep) who now lives in Bend, OR. Message says, "Flying to Seattle tomorrow. Arrive at 0730. Renting a car and I'll find you." What? A friend, doing this for me, for those we are honoring. How can it be a bad day?... We had a very big crowd, and about 25 people walked the first mile with me. ... My jogbras have ripped up my back... while Dan painted some dreadful second skin solution on my back which almost made me cry. Another great friend joined me [with] natural wonders (chia, beet juice, enzymes, etc). Unfortunately, I probably saw her a half mile too late, as the stomach totally went south as we left the station. It was a very difficult 6-7 miles, and I am so thankful to those running with me who nursed me along. I felt horrible, but incredibly loved by crew and runners. One more day of this- what a bittersweet feeling. I've lost 3 toenails, worry a little about my belly for tomorrow, have a road rashed back, and yet, can't believe how lucky I am to be able to honor our female servicewomen in this special way. Until tomorrow......
Day 4:(160 miles completed)
We're done. We're all done, and it feels so strange..It's just so hard to process. The Valor Run NW is complete, and it was an emotional, life changing experience. I am grateful to Nancy Lacore for ValorRun.org, for her grace in allowing me to do the run out here, and I am so profoundly grateful for the friends, family and new friends I have met along the way... I decided to start at 0630 as my stomach went bad yesterday, and I didn't want to arrive at 8pm at the finish! ... I quickly realized my stomach was going to be today's issue today, too, so I called in the "911" to the crew to pick up chicken soup. They came back with a six pack, and that is pretty much what I ate all day. It worked! The running got easier and easier, and I found I was actually hours ahead of schedule. Volunteers scrambled to meet on time, and I tried to walk a little to slow it down. I don't know what happened. Just had to run. ... As I was eating, I heard a little voice outside the rig I recognized... a 6th grader, with his mother, [his] dad was a Marine and he was inspired to run a few miles- with a Marine Corps flag! ... The only problem? We were in Dupont before any of the finish line friends! What to do but run a few extra miles. I have no idea how many extra we ran, but I think it was 2 or so. We finally decided to run in, along a row of the fallen from Dupont which were placed by 7 year old Blake, who lost his dad 5 years ago. At the end of that row was the Patriot Guard Riders, who were lined along the road with American flags. (A little while later, I was honored to receive their ceremonial coin.) ...
I feel a quiet melancholy...that very long events strip you down to the point where you are completely at the "essence" level, almost apart from your body. When you are there, you really can transcend and see and feel things very clearly. I am glad I was able to feel the depth of the deaths of our fallen sisters so deeply, and to share the awareness of the female servicewomen's losses with so many people. I thank each of you who helped me out there on the course, for those who sent me messages of inspiration, and for those prayed for our safety while we ran. It is done, but the memories of the fallen won't be forgotten.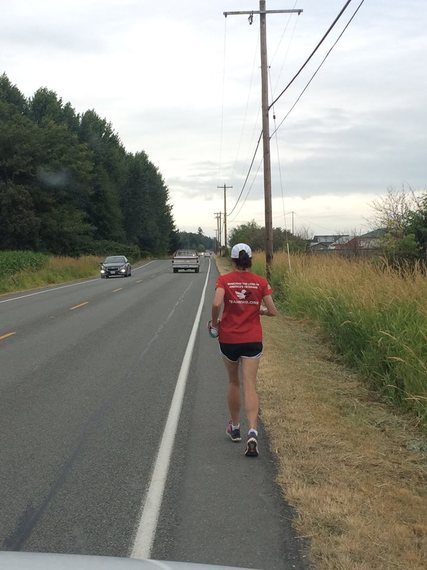 Her back scored and bleeding, three toenails gone, her stomach churning, through tears and pain and illness ... Bridget kept on running.  For her fellow sisters and mothers and wives and daughters and friends who gave their lives for ours.  And because her pain and sacrifice was nothing compared to theirs, or to that of their families.
But what Bridget, as humble as she is tough, did not -- undoubtedly still does not -- fully comprehend is the lasting impact that what she calls her "tiny" gesture had on so many of us.
As Bridget kept on running, we kept on watching.  And being inspired, motivated, educated, moved to tears.  And, perhaps most importantly, challenged to look inward and reassess our own fortitude, our own charity.  To ask ourselves how we might use our next four days and the rest of our lives to inspire, to motivate, to educate and to honor others.  In short, to do for others what one incredible morphmom -- through her strength and sacrifice and literal blood sweat and tears -- did for the families of the fallen and for all of us.
Visit morphmom.com to read Bridget's journal in its entirety.
Calling all HuffPost superfans!
Sign up for membership to become a founding member and help shape HuffPost's next chapter