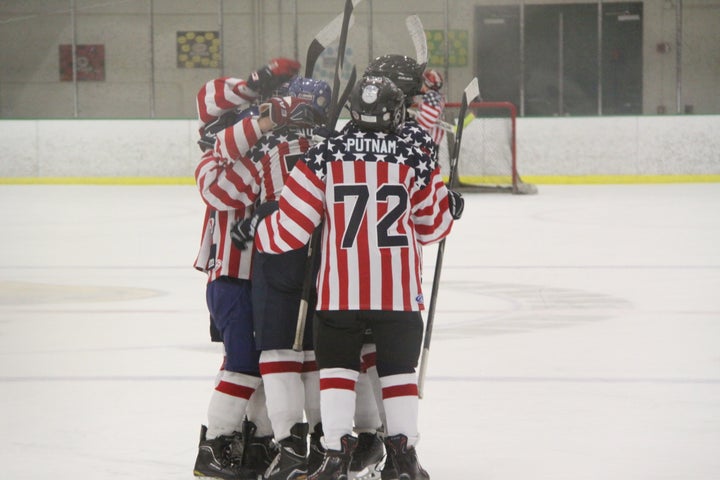 It happened again last night. My family was out to dinner and the waitress noticed my son's Bauer hockey jacket with his youth hockey program patch on it.
"What level hockey do you play?" she asked.
And then she said the words we have become so accustomed to hearing in this hockey-loving city we call home: "Oh, just house? My son played travel."
Yes, my son plays "just house."
House hockey is the lowest level of youth hockey a kid can play. It's traditionally less competitive, cheaper and less demanding (schedule wise) than its big, more popular, brother "travel hockey."
Many kids start out playing "house" and then transition to travel, but some do not. Yes, there are those who never leave the house level because their skills never develop enough for travel play, but that's not usually the case.
Most of the families we've met during my son's nine years of house hockey are there by choice. Their sons and daughters are "good enough" for travel, but travel isn't the right fit for their family.
"From passion to commitment, there is nothing "just" about him or any of his house hockey coaches or teammates."
For some families, travel hockey is not an option financially (travel hockey is significantly more expensive - often by one or two thousand dollars). For other families, parent work schedules make travel hockey's intense practice, game and out-of-town (sometimes even out-of-country) tournament schedules impossible.
And for other families, like mine, having another child with special needs means the best we can give our hockey player - from a time and commitment standpoint - is house.
For our family, the demands of house hockey (practice at least two nights a week and games on the weekends) is even too much at times, but we make it work because hockey is our son's passion.
Yes, hockey is our house player's passion.
From passion to commitment, there is nothing "just" about him or any of his house hockey coaches or teammates.
These kids love hockey just as much as the travel kids in their leagues. In some cases, I would venture to say they love it even more. My son is regularly mocked and told he "sucks" by a travel hockey player at his middle school for playing "just house," but he doesn't care. His love for the game overcomes all.
My son has house hockey teammates who, without a doubt, are good enough to make their high school's varsity teams. Will they ever make the NHL coming from a house level? Odds are no, but so are the odds for a travel player.
My fellow hockey parents at the house level sit in the same rinks as the travel hockey parents.
We can tell you the coldest rinks in the region, where every Tim Horton's in an hour radius is located and tie skates with our eyes closed.
Our SUVs also smell like a locker room and we have just as much pride in our sons and daughters when they're named MVP of a game as travel parents do. Like travel hockey families, hockey is a huge part of our lives and our teams become our extended families and best friends too.
The coaches who coach house hockey are just as committed to their players and the game as travel coaches.
They must re-arrange work schedules to make their hockey schedules work, spend their precious downtime writing drills and reviewing tape, and handle the same issues in a locker room that travel coaches do (yes, house kids get angry or sullen when they don't perform at their best level too).
Teenage house hockey players have the same crazy hormones teenage travel hockey players have, and those hormones belong to the coach many hours a week.
If I had one wish for my hockey player when he grows up, it would be that he always continues to always love the game.
I hope he always remembers his years at the rink with fondness and pride and that if anyone ever asks him if he played travel or house as a kid he replies: "I played hockey."