I'm just a mom of four with a body that says she's no elite athlete. Dark circles under my eyes, crow's feet and soft in places that will never regain their firmness. A body stretched and expanded to great depths to hold an eight pound baby girl who initiated me into mommyhood, and again to hold 11 pounds and 10 ounces of the twins I didn't know I needed, and finally to carry the nine pound three ounces of a baby boy who would forever complete our family.
A mom's body that is imperfect, yet cherished by a husband who looks at me with eyes that say I'm beautiful even if what I see when I look into the mirror sometimes says otherwise. I see stretch marks and the changes carrying four children permanently did to my body. When he looks at me, it's as if he sees me of 10 years ago. I'm just a mom who can run circles around the me of 10 years ago, because older me has a strength that not only rests in my runner legs, but a strength in my heart that I can only attribute to motherhood.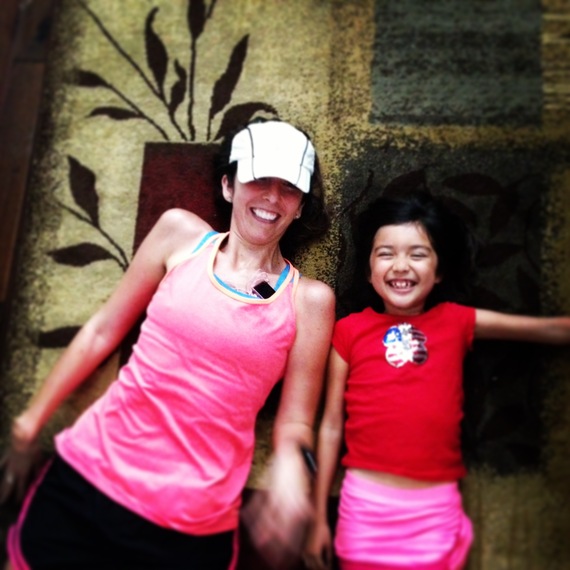 I'm just a mom and I'll never be the leader of the pack. I'll never win a race. I don't have any extraordinary talents or skills. But I have a mother's heart. A mother's heart is one that wants to do the best she can despite not knowing just exactly how to do that. My heart tells me it's what I do and the example I lead that will speak more than the words I use to try to teach my children. It's my heart, not talent, that gets me out running almost every day. Training for races I'll never win. It's heart that makes me lace up, head out the door and run for hours, wanting to quit, struggling during some miles, flying through others. Running fills me up while it strips me down to my core: heart and determination. Running reveals the best and worst versions of me all at once. Heart and pride.
And it's heart that I want to show my children, because when they ask: Mommy, did you win your race? I can hold my head high and say: No, I didn't. But I did my very best. If all they gave was their best in anything they choose to do in life, I'll know every mile, every tear, every struggle, was worth it.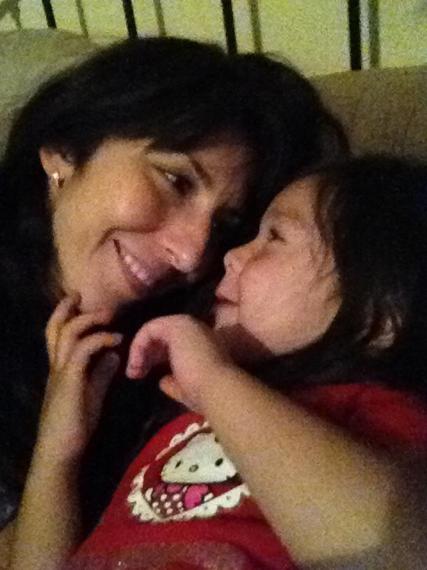 I'm just a mom who knows there is a certain comfort you leave behind the moment you meet your first child. They say there is a magic that happens out of your comfort zone. It's an indescribable feeling -- to be terrified, nervous and excited all at once -- is there a word for that? I wish I knew what it was. But for now, I'll call it magic. I've experienced the magic in moments as a mother and as a runner and a writer. There is a magic to meeting your new baby for the first time, running a new distance, pushing your body farther than you ever thought imaginable. There is a certain magic in writing and sharing my words. I often hold my breath, butterflies in my stomach, in the moments before I publish a new piece.
And I hope my children get to experience it, no matter how they choose to push themselves. I hope they don't settle for safe: I hope they search for the magic, no matter how uncomfortable it can be.
I bet you're just a mom too. Maybe a working mom. Or perhaps a stay-at-home mom. But your story reads like a beautiful novel filled with highs, lows and the everyday life moments. And it's your story that teaches your children, it guides them and helps them grow. Many will see these words -- Just a mom -- and think it undermines all that moms do to contribute to their families. But I no longer see it that way.
I'm just a mom, and I say it with love, pride and joy. I say it with the frustration, worry, and tears that all other mothers know. The most important job I'll ever hold. I'm just a mom.