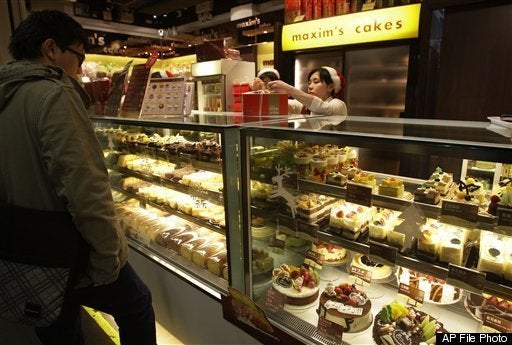 I awake at 5 AM to be limousined to the Indira Gandhi International Airport, where Lufthansa checks me into first class, wow. With some trepidation, though, because in the back of my mind is my posting of "India Sucks," where I criticized customs in Delhi. But I pass through immigration with ease. I was about to have a croissant and capuchino breakfast in the Lufthansa lounge when a uniformed official asked to see my boarding pass (BP). He then orders me to accompany him, for there was a problem with my check-in baggage. Oh no, maybe another extortion scheme?
I imagined all sorts of worse case scenarios. Maybe someone had somehow snuck in a pound of heroin or a bomb into my baggage. We passed through a security gate, where a second uniformed officer, this one with a rifle, accompanies us, and into the bowels of the airport. I've traveled more than 2 million miles on United Airlines alone, perhaps ten around the worlds, and this had never occurred. Then I thought, yikes, that article must have really pissed off someone, and I was headed before an execution squad. Well, Cambodia, maybe, one of my previous stops on this trip, but certainly not India. To make a long story short, after another half hour of sheer agony, they just wanted to check on a cigarette lighter. But the stress was so intense that upon returning to the lounge, I fixed myself a stiff Bloody Mary.
I then went to my gate, but learned that there was a two-hour delay. No problem, at least I made it this far. Finally I boarded, and the 8-hour flight was about the best I've had in all my years of flying.
I was offered a Champagne Veuve Devaux with macadamia nuts. According to the write-up, the "freshness of the chardonnay knits perfectly with the fruit and opulence of the pinot noir." In case you did not know, this combination (with Pinot Meunier sometimes) is what goes into champagne, and this one was the winner of the Lufthansa blind tasting.
In the air, my hostess, Emma, passed out Lufthansa pajamas and three large booklets, one each for the two meals and a third of the beverages. I thereby, then, although Pearl would most certainly not have approved, decided to break the Guinness world record for the most esoteric assortment of alcohols imbibed on one flight.
My first ordered drink was a La Guita Sherry, a Manzanilla. If you're counting, I'm now up to three. With the Serrano Ham and Milan Salami I had a Kaseler Nies'chen Riesling (#4), from the top vineyard in the Mosel Valley. Quoting again: "racy acidity, classic minerality and restrained sweetness." Various cheeses then came, followed by an omelette of smoked salmon and creamy spinach, with pineapple stuffed pancakes. This was yet only breakfast!
I ended the first meal with a Niepoort White Port (#5), which had been aged for 10 years. Yes, white port, which actually is golden yellow. I had a Johnny Walker Blue scotch (#6) with the first movie and Warsteiner Premium Verum (#7) with the second.
The next meal started with real caviar and traditional garnishes, including a special Smirnoff vodka (#8). I reflected on the irony of this feast as the plane flew over the Middle East War, but was troubled by this over the top decadence and mild alarm about my carbon footprint. Paul Theroux of Eastern Star fame would have taken a train, in third class. Maybe I'll initiate a new genre: high-end travel with Robin Leach-like flourishes, plus the occasional Indiana Jones adventure.
I skipped most of the rest of the meal, save for a Pomfret in Saffron Sauce with Fettuccine, accompanied with an Ihringer Winklerberg Spatlese trocken (#9), a Pinot Blanc "with subtle aromas of vanilla, pear and citrus fruit." This all ended with a Pfalz Chardonnay Eiswein (#10), balanced with an expresso, topping this all off with a Calvados Pays d'Auge (#11). Actually, much of all the above were mere tastings. I did not truly consume every drop. You can ask Emma, who was a most gracious and accommodating partner in this epicurean experience. Details with photos can be found at Planet Earth and Humanity.
The flight continues, and the plane landed in a Munich whiteout. I struggled to ease into the Senator Lounge passing through a mob outside. Most departures had been canceled, and the line to re-process was at least 200, if not 300, yards long. This was not single file. It was about 5 people wide and not moving at all. Amazingly enough, as I look at my continuing flight ticket, Lufthansa had the foresight to re-book me on a later Barcelona flight, and this one was to leave in two hours. I check the board, and, yes, 95% cancellations, but DLH 4484 still there.
Unfortunately, the snowstorm worsened, and the plane did not leave until midnight, five hours late. But this was one of the few flights allowed to take-off. I did, though, need to first delicately traverse 20 yards of 6 inch high powder snow wearing standard dress shoes and a light sportcoat through a blizzard from the bus to the plane. But I just saw thousands in panic wondering what they were going to do, so I smugly tolerate this harsh environment.
Two hours later I landed in Barcelona. In fact, my two bags were the first to appear. Again, just a step before freedom, was asked to have my bags x-rayed in a side room. The setting was uncomfortably perfect. I was the only passenger, they saw a computer in my luggage, and they essentially asked the same question as in India. Theirs was, "how many computers do you have in this suitcase?" I said one. "Is that all," says the official? Yes (although I could have added, I have another one in the other bag, but didn't). He kind of shook his head and I thought, okay, how much do I need to pay? Well, he said fine and helped me place my luggage onto the cart and waved goodbye to me. My relief was overwhelming. Spain's Corruption Perception Index is 6.1, compared to #1 New Zealand at 9.4, and the U.S. at 7.5, versus India, with a 3.4. The rest of my stops will be in countries with a CPI higher than the USA.
This is not quite all. It turned out that I had made a brilliant decision the day before, having given the option of being picked up by the Barcelona Le Meridien for 66 Euros (about $100), but I said no because there was a clause that said if the driver had to wait, it would cost 66 Euro/hour. My plane was 8 hours late, so I would have been charged almost $1000. I ended up paying 40 Euros for a cab, but there is a surcharge after midnight, and I added a generous tip. Twenty fours after waking up today, I have survived India and am now in Spain, exhausted, but euphoric.