Indagare's Features Editor, Amelia Osborne, recently returned from a safari in Namibia. The trip began with a visit to the famed Sossusvlei sand dunes, continued north to the haunting Skeleton Coast and ended on the Angolan border, home to the beautiful Himba people. Here, she writes about the country's magnificent power.
Silence. It could be the answer to a riddle. "What do you hardly ever notice when absent, but find yourself unconsciously craving?"
No safari is a loud, riotous affair, of course, as silence must be maintained to not disturb or alarm the wildlife. But there is something very serene about Namibia, its harsh desert and emptiness romantically dramatic--2.2 million people live in a country the size of France and Germany put together. In this, the second least populated nation in the world, wind reigns supreme, responsible for both the landscape and the soundtrack, and it seems to wipe away all existence of human life. The best camps are tiny, with around eight rooms, and are located in the midst of daunting wilderness. Excursions are via Land Rover and typically make no use of roads.
When passengers board one of the small bush planes at Windhoek airport, they are offered brightly colored, highly effective earplugs. Pop them in and the world goes muffled, becomes your own and your thoughts turn inwards. Thus begins the quiet that is a visit to Namibia. There are exceptions of course, like the purr of a grandmother elephant, crunch of sand underfoot and the southwesterly winds that blow through camp. But for the majority of a stay in the southern African country, all is still and visitors have the opportunity to feel utterly to themselves. This aloneness, and the serenity that should accompany it, is part of Namibia's allure. Fellow guest numbers are limited, excursions are private, and you might go a full day without seeing evidence of any other people.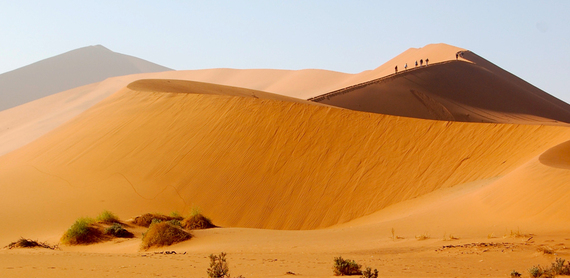 On my recent trip, to three of the country's most enigmatic destinations--Sossusvlei; the Skeleton Coast; and the section of the Kaokoveld on the Angolan border--I did not leave the desert for eight days, after which I returned, dusty, sunburned and awed into silence, back to the capital Windhoek. Visiting three very different landscapes (which are nonetheless all part of the same Namib Desert), I saw the Atlantic Ocean meet the great Namib Sand Sea, slid down sand dunes, watched brother lions feasting on a giraffe, sailed along the Angolan border spotting crocodiles, visited with a group of Himba tribeswomen and their toddlers, explored shipwrecks pushed miles inland, and contemplated the feasibility of smuggling a desert elephant home. Throughout it all, I found myself rendered speechless, as if I subconsciously knew to be quiet to let the experience sink in.
Now, more than ever, we must balance safety and awareness with the necessity of continuing to travel, to open our eyes to the world and to support the world's cultures. We cannot let fear lock up our passports. It is times like these when exploring the globe is most important, in fact crucial, to remind ourselves and teach our children about the world. We must be visitors and viewers and be quiet and listen. Through listening, we can mitigate horror stories broadcasted on the news of a world in danger with real experiences of a planet of magic. Yes, there is tragedy, but there is also beauty, and it can be found in an endless number of settings: through seeing familiar constellations from the Southern Hemisphere, from communicating with contemporaries who lead an opposite life and from feeling very small and very insignificant when faced at the meeting point of a seas--be it one of sand, one of ocean, or at the meeting point of both.
Indagare is a membership-based travel company with robust online editorial content, featuring staff-scouted destinations around the world, and a boutique, in-house travel agency. We travel, we write, and we plan memorable journeys for our members. Read more about Indagare.