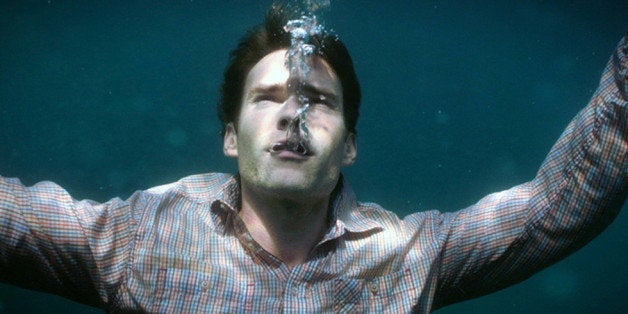 Courteney Cox makes her big-screen directing debut with the Tribeca Film Festival premiere "Just Before I Go," a juvenile attempt to sandwich an abundance of big issues between half-baked humor. The movie stars Seann William Scott as the down-on-his-luck Ted Morgan, a man who was bullied and lonely growing up. Now, Ted's wife has left him, leaving him to feel like there's no reason to continue living. Ted's last-ditch attempt to reconcile his past before committing suicide compels him to return to his hometown one final time. Along the way, he learns that he's not the only one whose will to live has taken a beating.
That setup gives way to a motley crew of relatives and classmates with whom Ted reunites. He crashes with his brutish brother Lucky (Garret Dillahunt), a police chief who has as many insensitive jokes as he does marital issues. Lucky's son happens to be a closeted high schooler (Kyle Gallner, in a touching performance that belongs in a far better movie than this) who confides in Ted after his cocky friends taunt his clandestine boyfriend. Lucky's taciturn wife (Kate Walsh) has a sleepwalking problem that prompts her to rise in the middle of the night to masturbate. Then there's a bully (Rob Riggle) who tormented Ted, a lunch-room romance he never embraced (Mackenzie Marsh) and an obvious new love interest, Greta (Olivia Thirlby), who's also the granddaughter of Ted's hateful seventh-grade teacher, whom he visits in a nursing home to relay the bitter feelings he's harbored for years.
The returning-home conceit is a common crux for self-realization movies ("Young Adult," "Beautiful Girls"), but here, any moments of honesty are cemented by hyperbolic humor that almost always rings false. David Flebotte ("Desperate Housewives," "Ellen") was unable to decide what type of movie he was writing, so he crafted 90 minutes' worth of tone-shifting turbulence. Cox does her best with the material -- a strange choice for a directorial debut, considering she financed the movie herself -- but the gag-heavy comedy (fat jokes, gay jokes, handicapped jokes) is disenchanting when meshed with sentiments about suicide and bullying.
"Just Before I Go" tries to be a movie about actualizing one's own condition while plagued with despondency. There's a way to blend death with farce, but it needs to be more seamless than this. Instead, the film takes a binary approach: Fun scene! Serious scene. Fun scene! Serious scene. There are a few good performances and comical moments ("Jesus, it's like 'Jurassic Park' when he walks," Tom howls upon encountering an old bully he was hoping to avenge), but where Cox and her cohorts were going for poignancy, much of what remains is perplexity.
REAL LIFE. REAL NEWS. REAL VOICES.
Help us tell more of the stories that matter from voices that too often remain unheard.