I didn't go to The Ashram with the intention of becoming a yogi. I went to shed the remaining eight pounds I had gained after giving birth to my second son and to take a mini-break from Motherhood. With a handful of almonds and some modestly portioned vegetarian meals each day, the weight melted away quickly. In its place grew a love for yoga that I did not expect. And like most people and things with which we fall in love, my attachment to my practice happened quickly, altering the course of my life forever.
The Ashram is located in Calabasas in the foothills of the Santa Monica Mountains just a few miles from the beautiful Malibu beaches. There is nothing posh or luxurious about it; the lodging is modest save the spectacular views. A unique part of its program is for everyone to rise slightly before the sun and go to the meditation and yoga dome that sits atop a hill with a beautiful view of the mountains. There one of the counselors guides you through a one-hour yoga session.
Breathing Past The Resistance
As an exhausted new mother to my second child, with tight hamstrings from playing tennis and hiking, I was not particularly happy about this. But I was there for a reason, so that first morning, I entered the dome gritting my teeth and with a sleepy scowl on my face only to be greeted by a curly haired exuberant man who stood at six foot seven inches tall named JB. He proclaimed proudly to us all that after one week in his morning classes; he would turn us all into devoted yogis.
I didn't believe him. All I wanted to do was shed my weight and nurture my sleep deprived self. But again, I was there for a reason, and so I persevered through what seemed to be an endless series of sun salutations for the next hour.
On the way out, JB commended me on the wide variety of tense facial expressions that I had exhibited during class. He assured me that enlightenment comes from letting go and tonight's class would give me another opportunity to do just that. I still didn't believe him.

Finding Enlightenment
But somewhere in the middle of that food-deprived week, my aching body and stressed out spirit did find happiness in downward facing dog. I learned that there is peace in letting go and breathing into a cobra pose and through whatever resistance you encounter. The enlightenment that JB had promised me after that first morning and I didn't believe was possible from a standing forward bend had come to be.
That is not to say any of this is easy. To this day, sixteen years later, downward dog is still my most challenging and confronting pose. No matter how hot the room is or how little I've hiked, my hamstrings are always incredibly tight. Each time I stretch into that pose and wait for my heels to touch the ground, they still don't. But I continue to use my breath to push past that resistance.
After a week of JB's voice guiding me through the poses, I took his number and followed up with him to continue my practices with a group of friends. Over the years, I have practiced various forms of yoga including Bikram, Flow, Yin Yoga, Iyengar, Ashtanga, and Hatha and am always discovering new ones. Last week I was introduced to a class by a friend taught by Suzanne Marlow at Yoga Soup. This practice called Insight Yoga, learned from her mentor Sarah Powers, combines the practices of Yoga, Buddhism, Taoism and Transpersonal Psychology with a Yin sequence of floor poses. Basically it took all of what I love about Yoga and meditation to create an appropriately named, insightful experience.
Like all practices, I now have my own unique formula, a little of this and a little of that, depending on the day and what my mind and body needs. I often go to group classes, but my regular practice is a private one that I do alone each morning and now combine with a thirty-minute meditation.
My commitment to my yoga practice is based on the fact that I need it to stay balanced in my life. Yoga keeps me grounded and focused and able to enjoy life no matter what challenges I am presented with simply by letting go and breathing into the stretches.
When I start my practice, the first thing I do is to sit on my mat and thank my body for bringing me there. I write three things I am grateful for in my gratitude journal, and then I set an intention for my session, which usually comes from Mark Nepo's; The Book of Awakening: Having the Life You Want by Being Present to the Life You Have. As I go through my poses, I look for where my body is tight. When I find it, I breathe in and through the uncomfortableness. I know from years of practice that to get to the sweet spot, sometimes we have to go through the tough ones. Even the smallest bit of muscle release can open up a whole new cavern in my mind. Breathing through these places of resistance brings me to a sacred place, that place that JB promised that first day, a place of enlightenment.
Sixteen years later, my yoga and meditation practice are my life guides. They bring me happiness and refresh my soul. With so much uncertainty going on in our worlds, this has become a talisman for my life. If you've never practiced, I invite you to give it a try. Just learning to breathe may offer you a new perspective on life.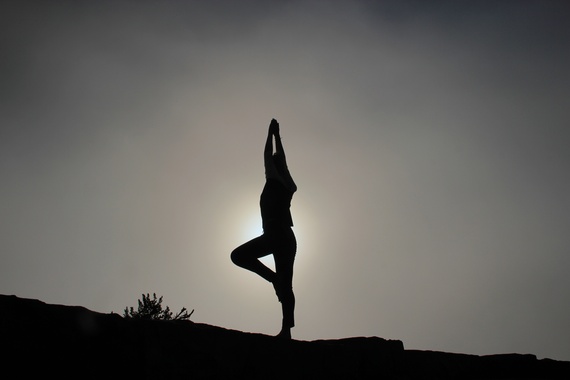 Calling all HuffPost superfans!
Sign up for membership to become a founding member and help shape HuffPost's next chapter