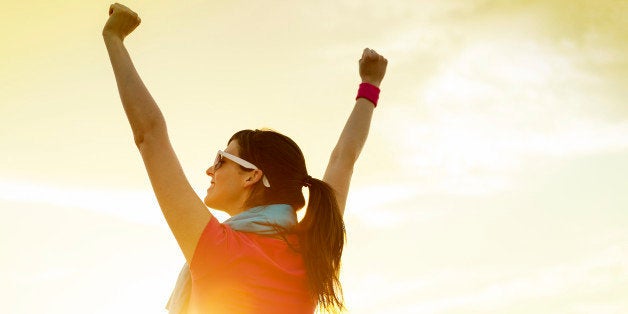 Bucket lists. New Year's resolutions. Vision boards on Pinterest. And even long Facebook statuses.
All commonly-used avenues for sharing goals.
Goal sharing is motivating, aspirational, and gives you a sense of accountability for sticking to what you've set out to do. However, goal sharing (prematurely, or even at all!) can actually be detrimental to accomplishing things.
I recently considered this idea and realized it's even been present in my own life. Think about it...

Have you ever shared a good in conversation with friends about wanting to complete a marathon? Learn how to speak a new language? Plan a trip to Europe? Or start doing more DIY projects?
These commonly come up in interactions with friends and family and they're usually met with affirmations, well wishes, encouragement, and expressions of being impressed. Just saying you're training for a marathon is enough to get all sorts of "wows" and positive jeers without even having completed it yet. This can feel motivating and encouraging... BUT it also gives you a false sense of accomplishment, ego, and confidence without having met your goal. The fact is, running a marathon isn't done until the moment you step across the finish line. At that point, all your training, hard work, blood, sweat, and tears have come to fruition. You can officially call yourself a marathoner and feel that ultimate satisfaction and fulfillment from completing a goal you set for yourself.
If you plan on running a marathon but have not signed up yet, committed to a training plan, or really even embraced all the time and effort that will go into it, then by sharing that "you're going to run a marathon" you may be filled with enough of a sense of achievement in that moment that you actually neglect to pursue that objective. This goes for ANY goal.
How many times have you started the year (or the week! or the day!) saying "this will be the year I finally do _____," only to make tons of plans in your head, share them out loud, and then get too distracted by everyday life to even start working to achieve them?
Announcing your plans out loud satisfies that part of your self-identity just enough to keep you from actually moving forward with them. Actions and simply TALKING about actions have the same effect in our minds. You actually get a rush of endorphins! They both create messages of accomplishment and achievement... but the latter can prevent you from pursuing the actualization of those feelings in your brain.
Worse? It can even become slightly addicting! The more often you share, the more often your brain is getting that high of potential success. You feel like you're victorious without having won yet. These seemingly positive, affirmative exchanges can actually feel as emotionally rewarding as achieving the goal itself. You start craving those feelings and seeking out ways to satisfy it. This leads to more sharing and less DOING overall. Soon you find yourself being a person of "all talk" and "no action." A disingenuous shell of the person you're trying to be.
In regards to the argument that sharing your goals with others keeps you motivated, keeps you accountable... consider this: Most people aren't regularly checking up on you or keeping track of your progress. In fact, they probably would forget about your plans unless you actually ended up accomplishing them and then shared the outcome in the future. If you think sharing your goals creates a healthy amount of pressure for you to accomplish them, then NOT sharing creates even more. Keeping things close to the cuff means you'll only be letting yourself down if you don't make it happen. The best accountability partner we can have in our lives is our own mind and conscience.
Sharing can even be negative if you let others opinions of your goals influence the way you go about achieving them or how you feel about them. Not everyone's priorities and interests are the same, so something you may be really excited about may seem pointless to someone else. In this case, the importance of your goal may seem minimized and less meaningful than it did initially. Other people's negativity or apathy towards something important to you may even stop you from beginning the your journey.
It may seem unnatural to not share plans or goals with others, but try your best to refrain or at least delay. Yes, sharing can give you an emotional and physical high in the moment. But if you save that payoff for the time when you actually accomplish what you've set out to do, you'll have lasting, physical experience to connect with and draw pride from whenever you want to. When your dreams, goals, and aspirations are realized... you'll be rewarded openly. Whether it be by those that are there to witness it or the immense sense of self-satisfaction and personal pride that will manifest within yourself!
Don't share for the sake of boosting your ego, for the sake of "keeping up with the Jones," for the sake of impressing the listener, or for conjuring fake victories for yourself. Instead, keep your plans private. Keep them personal. Keep them real.
If you do feel the need to share a goal (obviously there are some that are important to share like things that require collaboration with other people or where input from outside sources would be helpful!), make sure you have the right mindset and right intention behind it. Make sure you feel strong enough in your commitment to actually pursue and accomplish it. Otherwise, you're short-changing yourself of the opportunity to really get all you want out of life.
Related