When Mirabelle Harris first shows up in the new Amazon series The Kicks, it's like, "Okay, the mean girl is in the house."
Then an odd thing happens. Isabella Acres, who plays Mirabelle, not only makes her sympathetic, but kind of cool.
"She can seem standoffish, but there are reasons behind the wall she puts up," says Acres. "She's not your stereotypical mean girl."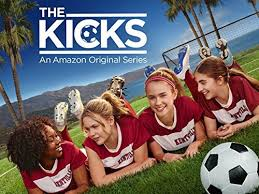 That makes Mirabelle (above, second from left) intriguing, which is pretty much the same thing that can be said for The Kicks.
Based on a series of books by U.S. National soccer team star Alex Morgan, The Kicks follows young soccer player Devin Burke (Sixx Orange) when her family abruptly moves from Connecticut to California and she has to find and fit in with a new school team, a plucky but ragged group that calls itself The Kicks.
Until Devin arrives, Mirabelle has been the best player on The Kicks. When Devin seems poised to take that role, Mirabelle responds by pretending not to care at the same time she's pointedly unpleasant to the newcomer.
That's where she starts to look like a mean girl, and where The Kicks, frankly, could become a show we've seen a hundred times before.
But it quickly becomes more than that, folding the new-kid-in-school story into the hard work of turning players in a team against the backdrop of inevitable junior high school drama.
It's an upbeat show. Its crises, while real, aren't dark. At the same time, it's funny and captures the tone of its almost-teenage characters in a way that feels true.
With Mirabelle, it's quickly clear that there's a lot we don't know. She covers it up less with nastiness, the trademark of mean girls, than with a biting sense of humor.
"There are reasons behind the wall she puts up," says Acres. "You'll start to see how she finally gets her guard down a little, but when it makes her vulnerable, she backpedals.
"Like, I think she does care about the team, but she tries hard not to always show it. So she has a hard time at first opening up to Devin."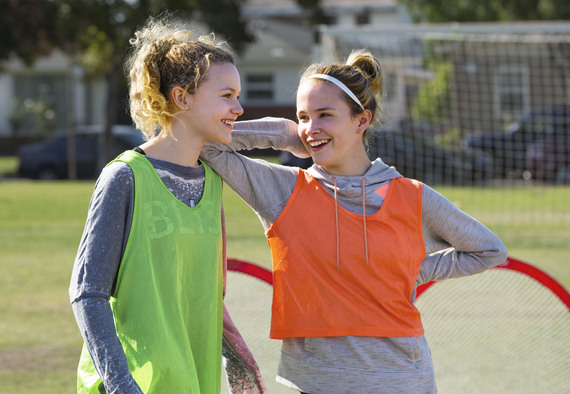 Mirabelle (above left, with Orange) has no aversion to talking in general. It just often comes out as an amusing and blunt observation with a sharp edge.
"I love her dry humor," says Acres. "She speaks her mind all the time, regardless of what other people think.
"Sometimes I wish I could be a little more like that myself."
Acres, 15, already does have a few things in common with Mirabelle, starting with the fact they're both pretty good athletes. Acres is a dancer, for starters. She runs 5Ks. She particularly loves tennis.
"When I saw this role," she says, "I thought, wow, I get to act and play soccer at the same time."
While everyone in The Kicks isn't a polished soccer player, some are, including Orange, so with a little help from the camera, the games look legitimate. That's refreshing, though naturally most of the action takes place off the pitch.
There's also a boys' team at the school and the players interact a lot, though the first season's episodes frame the relationships mostly in an athletic context.
"I honestly don't know if we'll get to boy/girl drama," says Acres. "In the book series, there are a lot of crushes and things. But in the show, we focus more on the girls. Maybe there will be some of that in the second series if we're fortunate enough to get picked up."
Some of the actors in The Kicks, including Orange, are relatively newcomers. Not Acres. She has dozens of screen credits, having made her TV debut at 6 in an episode of USA's Monk. She was Patrick Jane's daughter on The Mentalist and the precocious daughter for two seasons on Better Off Ted.
She has gradually moved through shows like Hannah Montana and Phineas and Ferb up to Desperate Housewives and Spoils of Babylon.
"When it comes to my career, I approach each role differently," says Acres. "I've been lucky in that as I've grown up I've gotten roles that are more mature too. They're harder, but being challenged is how you get better."
She had a role earlier this year in My Name Is Doris with Sally Field and Tyne Daly, which she calls an "incredible" experience.
"I'm a fangirl," she says. "The idea of even being in the same scene with them was just freaking me out. But I tried to keep my cool. I loved just watching how they worked, how they approached a scene."
Acres (photo above by Mike Rosenthal) is serious enough about the acting business that she says she's thought ahead to a time when she could write and direct, with a more immediate wish list that includes working with Jennifer Lawrence.
She might have to start writing just to keep up with her younger sister Ava, who is also an actress and who has already written a 100-page script.
Acres's career has been busy enough lately that she stopped attending regular school classes and now does online home schooling. But she says she still has time to be a regular person.
"I do all the normal things," she says. "When I'm not filming or doing schoolwork or playing tennis, I hang out with my friends. We go to the mall."
But she still tucks in time for a few new activities. Like the guitar, which she's teaching herself to play.
"My Dad taught me basic chords," she says. "Once you know the chords, you're able to play. I love Justin Bieber's songs, so I'm learning to play them."
Hey, there are lots of ways to get your kicks.
Calling all HuffPost superfans!
Sign up for membership to become a founding member and help shape HuffPost's next chapter