 The merchandising of the holidays has descended on us again this year, perhaps earlier and more ubiquitous than ever before. But if it succeeds in infusing our days that much sooner with the underlying spirit of what this time of year is supposed to be all about -- more about the giving than the getting -- then that is a good thing.
At ChildFund International, we rely on that spirit of generosity throughout the year, on people who contribute to improving the lives of thousands of children around the world, making them healthier, giving them greater opportunities to learn, providing hope for better tomorrows. But it is during this time of year in particular when we count on an extra measure of giving, and we seek to do that through our gift catalog.
The Gifts of Love & Hope catalog enables people to send items to those in need around the world. Think of it like a global "giving tree." Goats to a family in the Philippines. A sewing machine to a mother in Ethiopia. Bicycles to girls in Sri Lanka.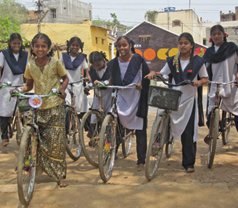 The catalog is not exclusive in its array of gifts of this kind -- there are other organizations through which many of these life-changing items can be sent. But the ChildFund catalog is unique in that the gifts that are listed in it have been specifically requested by local families and communities with the help of ChildFund staff, trained staff who have been working for years with these families in 31 different developing nations. Their assessments as to what is most needed are how the catalog items are selected. In other words, there is a direct correlation between what is purchased and what is requested, purchased delivered. What's more, the items included in the catalog are those we know will make a lasting difference, that will help sustain children and their families not just for days and weeks but for the long term. And all of the gifts come with training so that the recipients will make the best possible use of them. Above all, the goal is self-sufficiency -- and to spread a little joy along the way.
Toward that end, there is a critical need for animals. People in developing countries raise much of their own food, and livestock can provide a source of food and a means for raising money (e.g. by selling their offspring). Children also learn responsibility by assuming a role in the care of the animals. This year, goats are particularly in need -- in as many as 10 different countries. Goat's milk is high in nutritional value, and selling it (and the yogurt and cheese made from it) can mean steady income for the family. Camels, which are especially critical in drought-stricken areas like Kenya, enable people to tote large amounts of water to homes and villages that are not near clean water. Families also need chickens, oxen, sheep, pigs and rabbits.
In Bolivia recently, I visited a family who received the gift of a cow. The joy on their faces was every bit as effervescent as a child's opening a present on Christmas morning. But this gift will do so much more for them as well as for their community. As part of the arrangement, the family not only passes on the cow's off-springs to other needy families but is required to give one day's milk per week to the nearby early childhood development center. It truly is a gift that keeps on giving.
Gifts that enhance food production and greater nutrition also are in great need. Gardening tools enable parents and children alike to cultivate their land more productively. Fruit trees and vegetable plants not only yield food for consumption but for sale as well. And with close to 1 billion people around the world without access to safe drinking water, another important gift is the gift of water - given in the form of digging wells, building latrines and installing water catchment systems. In Vietnam, large stainless steel tanks to hold clean water also are needed.
Page through the catalog and you will find a broad variety of items that will help people on a daily basis. In Sri Lanka, girls need bicycles so they can get to distant schools. Ugandan children need mattresses so that they won't have to sleep on the floor. In Ethiopia, sewing machines can give girls a skill that will enable them to earn regular income. Malaria nets protect children from contracting the potentially deadly disease.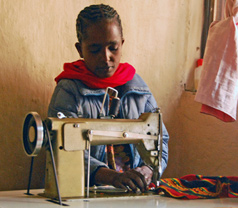 Toys and games cost as little as $8, with other gifts like medical supplies and engineering projects costing as much as $42,000 -- large-scale gestures that are perfect for schools, classes or community groups that want to raise money together toward a gift that will truly change people's lives.
The hustle and bustle of the holidays can conspire to distract us from the essence of why we celebrate them in the first place. As a reminder, we offer pages of gifts that will not only change the lives of some of the world's poorest people, but may also change your own.
Popular in the Community