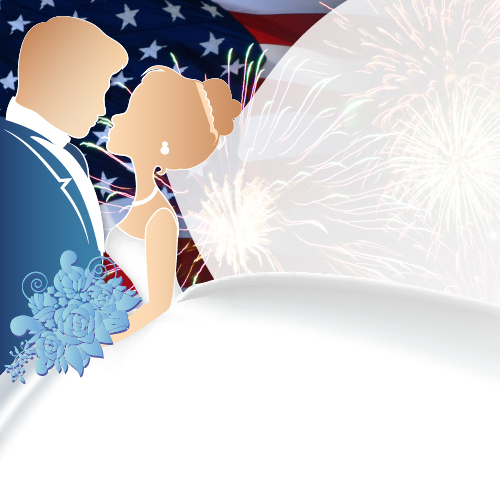 When I married my beautiful young bride in England many years ago, I was only a "three-striper" in the U.S. Air Force and my bride-to-be and I could have used some help with the costs of the wedding, especially with the beautiful wedding gown my bride selected.
While we managed to have a lovely wedding, it would have been nice if an organization had existed that would have given my fiancée her wedding gown.
Today, thanks to an organization called "Brides Across America" and 30 participating retailers nationwide, many military brides are receiving free wedding gowns.
Heidi Janson founded Brides Across America in 2008, inspired to do something special to express her gratitude for the dedicated men and women of our Armed Forces.
Her commendable effort grew from a small network that gave 50 wedding gowns to military brides in the first year, to a network of over 60 bridal saloons in over 40 states that has donated 15,000 gowns to military brides.
[Heidi Janson] said she had worried about the economic realities for military couples, especially those who were injured on active duty. The problem was brought home in 1991 when her sister found herself planning a last-minute wedding to a Marine who was deployed. Ms. Janson said, "I wanted to bring awareness to this issue and encourage military brides to enter a salon and enjoy the same experience as any other bride."
And she certainly has brought attention and empathy to the issue.
As we approach Veterans Day, I am happy to read in the Times that 30 unrelated retailers nationwide affiliated with Brides Across America, are "hosting weeklong Veterans Day gown giveaways as long as the bride or groom serves in the military."
One of those retailers is the Alfred Angelo dress chain which, with its 60 stores, will host "Operation Gown Giveaway" on Veterans Day, November 11, for couples on active duty.
The chain's vice president for retail operations, Leo Benoit, a Vietnam War veteran himself, tells the Times, "As I listened to brides in our stores complaining about deployments, coordinating their kids while keeping their lives in order, and dealing with the finances necessary to have a wedding, I decided to do something about it."
During a two-hour period on Wednesday (appointments are necessary), military brides can go to an Alfred Angelo store and select from a collection of 2014 and 2015 gowns ranging from $1,000 to $1,200.

"All a bride has to do is show us a military I.D. for herself or her fiancé, and she can walk out with a free wedding gown," said Mr. Benoit from the company's headquarters in Delray Beach, Fla.
Please click here to learn about other retailers that are participating in this commendable effort and about military brides who have already benefitted from their generosity and patriotism.
Lead image with permission: Alfredo Angelo Operation Gown Giveaway
REAL LIFE. REAL NEWS. REAL VOICES.
Help us tell more of the stories that matter from voices that too often remain unheard.