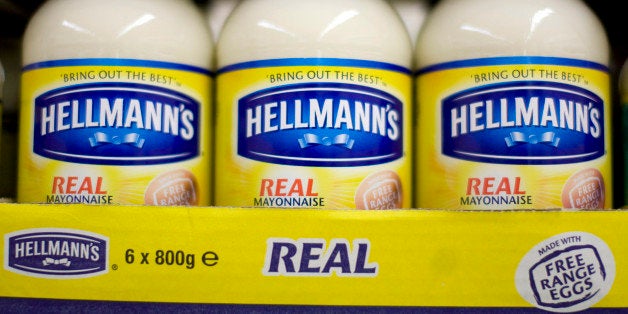 The maker of Hellman's mayonnaise, Unilever, on Thursday dropped its controversial suit against Hampton Creek, which makes Just Mayo, an eggless version of the sandwich spread.
Hellman's filed suit a month ago, accusing Hampton Creek of false advertising, leading consumers to believe they were buying traditional mayonnaise, which should contain eggs. The company said the U.S. Food and Drug Administration defines mayo as containing "one or more egg yolks."
Hampton Creek's CEO Josh Tetrick told The Huffington Post he always expected to emerge victorious in the case.
"We were on the right side of the law," he said in a Friday morning phone interview. "We have 'egg-free' on the front of the jar, it's right there for people to see."
The three-year-old San Francisco based company uses plant-derived proteins in place of eggs.
Hampton Creek has attracted attention and funding from billioniare Bill Gates, Paypal cofounder and venture capitalist Peter Thiel and Hong Kong magnate Li Ka-shing, the wealthiest man in Asia. On Thursday, the firm secured a $90 million round of funding, including investments from Salesforce founder Marc Benioff and Eduardo Saverin, the co-founder of Facebook.
The startup's elevated profile helped rally supporters against Unilever's lawsuit: A Change.org petition started by celebrity chef and Travel Channel star Andrew Zimmern amassed more than 112,000 signatures.
Unilever on Thursday put out a statement urging Hampton Creek to consult industry groups and labeling regulators to ensure the legality of its advertising, now that the lawsuit is over.
"We share a vision with Hampton Creek of a more sustainable world," Mike Faherty, Unilever's vice president of foods in North America, said in a statement. "It is for these reasons that we believe Hampton Creek will take the appropriate steps in labeling its products going forward."
Hampton Creek told HuffPost it has no plans to investigate its labeling any further.
Related
Popular in the Community