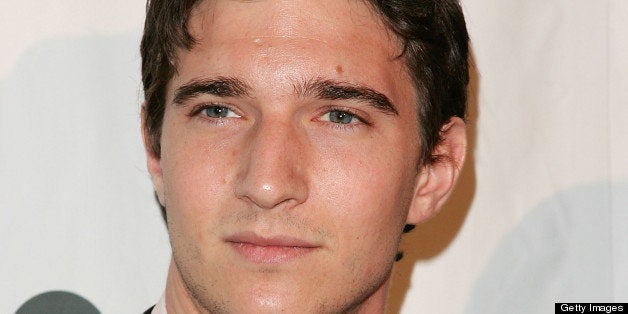 When I was 23 I was cast in the daytime drama As The World Turns to be part of the Soap world's first gay male couple. I was thrilled to get the part even though it was originally slated for only three months. On the other hand, if "Noah Mayer" connected with the audience, if there was a spark of chemistry between him and his hopeful amour "Luke Snyder" (wonderfully portrayed by Van Hansis), a series regular, maybe I would get to stick around awhile. Lo and behold, that three-month slate turned into a three year run and I became half of the first gay daytime "Super Couple," even gracing a footnote in Time magazine.

As fan mail started pouring in I began to realize that for many people, these characters and their budding relationship provided something special.It's pretty unusual to receive letters from people of all ages thanking you for helping them find themselves and come out to their family and friends. I was genuinely surprised and touched by the outpouring of emotion and gratitude I was receiving. There was an undeniable chemistry between Luke and Noah that we were very conscious of cultivating, and I think it was that chemistry that allowed fans to feel comfortable reaching out to us and sharing their very personal stories. And yes, before you ask and get your Google search in a twist, I am straight.
With the popularity of Noah arrived the question, "Are you gay?"
Journalists, blogger's and anyone who happened to ask what I did for a living would inevitably ask this question. Some were delicate in their phrasing and other's quite blunt. It was funny really. I had never been asked that before and honestly as a young straight guy, prior to my casting, I could have seen myself being slightly offended by the inquiry. What? No, Why do you ask?
Given the role and its historic nature, I understood peoples' natural curiosity, but there also seemed to be a need to contextualize my work, as though it was more challenging for me, as a straight man, to play a character in love with another man. My response was always to remind them that any credible love scene between two strangers is difficult, male or female. Once that subject was dealt with, it was often followed by a second question, one I was much less comfortable responding to at the time: "Are you afraid of being type cast as gay?"
Hard to believe this question is still asked because "gay" isn't a character trait anymore than straight is. Can you be type cast as straight? It may be that when we meet a new character on screen or stage, we assume they are heterosexual, but we don't know who they are to the story. Is this the hero, best friend, love interest, antagonist, etc.? "Gay" is not a negative or a positive. It's not descriptive. It's really more of a circumstance, albeit a vital one. The point is being gay is not character defining.
This wasn't always the case dramatically and we don't have to look back very far to see grossly stereotypical portrayals of gay and lesbian characters. Thankfully, we have seen enormous changes in the last decade. Thanks to sensitive portrayals in films like Milk and Brokeback Mountain, and on television with Will and Grace, Modern Family and Glee, it's the human condition being explored.
Growing up in New York City, I always knew people who identified as gay and lesbian and they were a pretty diverse group. Being aware of this, I never understood the "typecasting" question. What did it really mean? Before an actor goes in for an audition they are almost always provided with a "character breakdown" providing a guideline for the role they are meant to portray. This is not a physical description, but a rough sketch that any number of people could fill out and realize.
For the character I would play on ATWT the breakdown was something along the lines of "Noah Mayer: A young, sensitive army brat with a passion for old films, he is studying to be a director. Noah will initially begin a relationship with Maddie only later realizing that his true feelings are for Luke." I knew the story arc planned for him but that he was gay was more of a footnote. "Gay" was never used to describe Noah, it was the circumstance, the journey of self-discovery that he was destined for. I think that is one of the reasons the character worked so well. The producers wisely created a person, who happened to be gay, struggling for self-discovery amid the obstacles and pressures of society and his disapproving father.
As The World Turns ended in 2010 and I returned to the world of auditions. I was fortunate enough to be cast in David Adjmi's 3C at The Rattlestick Theatre, a biting satire based on the 70's sitcom, Three's Company. I was to reprise the John Ritter role, only instead of straight pretending to be gay, Brad would be (closeted) gay, pretending to be straight, pretending to be gay. I have no doubt that after three years being Noah I read 3C with a different understanding than I would have had without that experience. Reading the script I felt immediately informed and able to tackle this complex character.
These experiences continue to inform my work. Aside from acting, I'm very passionate about developing new and relevant projects. Currently I am in the process of producing my first feature length film, an adaptation of the 2010 off-Broadway play The Revival written by Samuel Brett Williams. The Revival is deeply moving story about a small town Southern Baptist preacher who meets a troubled drifter forcing him to question the entire direction of his life and moral values. I will play yet another gay role and am excited to help bring this story to life. This is a beautiful and at times bitter story about the difficult process of actualization that people, gay or straight go through at all stages of our lives.
Am I afraid of being type cast as Gay? Depends what you mean. Am I afraid of pursuing roles where the characters challenge and fascinate me? Yes. I'm terrified. That's why I love what I do. Sadly there are still many straight talented actors who overlook many of these roles out of discomfort. In that way my past work allows me to overlook a characters sexuality in favor of story. None of these are simply about being gay. These stories reveal a variety of complex characters struggling to lead meaningful lives.
I'm so thankful to have had my experiences as an actor because it's taken my career in a direction that I could not have predicted. Brett and I are currently in the process of raising money to finally bring The Revival to the screen. As I write this we have already raised over $23k towards our goal of $67k with over a month left on our Kickstarter campaign. This staggering drama deserves to be shared with the world, "If there is a god, it will be made into a movie soon!"(Brandon Voss -- The Advocate). This project is a labor of love, one I am dedicated to getting made. The Revival examines what happens when truths are denied.
Please check our kickstarter page for the full story. If you're moved by this story, if you connect to it in any way and want to make sure it to gets told please share with friends and become part of our community.
Popular in the Community