This morning I awoke from another one of "those" dreams -- dreams that are not the slightest bit violent and yet they shock me. Dreams with vivid colors and staggering ideas; dreams that take me to places I never thought I could imagine. Dreams that do not scare me, but make me think about them for the next few hours.
This dream was remarkably simple. I dreamt I had awoken in a beautiful apartment I was visiting with two friends. Though it was located on Twin Peaks (which is often enshrouded in coastal fog), there was a sense of luscious Mediterranean warmth. As I looked out the living room window, all I could see was a vast expanse of cobalt blue. Downtown San Francisco had been completely submerged as a result of rising sea levels. There was no sign of the Golden Gate Bridge.
The reveries that come to me in my sleep are strangely wondrous in concept and execution. They often remind me of a Cole Porter lyric from 1950's Out Of This World.
"Use your imagination. Just take this motto for your theme.
And soon every night will be crowded with delight
And every day will be a dream.

Use your imagination. You'll see such wonders if you do.
Around you there lies pure enchantment in disguise
And endless joys you never knew.

Behind every cloud there's a so-lovely star.
Behind every star, there's a lovelier one by far.

So use your imagination. Just take this motto for your theme.
And soon you will dance on the road to sweet romance
And every day will be a dream.
And every day will be a perfect dream."
A series of shorts that were screened at the recent Frameline 37 Film Festival revealed thrilling combinations of imagination and technique. Some were animated, some were not. Some were notable for their wild palette, others were not. What each film boasted, however, was an abundance of fantastical possibilities.
The first was a delightful four-minute long teaching tool aimed at pre-adolescents as a way to reassure young minds that it's all right to be different. Created by Emilie Hsin Pei Liu for her film school thesis (using hybrid 2.5D animation techniques), BeYoutiful explores gender identity and our society's need to always categorize one's gender as either male or female. Liu uses paper constructions built-in Adobe After Effects combined with the kind of color palette that will easily appeal to youngsters with short attention spans in order to make a complex subject remarkably simple.
Two animated shorts by Jok Church showed how photos of men in erotic situations could be used in the construction and disassembly of "mendalas" A Gift featured pictures of singer/songwriter Jake Shears (lead singer for the Scissor Sisters) and was accompanied by the song "Filthy/Gorgeous."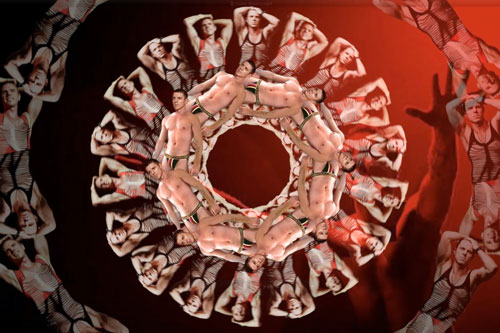 In Church's second "mendala," entitled Love Your Gloves...An Agenda, the artist brings a bit of Busby Berkeley to male erotica.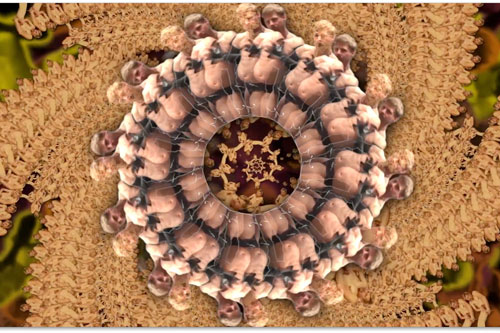 In the following TED Talk, Church offers up a personal vision of the important role that circles can play in our lives:
One of the most original, creative, ambitious and breathtakingly filmed shorts at the festival was an all-singing, all-dancing movie musical based on a real-life event. Trevor Anderson's great-uncle Jimmy had been the kind of young gay man who knew enough to leave the farm and head for the city.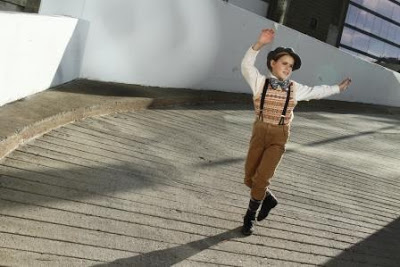 Aryn McConnell as Young Jimmy
After serving time in the U.S. Navy and dancing in several Broadway shows, Jimmy starting having some problems with substance abuse. One day, while Jimmy was a patient in a rehabilitation center, a shiny black limousine pulled up to the clinic's front door and deposited its newest candidate for treatment. As Anderson remarks, "It didn't take long for her to bond with the only chorus boy who was there." Before she left, the woman scribbled the words "Good luck on the outside, Love, Judy Garland" on a piece of paper which Jimmy kept in his wallet until the day he died.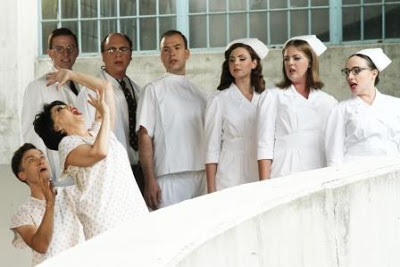 Connie Champagne as Judy Garland in The Man That Got Away
Written, directed and co-produced by Trevor Anderson (with six original songs written by Bryce Kulak), The Man That Got Away stars Kulak, Noam Gagnon and Aryn McConnell as Jimmy. San Francisco's Connie Champagne lends her expertise to a vivid portrayal of Judy Garland.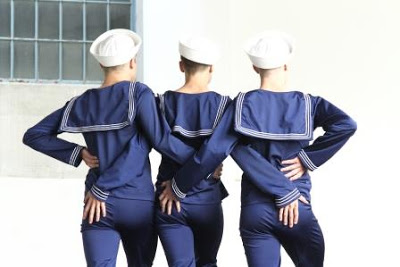 Aided by Michael Robert McLaughlin's stunning cinematography, this 25-minute Canadian film is a triumph of solid fantasy, good writing, keen direction and some wonderful choreography by Gerry Morita and Noam Gagnon (who performs in several musical numbers). Above all else, The Man That Got Away offers a refreshingly blunt and unique artistic vision from an exceptionally gifted young filmmaker. Here's the trailer:
This morning's dream was a fairly serene affair, but that's rarely the case. All too often my dreams are turbulent adventures, filled with nonsensical thoughts and the kind of visuals that can best be described as "hallucinatory gibberish." So you can imagine how delighted I was to watch a 12-minute short that combined the artistic styles of the great cartoonist for The New Yorker, William Steig, with the talented Nina Paley, whose full-length animation feature, Sita Sings The Blues. is a triumphant riot of imagination.
Benjamin's Flowers follows its protagonist through his dream states and back into the real world, where his strange-looking dog sits on the sofa, growling at roses. As the film's promotional blurb explains:
"We meet Benjamin in the room in which he lives his life. We see his confusion, his obsessive thoughts, and colorful imagination. Benjamin's lack of love and company has placed him on the blurry borderline between fantasy and reality, where it can be hard to understand what's what."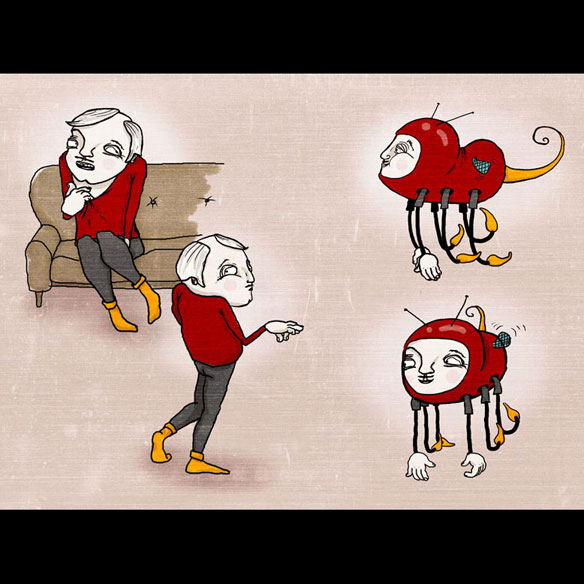 Artwork for Benjamin's Flowers
In her director's statement, Swedish filmmaker Malin Erixon writes:
"Everybody makes and defines their own reality. We might agree on what to call reality in part, but nobody perceives and interprets the world in the exact same way as you. In order to come to a somewhat close agreement on what's real and what's not, we need to interact with each other, of course. It is interesting to me to see what happens when people have trouble interacting and have a little too much alone-time. I have always been fascinated by people who create a reality that remarkably deviates from the rest. I guess, to keep it short, Benjamin's Flowers shows what I imagine that you all do when you're home alone and think nobody's watching."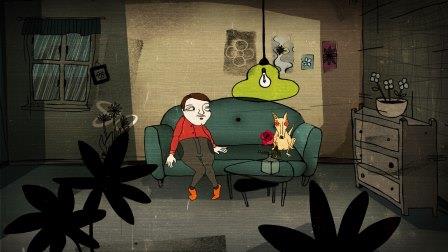 If you like being trapped in the wretched excess of a florid imagination run amok, I can't recommend Benjamin's Flowers strongly enough. I especially enjoyed the musical score composed by Christofer Ahde and Simon Caringer. Here's a teaser from Erixon's delicious animated short.

Several times a year, I'll listen to a friend complain that, after seeing a performance, he'd read a review that made him wonder if its author had seen the same show. Critics often have the same reactions to reviews written by other critics. Recently, however, I read a review of Pedro Almodovar's ridiculous new comedy I'm So Excited! that reeked of such academic condescension and insularity that my first thought was "This critic really needs an enema!"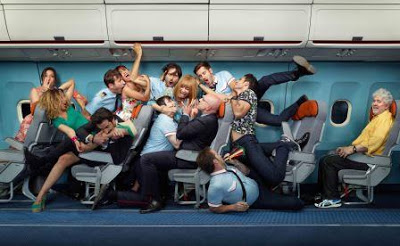 Pedro Almodovar watches his cast go through all kinds
of contortions in a promotional shot for I'm So Excited!
Almodovar is noted for his brilliant use of fluorescent colors, his vivid imagination, the bizarre twists and turns in his films and his strength in casting. However, when scrutinizing the work of an acknowledged "auteur," it's possible to forget that some movies are made to be enjoyed rather than analyzed. Having attended two press screenings of I'm So Excited! (which holds up very well the second time around), it saddens me that someone would try to review an obvious farce as if had been written for Masterpiece Theatre.
In the following interview/Q&A session, the filmmaker explains how, after so many serious films, he was tempted to return to comedy.
Among the characters in Almodovar's film are:
A handsome young bridegroom (Miguel Angel Silvestre) on his honeymoon who has spent years working as a drug mule.
A married pilot and father of two (Antonio De La Torre) who has been in a long-term relationship with his lead male flight attendant (Javier Cámara), who cannot tell a lie.
An effeminate but apparently well-hung cabin attendant (Raúl Arévalo) who has been carrying on an affair with the flight's increasingly bisexual co-pilot (Hugo Silva).
A third male steward (Carlos Areces) who is a prissy do-gooder with delusions of grandeur and moral superiority.
A bride (Laya Marti), a psychic virgin (Lola Duenas), and a mysterious dominatrix (Cecilia Roth) who has good reason to fear her political enemies.
A crooked banker (José Luis Torrijo), a professional hit man (José Maria Yazpik), and a philandering actor (Guillermo Toledo).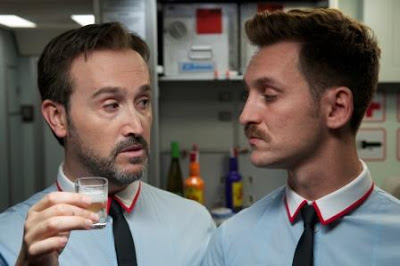 Javier Cámara as Joserra and Raúl Arévalo
as Ulloa in a scene from I'm So Excited!
It doesn't take much to realize that these stock characters could easily be found in stage farces ranging from 1907's A Flea In Her Ear (by Georges Feydeau) to 1962's Boeing Boeing (by Marc Camoletti). Or in star-studded suspense movies like 1970's Airport or its 1980's spoof, Airplane!
Hell, you could go all the way back to Plautus to find some of these characters.
The difference here is that they're stuck on an airplane circling aimlessly in the skies over Spain while most of the passengers have been drugged to keep them quiet and the people in business class are being pacified with a Valencia cocktail (orange juice, champagne and bitters) that's been laced with mescaline.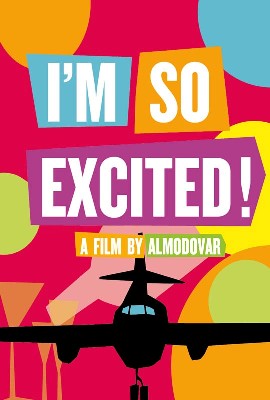 Poster art for I'm So Excited!
This is the kind of flight where, as the cabin crew gets progressively shitfaced, confessions are made, crotches are groped, secrets are spilled and an extra sensory hymen is broken while the flight crew awaits clearance to land at Madrid's deserted Don Quijote Airport.
After the perversity of his last film (2011's The Skin I Live In), Almodvar's I'm So Excited! is a giggly romp and frolic in the drugged but friendly skies; a sophisticated sex comedy meant to be enjoyed instead of being clinically dissected in search of cinematic references. The film's playful opening credits and Almodovar's bright color scheme (wildly different from the cabin colors chosen by more traditional airlines) should be an obvious tip that this is not a documentary about labor issues afflicting the airline industry. Here's the trailer:
Popular in the Community