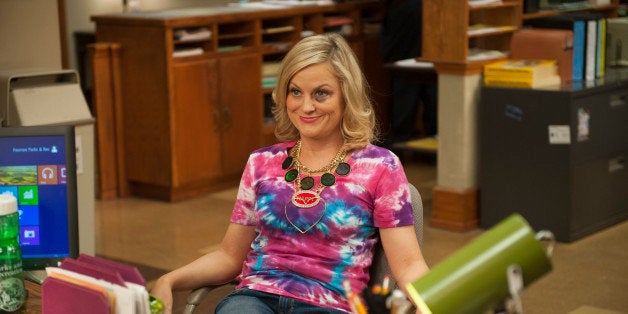 "Beyonce's brand of empowerment isn't perfect," wrote Jessica Bennet in Time Magazine, "but her VMA performance on Sunday accomplished what activists could not: She took feminism to the masses." True, Beyonce left nothing to the imagination when she sauntered out of the smoke to stand in front of what amounted to a billboard advertisement for the next, coolsexyhip, Queen Bey-approved thing: feminism.
Beyonce's declaration instantly seared social and online media with cheers and fist-bumps of the "FINALLY" and "HELL YES" kind. Others skeptically arched an eyebrow alla Lucille Bluth and some issued groans of the "HELL NO" kind, but everyone agreed that this was a very big thing that would have far reaching effects, not the least of which was a sense that feminism was being reborn before our very eyes into something, well, awesome in the literal meaning as well as the slang for, like, so great it's sick, you know? Fair enough, but I'm not ready to put all my feminist eggs in the Beyonce basket or trunk forged out of unicorn horn or whatever crazy receptacle pop superstars use to hold their eggs. And I reject the notion that she is the sacred mesh and leather pop culture vessel to carry feminism to the masses. A lot of us have been doing just fine getting our feminist fix from another icon, a smart, beautiful, plucky woman whose love of town government is only matched by her love for waffles: Leslie Knope.
Watching Amy Poehler as Leslie Knope slyly, and sometimes not so slyly, infuse Parks and Rec with feminist sensibilities and principles is one of the many aspects that makes the show smart, relevant, and important for giving girls and women another entry into the gender equality arena. The image of an accomplished woman in government, one who relishes and deeply believes in her duty as a public servant, played in earnest rather than satire (VEEP) is already something to celebrate, but it's how Poehler uses Leslie to advance feminist ideas that really matters.
Poehler and the show's writers could have chosen to make Leslie comically strident, which in turn, would make her feminist stances outsized and rife for mockery. And that would be a real drag, truth be told. Instead (thankfully), Leslie's feminism is marbleized into the show's narrative, making her desire to advocate for gender equality, to encourage women to support one another, and to teach girls how to empower themselves, organic. There is nothing surprising about Leslie bringing her girlfriends together on February 13th for Galentine's Day, a day to celebrate and honor the great gal pals in your life. She and her best friend Ann (played by Rashida Jones) are equals. They show up for one another and stick to the "ovaries before brovaries" code while other characterizations of female relationships inevitably show women pitted against one another in pursuit of boys, jobs, or other women. Even the show's male figures like the human puppy dog, Andy Dwyer (Chris Pratt) and Ron Swanson (Nick Offerman) align themselves with feminist ideals. Andy's foray into college finds himself drawn to a Woman's Studies class; Ron acknowledges the influence of strong women upon him and finds his romantic match in a self-reliant, smart, successful woman played, unsurprisingly, by the badass Lucy Lawless.
Likewise, the "The Pawnee Ranger" episode is one, long gender equality PSA that depicts both the value of giving girls tools to be strong, self-sufficient, independent thinkers who can also appreciate and welcome collaboration with boys. Also, it includes one of my favorite puns in the show's history when one of the girls holds up her mug with the drawing of a woman on it and proudly proclaims, "I made a Gertrude Stein!"
In other words, for Leslie/Poehler, feminism simply makes sense and is ultimately good for all; it's not a posture, it's not a fad, it's not a set of politics that is only as fashionable as its last cool defender.
I know Leslie Knope is a fictional character. But the same might be said of Beyonce: Mrs. Carter, Queen Bey, Sasha Fierce, she is as much a persona, a performance, or a character as Leslie. But Leslie is powered largely by Poehler's own political beliefs, a woman who consistently advocates for gender equality and female empowerment in the public sphere (Her organization Amy's Smart Girls, for starters) as it relates to promoting a healthier world for girls to realize their dreams, goals, and most successful lives, even when, especially when it is not sexy or hip. She walks the talk. It remains to be seen what Bey will do with this shiny new coin in her pocket. We'll all be watching, no dout, to see how she spend this political capital on behalf of women in the world.
In the meantime, I'll take my feminism without a smoke machine and a 30-country world tour; I'll take it like Leslie: with my girls over a stack of waffles.
Related
Popular in the Community