How to support sustainable seafood and #eatbetterfish
It is a sad state of affairs that 91 percent of all seafood consumed in the U.S. is imported, with more than half of that farmed, often in dubious conditions. A scathing report to be published in Marine Policy says that up to 33 percent of all imported wild fish was from illegal, unregulated and unreported (IUU) fishing. Study co-author Tony Pitcher says those results surprised his team. "We didn't think it would be as big as that. To think that one in three fish you eat in the U.S. could be illegal, that's a bit scary."

Pirate fishing is devastating wild fish stocks worldwide, supporting human slavery, and fomenting political tensions, while unregulated fish farming is causing worldwide environmental mayhem to produce cheap seafood with serious health concerns that tastes bad. What's a girl to do?

The answer is surprisingly simple: source seafood from domestic wild fisheries.
Protects the fish U.S. fisheries management is the world's beacon, with rigorous plans that stop overfishing such that no fishery may be overfished.
Supports traditional fishing communities Fishermen around our coasts don't only feed their families, but an entire web of local businesses and families that support their efforts.
Creates better markets Support direct market access for fishermen, allowing them to sustain a way of life that can bring our grandchildren the beautiful bounties of the sea.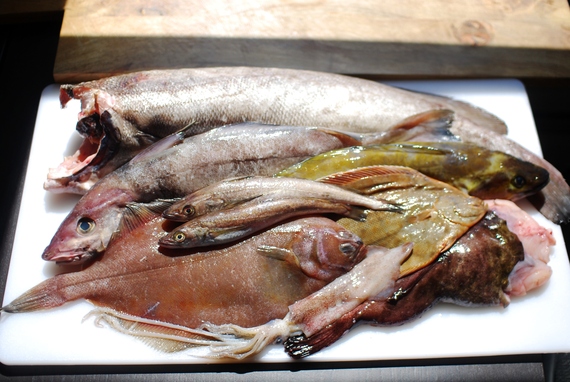 Office lunch: hake, haddock, cusk, whiting, blackback, dab, squid, monk
Photo by Camilla Abder, Sea to Table
The very best way to support both fish and fishermen is to enjoy the many abundant, yet under-utilized and under-appreciated, species that they land. This relieves pressure on the stocks of more well known species, and creates better income for fishermen. On Thursday last at Sea to Table's Brooklyn office we received a medley box of fish landed Wednesday last in Cape Cod. We feasted on bites of hake, haddock, cusk, whiting, blackback, dab, squid, and monkfish. Each was delicious, expertly prepared by our very own fishmonger/chef Travis Riggs, but the consensus contest winner was the by-catch cusk.
Related