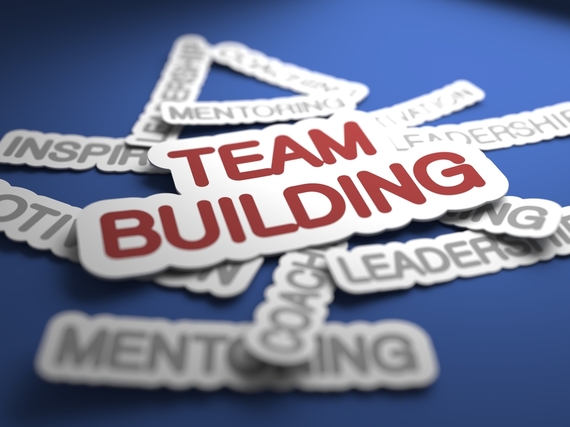 Let's be honest: most team building activities are anything but fun or enjoyable. Corporate retreats often fall victim to the most clichéd activities. You start the day with trust falls or obstacle rope courses, spend the afternoon in a boring keynote speaker session, and head home with Hawaiian shirts or cheap golf balls emblazoned your company's logo. Not only are these corporate retreats a huge waste of time and company dollars, but they also squash opportunities for innovation and creativity. Why are off-sites so painful? Companies spend hundreds of millions of dollars each year on off-sites, according to Harvard Business Review, but they still approach off-sites just as they would any other meeting. In reality, corporate retreats should be anything but another stale meeting.
Planning a corporate retreat this year? First, it's essential to understand the purpose of your retreat and set clear goals. A great corporate retreat is part team bonding and part working session. It is not, under any circumstance, a three-day weekend for the C-suite to drone on to employees about what a great year it's been under their capable leadership. This year, cut the expensive canned keynote speaker, the cheesy performance incentive gifts, and by all means, the trust falls. Here's how to breathe new life into your retreat and make it meaningful for all participants.
1. Get everyone on the same page.
Harvard Business Review recommends the "card sort exercise" prior to a corporate retreat. During this exercise, executives are given a stack of 12 cards with a single word or phrase on each card, such as "customer service" or "speed to market". Executives rank the cards in order of which issues they feel will have the biggest impact on the company's success (or failure) in the coming 24 months. Not only does this exercise help identify perception gaps in company strengths/weaknesses between leaders, but it also helps identify an even bigger perception gap in nomenclature. Two people at the same company, for example, can define "Speed to market", very differently. If everyone isn't on the same page to start, it's hard to find common ground for discussing new ideas.
2. Develop and defeat your "ideal" competitor.
Most off-sites are intended to generate fresh ideas, but creativity is quickly stifled amidst clichéd leadership speeches. Save money on an expensive keynote speaker and instead, spend your time in breakout sessions identifying your biggest market vulnerabilities and how to correct them. Virtually every corporate retreat features a session along the lines of "How can we make our company better?" Instead of looking at ways to improve your company, CBS MoneyWatch correspondent David Logan recommends approaching this problem from a different perspective. Who could put your company out of business in just 6 or 12 months?
Describe this "ideal competitor" during one session, take a break, and then return to strategize best practice for defeating this competitor. By focusing on what the ideal competitor would be doing right, you'll expose previously unknown marketplace vulnerabilities that your business can then reclaim as competitive strengths.
3. Eliminate the cheesy corporate logo gifts.
Your employees don't want another shirt, bag or set of golf balls emblazoned with your logo. This is especially true for retreats that include recognition awards for best employee performance or sales. While cash incentives are nice, think creatively about the type of reward employees would enjoy. Studies show people get far more satisfaction out of experiences, like learning a new skill or traveling, than objects. From skydiving to flight lessons, what unique experiences would your employees value?
"Introductory flying lessons are suitable for complete beginners," says Ben Tibbits at Flying Lessons UK, who arranges flying lessons for corporate events. "In the last few years, we've seen a big uptick in companies offer sponsored flights as performance incentives, and employees love the prize. The experience of flying is a huge thrill and not a gift people typically treat themselves to."
4. Build group unity.
Yes, ropes courses and golf outings are staples of nearly every corporate retreat. If your employees love them, then by all means keep them in the activity rotation. But be open to other options, too. Instead of your standard open bar happy hour, consider bringing in a sommelier for an exclusive happy hour wine tasting. Is your retreat located outside the city? Take advantage of outdoor activities like hiking, kayaking or yoga. Holding a corporate offsite in a major city? Citywide scavenger hunts or "Amazing Race" style adventures are a lot more fun than a generic Segway tour.
Bottom line: Corporate retreats are effective when they eliminate daily work distractions and foster an open, supportive environment for creativity and innovation. Make discussions introvert-friendly: in larger groups, ask everyone to write down their ideas rather than shouting them out. Finally, as your team brainstorms new ideas and solutions, document your next steps and assign a champion for each of these steps. Don't let your best ideas die at the retreat!
Related
Popular in the Community