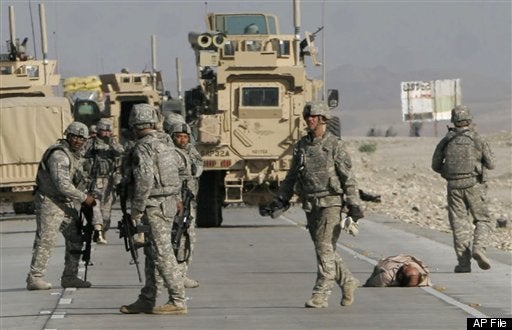 Last week I had the opportunity to see Jeanmarie Simpson's one-person presentation of Coming in Hot at a live-performance event at the Theater of Arts in Hollywood, CA. In the interest of full disclosure, I should say that I was there as host to introduce the evening's event and as moderator of the Q&A session following the show. But this piece is not about me (a rare occurrence in my writing, as many of you already know).

The show, directed and produced by Lisa Bowden derives its text from the book Powder which Ms. Bowden co-edited. Powder is a collection of writings from women in the military, women who have faced conflict with armed enemies, with their male colleagues and within themselves. A woman's perspective on the military experience serves as an intriguing jumping-off point for a theatrical evening that should not be missed.

Weaving disparate tales of a morgue worker, a boot-camp recruit, an air-traffic control officer, the victim of an attempted barracks rape and other women in uniform, Jeanmarie Simpson does not just expose the experience of life in the military, she humanizes it. Ms. Simpson brings all of these people to the stage through the channel of her own considerable talent as an actress.

The truly amazing thing about the presentation lies in the lack of apparent political manipulation of the text. While it would be easy to cherry-pick tales of horror in an attempt to create a shocking anti-war message, this show has the feel of simple, personal narrative. If there is an anti-war message in the work at all, is emerges simply because, as Stephen Colbert so eloquently put it, "The facts have a distinctly liberal bias." This show should be seen by everyone, especially those who are at most risk of enlisting to serve, those who are financially desperate enough or militaristically indoctrinated enough to see military service as an easy route to independence.
Last week's event also served as a fundraiser for No More Victims, a group that arranges for children injured by American military actions to be flown to the US for medical treatment and rehabilitation. The children's visits serve as an opportunity for media coverage that explores and exposes the oft-shrouded effects of our actions on innocent people in far away places. Again, by humanizing those involved and exposing only the facts, a pro-peace subtext comes to be revealed.

The show and the cause make a strong match. If, indeed, the first casualty of war is the truth, then perhaps by simply exposing the truth, war may itself become a casualty and peace may flourish.
In addition to the performance I saw, the show has recently appeared at Pima Community College Recital Hall Center for the Performing Arts, University of Arizona, Gallagher Theater, Veterans in Higher Ed Conference and at the University of Arizona Poetry Center, Performance & Scholar¹s Panel. Keep your eyes open for an appearance near you. You won't want to miss it.

Related
Popular in the Community