Sparks Fly at Expats panel: Pen World Voices Festival (April 27, 2016)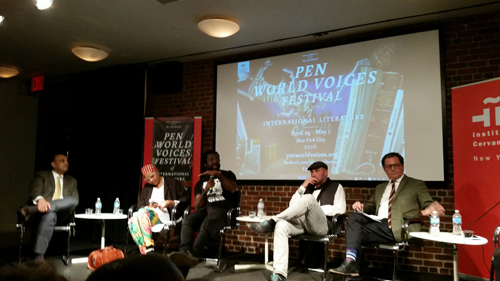 Saying the word expats to educated Americans of a certain age evokes images of neighborhood bistros in Paris with lace curtains and smoky, book-lined literary salons where Gertrude Stein presided over soirees with an astonishing community of American expatriates including Ernest Hemingway and Ezra Pound. Stein was far from her birthplace in the Allegheny West neighborhood of Pittsburgh, PA, but as Kwame Anthony Appiah, a panelist on the Pen World Voices Festival Expats session and a professor of law and philosophy at New York University, reminded the audience on April 27th at Instituto Cervantes, Stein understood what to hold on to: "There isn't much use to roots, if you can't take them with you," she once said.
Moderator Eric Banks, Director of the New York Institute for the Humanities and former Editor-in-Chief of Book Forum, launched the evening with a barb thrown directly at the panelists, Jamaica Kinkaid, Marlon James, Colin McCann, Valeria Luiselli and Kwame Anthony Appiah, but also directed at the audience. Banks confessed that he cannot stand the term expats which "says too much and too little at the same time." He described the term as overburdened, "just too pat, closing off other ways that identities are created." And, as if he had not been critical enough, he added that the ex part is also a problem.
"Do you share in my discomfort?" he asked the panelists.
The question unleashed a torrent of emotion. Appiah jumped in first, describing the expats who came to Ghana, his birthplace, as folks who replaced the missionaries. "They were not committed to the place," he said. Kincaid was even less kind. "The way I became familiar with the word was from these rancid people from England. They were always going back there but they never did." Kinkaid called them "privileged and incredibly lazy." Then, she added, "I came to America from Antigua but I don't think of myself that way. A black person is not an expat."
We were not quite ten minutes into the discussion and the temperature had already risen by more than ten degrees. These writers clearly did not see themselves as expats.
Marlon James described the expats that he knew in Jamaica as "mediocre people from abroad who could not hack it in their own country." Reflecting on the term, Colum McCann said that the word "has the tingle of ice in a glass" while Valeria Luiselli described it as very Anglo-Saxon. "I don't have a relationship with any country," said the novelist who writes in Spanish and English. "I have not lived in any place for more than a few years."
When the discussion shifted to their own experiences, to the ways that they were received in America, McCann was the most positive. "I don't feel foreign here at all," he said, arguing that one of the things that is brave in the American literary establishment is that it allows foreigners to come here. "It doesn't strip away the citizenship of where you come from." McCann described America as offering a "radical welcoming. I could not have come here if I had to say goodbye to my country Ireland," he said.
Luiselli, who has spent the last eight years living in Harlem in New York City, said that the theme of foreigners is tolerated here, although she did not quite feel welcome in a place where stadiums of people are shouting about building walls to keep immigrants out. "Mexicans work underground. They are so invisible," she said.
Appiah, who came to the United States in his late twenties, found two things that were particularly welcoming in America. First, that when he tells people he is an American, people don't laugh. "Here," he said, "Citizenship is all." Second, that African Americans welcomed him into their midst as a brother.
Kincaid and James held harsher views. "It's easy for you," Kinkaid said, nodding to McCann. "You are a white man and you have a distinguished Irish history." Then, with a half-smile, she added, "I'm glad that white guys enjoy themselves so much." James, echoed Kincaid, although he spoke in softer language. "My first novel was rejected by about 80 people," he said. "Here there is lip service to diversity and the melting pot. I'm allowed to be an antiseptic Jamaican."
The final question that the writers bounced back and forth dealt with how the experience of moving affected their language and their writing. Kincaid grew up speaking English although she didn't see TV until much later. She was a big fan of Ebony Magazine and African American culture. Her education was traditional British, Chaucer to just before Kipling. "My writing," she said, "is not at all informed by American culture. People ask why are my sentences so long? Why did I read the Oxford English Dictionary from A to Zed? Why? Because I had nothing else to read!" Kincaid said that Americans love stories with beginnings and endings, stories with closure. She, on the other hand, hates them. "I insist," she said, "on offering no solace on the human condition."

McCann had another insight into his fiction: "No matter what my subject is, the men who work underground, the Romani people, a ballet dancer, the man who walked the wire between the Twin Towers, the whole time, I still think that I am writing an Irish novel. I cling to that notion."
Calling all HuffPost superfans!
Sign up for membership to become a founding member and help shape HuffPost's next chapter