If you've noticed the lines at the liquor store have been a little longer than usual lately, I can explain. You see, many of us have recently dropped off our children at college, and we need a drink.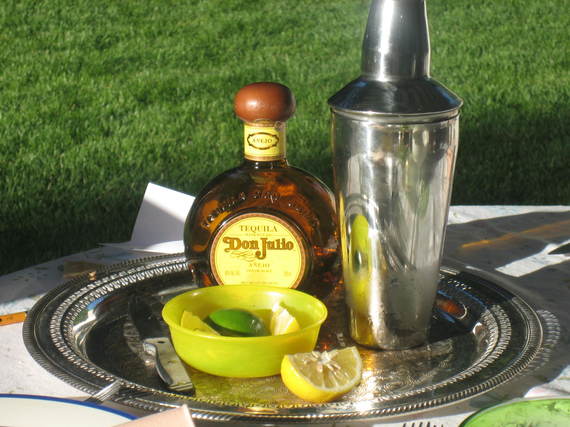 (Photo source: the author)

It's not just that we are weepy over our kids' departure because we can't believe how fast they grew up. That is an oversimplification. It's true, we can't believe how fast they grew up, but we also can't believe how old we are, and we really can't believe that buying them a laptop and a few dorm decorations just cost us $8,000.
We suffered through the application process, we agonized over the decision of where to go, we (gulp) planned out the finances. We learned all about hepatitis, meningitis, condom usage and hazing. We need a drink.
We loaded the car, moved them in, and returned home to a new chapter in our lives. We need a drink.
Taking a child to college can make you sad - but it can make you a lot of other things, too. Every parent reacts differently to the momentous change, but basically, there are three categories of college parents:
Those that can't walk by their child's bedroom without wanting to sob,
Those that are thrilled that bedroom is going to stay clean until Christmas vacation,
Those that go back and forth between the two feelings, sometimes within 30 seconds of each other.
There are three categories of college students:
Those that never text home to tell us how they're doing,
Those that can't stop texting us to tell us how they're doing,
Those that go back and forth between the two, but are never needy when you want them to be.
Anyhoo... drinking. Note to liquor stores: we college parents represent a huge marketing opportunity. We have so many emotions to sort out and I believe that cocktails could be the answer. First of all, we need an entire aisle just for us. A place where we can browse among our own kind, shell-shocked and exhausted, while we wonder what the hell just happened. Here in this aisle, we can find the "fresh from drop off" firewater, or the "I just signed the loan agreement" slug of hootch.
We need an express lane for checkout. We need convenient parking. Many stores already have special parking for pregnant women, or for mothers with toddlers. Let's have a section for those of us who pulled off the road in a hurry to grab a few bottles before we go home to Skype with our child from his dorm room.
We need some recommendations for what to drink when our child texts us 20 times before lunch, when they tell us they want to come home, that they hate the food and are starving to death, that they have no friends, that they can't figure out where in the washer to put the laundry detergent. We need a bracing cocktail to sip while we tell them "you'll have to figure it out for yourself."
We need soothing red wine to serve our friends when they show up at our house, puffy-eyed, while we sit around reminiscing about the Cub Scout picnics and the Third Grade Recorder Concert.
We need a smooth night cap that we can nurse alone when we suddenly realize how quiet the house is, when we've set one less place at the dinner table, when we hear one of our child's favorite songs on the radio.
More to the point, we'll need recommendations for a zippy high ball to enjoy when we discover that we have more free time, that we don't have to go to the Pancake Fundraiser, that no one is bugging us for the car keys, and that our kid may have a huge test tomorrow, but wonder of wonders, it is not our problem.
When we heard those college counselors warn about binge drinking, we assumed they were talking about the kids. We didn't realize they might be talking about us.