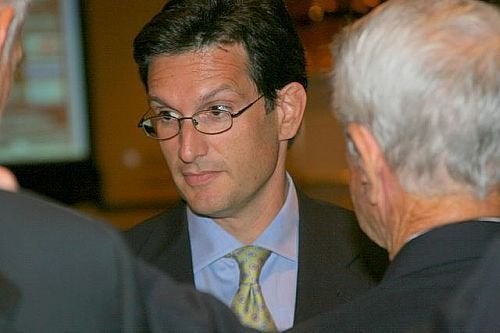 Just when I think I can't get any more shocked by the audacious hypocrisy we get from Republican House leadership they out-do themselves with even more shameful conduct.
Case-in-point: Today, House Republican Whip Eric Cantor (R-VA) is apparently furious that unnamed Democrats have made their intentions to go after Republican House members, in their districts, for their absurdly unified effort yesterday in not casting a single vote for the House stimulus plan, despite the effort by President Obama to work with them on concerns they had:
House Republicans are reacting strongly to reports that the White House plans a political onslaught to pressure Republicans into supporting the stimulus package and to punish those who don't.

House Republican Whip Eric Cantor (R-VA) will soon issue a statement contending that Obama's promise to "put an end to petty politics" is "threatened" as the White House and their allies "are making political threats rather than crafting a bipartisan economic stimulus plan."

..."Let us be clear: attack ads will not create jobs or help struggling families but will only serve to undermine our nation's desire for bipartisanship. Instead of thinking about winning at any cost, we should all be thinking about creating the jobs Americans need," Cantor intends to say.
What's so sad -- and which the media seems to have overlooked -- is what Cantor's own campaign committee -- the NRCC -- announced yesterday:
The NRCC is banging the good old culture wars drum today, sending out a raft of press releases asking if rookie Dems from conservative districts back the inclusion of anti-sexually transmitted disease programs.

The title of the release: Do Freshmen Dems Support $335 Million for STD Prevention in "Stimulus"?

The targets: John Adler (NJ-03); John Boccieri (OH-16); Bobby Bright (AL-02); Gerry Connolly (VA-11); Kathy Dahlkemper (PA-03); Steve Driehaus (OH-01); Alan Grayson (FL-08); Parker Griffith (AL-05); Debbie Halvorson (IL-11); Martin Heinrich (NM-01); Jim Himes (CT-04); Ann Kirkpatrick (AZ-01); Mary Jo Kilroy (OH-15); Larry Kissell (NC-08); Suzanne Kosmas (FL-24); Frank Kratovil (MD-01); Dan Maffei (NY-25); Betsy Markey (CO-04); Eric Massa (NY-29); Michael McMahon (NY-13); Walt Minnick (ID-01); Gary Peters (MI-09); Chellie Pingree (ME-01); Glenn Nye (VA-02); Tom Perriello (VA-05); Mark Schauer (MI-07); Kurt Schrader (OR-05); Harry Teague (NM-02) and Dina Titus (NV-03).
It seems that the same political Neanderthals that helped execute their disastrous strategy of the last two election cycles are still firmly in control of House Republicans. Cantor is showing himself as a first-rate hypocritical whiner.