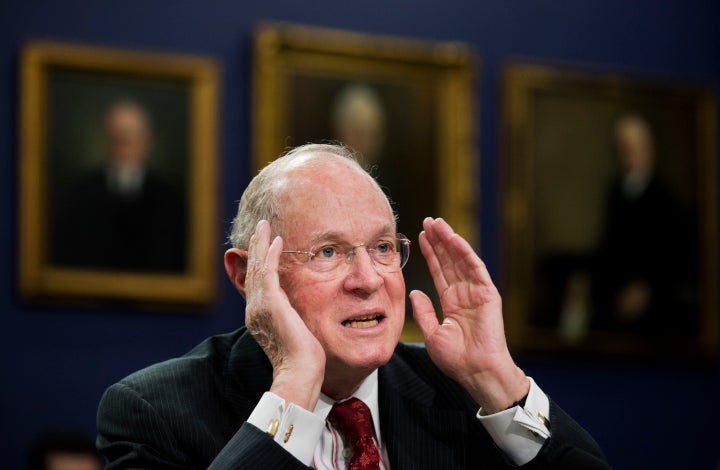 An investigative reporter tried to catch Justice Anthony Kennedy by surprise with a question about a controversial Supreme Court decision the justice wrote.
It didn't go particularly well.
"Well, I don't comment. That's for the bar and the lower bench to figure out," he said, in a nod to all those lawyers and judges who have to interpret Supreme Court decisions.
Pressed as to whether the court should revisit the Citizens United ruling, Kennedy didn't budge. "I don't comment on my cases," he said.
In his article, Fang notes that, in fact, Kennedy does comment on his decisions ― even on the impact of politically potent rulings like Citizens United. Last year, The Huffington Post's Paul Blumenthal looked at how the justice, during a talk at Harvard Law School, cast doubt on his own reasoning in that case for allowing unlimited electoral spending by corporations and unions.
So why was Kennedy's reluctant to be equally candid with Fang?
The justice may simply have been thrown off by an unexpected question from a reporter at an apparently "safe" event ― held in a judicial library named after him, no less.
"The justices tend not to do interviews, period," Supreme Court public information officer Kathy Arberg once told the Reporters Committee for Freedom of the Press, adding that they make "very rare exceptions" when they're promoting books. She declined to comment for this story.
"The justices tend not to do interviews, period."
That's not to say the justices don't like to discuss their thoughts in public or in front of the press. SCOTUS Map, a website that tracks their travels ― yes, it's a thing ― lists dozens of appearances across the country and abroad since the court's summer recess began in July.
The vast majority of such planned events take place in academic or judicial settings, where the justices likely feel more at ease. The format may be more formal and less conducive to surprises ― and they may have a say as to press access, recordings and who, if anyone, is asking questions.
Even then, things don't always go smoothly.
The late Justice Antonin Scalia made headlines in 2004 when a federal marshal seized recordings made by two Mississippi journalists who had inadvertently violated the justice's "no recording device" policy. Scalia did apologize to the reporters and amend his policy to accommodate print but not broadcast media.
Organizations like Fix the Court are constantly pushing to make the Supreme Court and the justices more accessible and transparent. (Just on Thursday, The National Law Journal published a report on how none of the court's members reveal basic health information.)
After his brush-up with Kennedy, Fang was quickly escorted out of the reception by security and asked for his interview notes, which he declined to share. He did not make it back in.
Which goes to show that if you want to get a Supreme Court justice to talk, you have to do it on his or her own terms. Or as Kennedy himself once put it to a congressional committee, "We're judged ultimately by what we write."
Sign up for the HuffPost Must Reads newsletter. Each Sunday, we will bring you the best original reporting, longform writing and breaking news from The Huffington Post and around the web, plus behind-the-scenes looks at how it's all made. Click here to sign up!