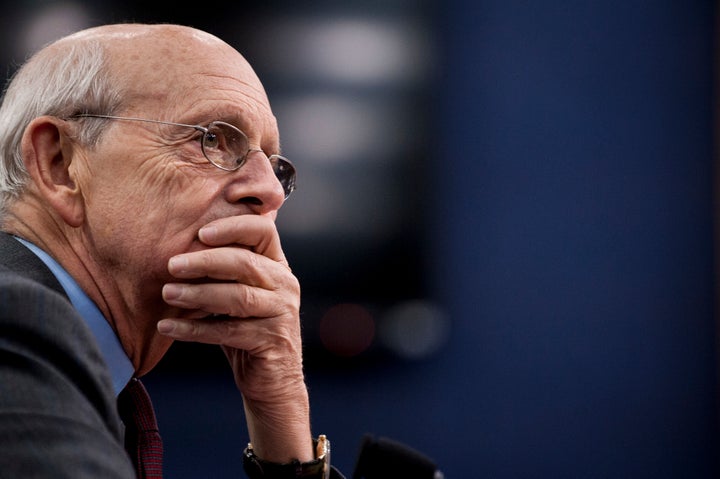 Very late on Tuesday, the Supreme Court denied several pleas from a Texas death row inmate requesting to be spared from execution. 
Roland Ruiz had been sentenced to death for the 1992 murder-for-hire of a woman whose husband and brother-in-law wanted her killed. The two men wanted to collect on a $400,000 life insurance policy; instead, they got life sentences for plotting her murder.
According to a prison official, his final words were for Theresa Rodriguez's surviving relatives: "Words cannot begin to express how sorry I am and the hurt that I have caused you and your family. May this bring you peace and forgiveness."
But before the execution could proceed, Justice Stephen Breyer became the lone voice who would've stopped it. 
"I believe his claim is a strong one, and we should consider it," Breyer wrote in a lengthy statement accompanying one of the court's denials.
In recent years, Breyer has been wanting to hear a case that may kill the death penalty for good, but Ruiz's case was not it. The justice took interest in something else: the way the inmate had been sitting on death row without meeting his fate for nearly a quarter-century, the bulk of it in solitary confinement.
Some 125 years ago, Breyer wrote, the Supreme Court had recognized that imprisonment in isolation raises "long-standing serious objections." As a result of this form of punishment, he added, many prisoners descended "into a semi-fatuous condition," "became violently insane," "committed suicide" or otherwise "did not recover sufficient mental activity to be of any subsequent service to the community."
Breyer then appeared to turn his darts toward a colleague, Justice Anthony Kennedy, who did not join him in his bid to spare Ruiz but nonetheless in 2015 had raised objections of his own about the "human toll" of solitary confinement.
So this may have been a way for Breyer to nudge his colleague, who has built a record on how the Constitution stands as a barrier for certain forms of punishment.
"If extended solitary confinement alone raises serious constitutional questions, then 20 years of solitary confinement, all the while under threat of execution, must raise similar questions, and to a rare degree, and with particular intensity," Breyer concluded.
Last year, Breyer already indicated suffering on death row for 40 years may be unconstitutional. Only time will tell if Kennedy and others on the Supreme Court will join him in this lonely crusade.
REAL LIFE. REAL NEWS. REAL VOICES.
Help us tell more of the stories that matter from voices that too often remain unheard.