On Thursday, Holder met with media members, telling them that he was open to changing the way his unit handles investigations that could clash with press freedoms. After the conclusion of that meeting, a Justice Department spokesperson released a statement defending Holder's words from a May 15 hearing, where he said he was never involved in the pursuit of a criminal investigation surrounding a journalist.
The Attorney General's testimony concerning the potential prosecution of a member of the press was accurate and consistent with the facts of the Kim case. At no time during the leak case involving Stephen Kim, before or after the FBI sought the search warrant, have prosecutors sought approval to bring criminal charges against the reporter. The search warrant application in the Kim matter was focused on obtaining evidence relating to allegations that a government official had leaked highly classified information, which was a threat to our national security. The warrant application was drafted during the investigation phase of the case, which came before any decisions about prosecution. And nearly three years after completing our thorough investigation of the Kim matter, the Department does not anticipate bringing any additional charges. During the Attorney General's tenure, no reporter has ever been prosecuted.

As the Attorney General has stated, the Department is committed to striking a balance between protecting classified national security information and protecting the first amendment rights of journalists to gather and report the news. The Department appreciates the opportunity in the coming days and weeks to engage with media representatives to discuss ways in which our processes may be improved.
Wednesday's letter to Holder came from House Judiciary Committee Chairman Bob Goodlatte (R-Va.) and Rep. James Sensenbrenner (R-Wis.), who wrote "with great concern" regarding Holder's testimony of no involvement in Fox News reporter James Rosen's correspondences. Some background from a Wednesday Reuters report on the case:
Rosen reported in June 2009 that U.S. intelligence officials believed North Korea would conduct more nuclear tests in response to U.N. sanctions.

Stephen Kim, a former State Department analyst who was Rosen's alleged source, is scheduled to go on trial as soon as next year on charges that he violated an anti-espionage law. Rosen has not been charged.
"We believe -- and we hope you will agree -- it is imperative that the Committee, the Congress and the American people be provided a full and accurate account of your involvement in and approval of these search warrants," the letter read.
To see a copy of Goodlatte and Sensenbrenner's letter, click here.
Before You Go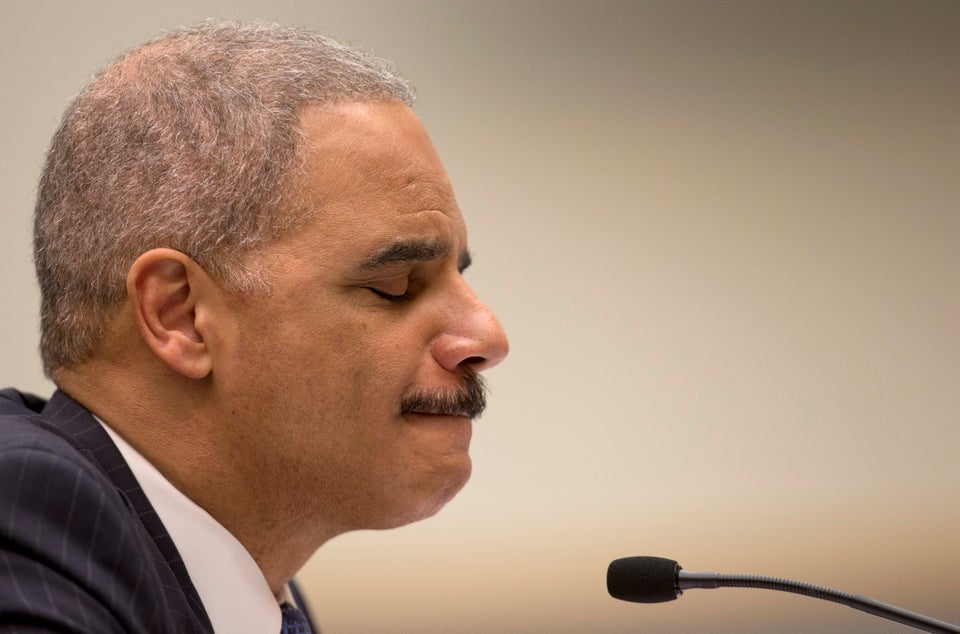 Eric Holder In The Hot Seat
Popular in the Community