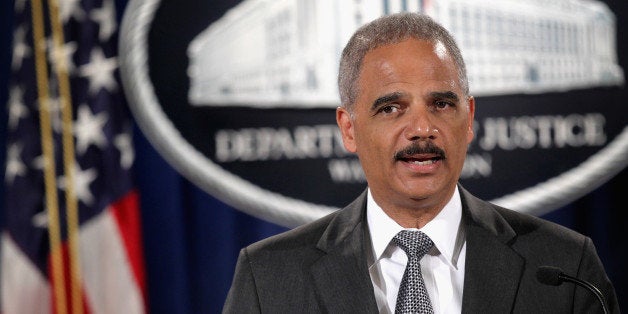 The investigation will be separate from the ongoing federal probe into the death of Michael Brown, an unarmed black teenager fatally shot by a white police officer in Ferguson on Aug. 9. The investigation into police practices could be announced as soon as Thursday afternoon, the Post reports.
The Justice Department's Civil Rights Division will conduct the investigation, which will focus on police practices in Ferguson but could also include other police departments throughout St. Louis County. As the Post notes, many of the police departments in the county are primarily made up of white officers serving majority black communities.
The investigation isn't unprecedented; the Justice Department has opened 20 civil rights investigations into police practices during Attorney General Eric Holder's tenure.
Holder visited Ferguson in August to check in on the federal investigation into Brown's death and to meet with members of the community amid nightly protests of the shooting. He empathized with "the mistrust" between some Ferguson residents and police officers.
"I am the attorney general of the United States, but I am also a black man," Holder said in August, recounting being pulled over and accused of speeding on the New Jersey Turnpike on two occasions, and having his car searched.
"I remember how humiliating that was and how angry I was and the impact it had on me," Holder said.
Ferguson police officers began wearing body cameras last Saturday, first donning them at a march protesting Brown's death.