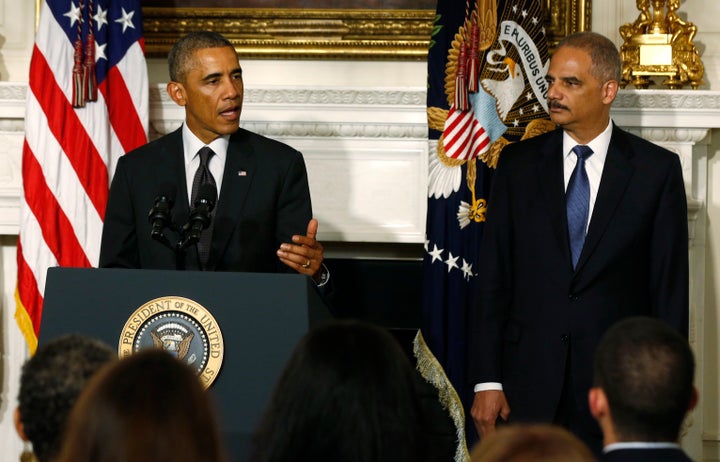 SAN FRANCISCO (CN) - The Department of Justice helped kill a bill intended to enhance transparency and refuses to release records on its efforts to block the legislation, the Freedom of the Press Foundation claims in court.
The nonprofit watchdog sued the Department of Justice in Federal Court Monday, seeking immediate disclosure of its communications with members of Congress on bills that would force the DOJ to release more records to the public.
The foundation claims the DOJ has failed to abide by its own Freedom of Information Act guidelines, amended under the direction of President Barrack Obama and then-Attorney General Eric Holder.
On his first day in office - Jan. 21, 2009 - Obama issued a memo directing agencies to "adopt a presumption in favor of disclosure, in order to renew their commitment to the principles embodied in FOIA, and to usher in a new era of open government."
Despite that proclamation, backlogs in FOIA requests have more than doubled across all agencies since he took office, according to the complaint.
A March 2009 memo from Holder ordered departments to reverse the Bush administration policy of withholding all records unless the government lacked a sound legal basis to do so.
Holder directed agencies not to hold back information simply because the agency "can demonstrate, as a technical matter, that the records fall within the scope of a FOIA exemption."
In response, the Justice Department's Office of Information Policy issued new guidelines, last updated in August 2014, saying it would withhold records only if disclosure posed a reasonable risk of actual harm, and that openness should prevail in the face of doubt.
"Despite President Obama's claim that this is 'the most transparent administration in history,' federal agencies have fallen short of the objectives set out in the 2009 FOIA memos and OIP [Office of Information Policy] guidance," the 11-page complaint states.
Two members of Congress introduced bills last year that would require agencies to err on the side of openness in answering FOIA requests, and stop agencies from invoking Exemption 5 to withhold records more than 25 years old. Exemption 5 encompasses the deliberate process privilege, attorney-work product privilege and attorney-client privilege.
The separate FOIA reform bills, introduced by Rep. Darrel Issa, R-Calif., and Sen. Patrick Leahy, D-Vt., were strongly supported in both houses, but then-House Speaker John Boehner tabled the legislation in December 2014 without bringing the final bill up for a vote.
"Reports attributed the death of the FOIA reform legislation to agency opposition, particularly that of the Justice Department, despite the fact that the Attorney General ordered agencies to follow nearly identical policies in his 2009 FOIA memo," the complaint states.
The DOJ and National Association of Assistant United States Attorneys contacted Senator Jeff Sessions, R-Ala., to oppose the FOIA reform legislation, claiming that barring Exemption 5 withholdings for records more than 25 years old would "invite defendants and their lawyers to use FOIA as an alternative discovery tool in attempts to re-open cold cases," according to a February 2015 Senate Judiciary Committee report cited in the complaint. During a House Oversight and Government Reform Subcommittee meeting in February, Rep. Elijah Cummings, D-Md., noted that several executive agencies, including the DOJ, had contacted members of Congress to oppose FOIA reform.
In July 2014, the Freedom of the Press Foundation requested all communications between DOJ officials and certain members of Congress regarding the FOIA reform legislation, from Jan. 1 to July 24, 2014. The request was amended in April this year to include all DOJ records on FOIA reform legislation correspondence from January 2014 to April 3, 2015.
After receiving no records well beyond the required 20-day timeline, the Freedom of Press Foundation appealed the DOJ's "constructive denial" of its request. The DOJ refused to process the appeal, finding no decision had been rendered on the request, so no appeal could be considered.
"This request is important because it tries to surface the government's reasoning for opposing a bill that was not only unanimously supported in Congress - but that was meant to strengthen one of the most sacred tools in our democratic order: the FOIA," said Freedom of the Press Foundation spokeswoman Vickie Barenetsky.
The foundation asks the court to order the DOJ to immediately process, disclose and make available the requested records in their entirety and to speed up proceedings in its lawsuit to ensure timely compliance.
It is represented by Marcia Hoffman and by house counsel D. Victoria Baranetsky, both of San Francisco.
The Justice Department's Office of Public Affairs did not immediately return phone calls seeking comment Monday afternoon.
PHOTO GALLERY
16 Thought-Provoking Social Justice Blogs On Tumblr
REAL LIFE. REAL NEWS. REAL VOICES.
Help us tell more of the stories that matter from voices that too often remain unheard.