The Department of Justice accused five cities and counties of potentially breaking the law through "sanctuary" policies on Thursday as part of the Trump administration's effort to force local jurisdictions to assist in immigrant deportation efforts.
DOJ singled out New York, Philadelphia, New Orleans, Chicago and Cook County, Illinois. All of them are at risk of being denied federal grants, often those aimed at public safety, due to their policies limiting cooperation with Immigration and Customs Enforcement.
They will have until Oct. 27 to prove their policies and practices comply with the law, DOJ said in a statement.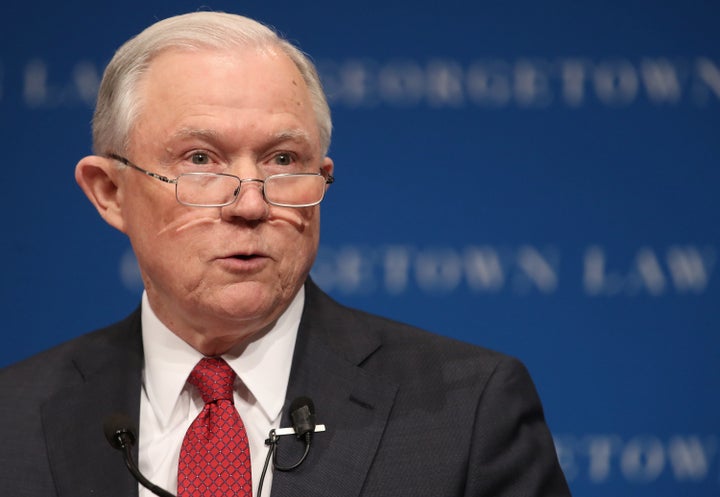 "Jurisdictions that adopt so-called 'sanctuary policies' also adopt the view that the protection of criminal aliens is more important than the protection of law-abiding citizens and of the rule of law," Attorney General Jeff Sessions said in the statement.
There is no set definition for sanctuary cities or policies, but the term is most often used for jurisdictions that decline to detain certain individuals based solely on ICE requests, called detainers. The threats from DOJ are not regarding detainers, however, which the Trump administration has acknowledged are not mandatory in spite of Sessions' frequent implications to the contrary.
The statute DOJ says five jurisdictions may be violating is Title 8 U.S.C., Section 1373, which states that local officials cannot bar or restrict government workers from sharing information with federal immigration agents regarding individuals' legal status.
The Trump administration is already facing litigation over its threats against jurisdictions that contend they are in compliance with the law. Chicago, one of the cities at risk of losing funding, sued the federal government in August over the matter. San Francisco and the state of California sued the same month.
San Francisco and Santa Clara County, California, won a preliminary injunction in April against an executive order by the president barring funds for sanctuary cities.
Sessions and President Donald Trump frequently single out San Francisco as a sanctuary city, at times misconstruing the law to do so. San Francisco was not on DOJ's list of jurisdictions potentially in violation of the law.
The Trump administration's threats have not fully stopped the sanctuary movement. California Gov. Jerry Brown (D) signed a bill into law earlier this month that further limits law enforcement in the state from cooperating in immigration efforts.
In response, Immigration and Customs Enforcement said it "will have no choice" but to conduct arrests in neighborhoods and workplaces in the state, leading to more "collateral" arrests of people they were not initially targeting.
The White House is pressing Congress to grant it the ability to punish jurisdictions for declining to cooperate with ICE. One of Trump's immigration priorities released on Sunday is to "stop 'sanctuary cities.'" "States and localities that refuse to cooperate with Federal authorities should be ineligible for funding from certain grants and cooperative agreements," the White House said in a statement, adding that there "are hundreds of jurisdictions across the country that do not honor requests from ICE to hold criminal aliens who already are in state and local custody."
Sessions said in his statement Thursday that jurisdictions should go farther than simply sharing information with the federal government and should "establish sensible and effective partnerships to properly process criminal aliens."
REAL LIFE. REAL NEWS. REAL VOICES.
Help us tell more of the stories that matter from voices that too often remain unheard.