WASHINGTON ― As reports about missing Saudi journalist Jamal Khashoggi grow darker, raising the prospect that he was the target of a 15-man team sent by top Saudi officials to kill and dismember him with a bone saw, U.S. officials are indicating that the responsibility for any clarity on his fate or for accountability from Saudi Arabia lies squarely with President Donald Trump.
Trump said Wednesday that he has discussed the case with Saudi leadership, and it is now up to the president to choose from the array of possible U.S. government responses. That could include everything from publicly citing intelligence ― American officials were aware of threats to Khashoggi and a previous Saudi plan to lure him back to the kingdom, the Washington Post has revealed ― to endorsing human rights-related sanctions against key Saudi leaders, an approach that 22 lawmakers from both parties called for in a letter.
Given his disdain for public idealism and his embrace of the kingdom, Trump is at least initially relying on a personal relationship with Saudi quasi-ruler Crown Prince Mohammed bin Salman that began with Trump making Riyadh his first foreign destination as president and has grown ever closer. Those ties extend to Trump's family, which, like that of the prince, plays a major role in government. The president's son-in-law, White House aide Jared Kushner, is one of multiple high-ranking officials who have spoken in the last two days with the prince about Khashoggi, who disappeared after visiting the Saudi consulate in Istanbul on Oct. 2.
The president is well aware that, for all the kingdom's wealth and foreign influence, it's vulnerable to U.S. pressure. Trump won concessions from Riyadh last November when he slammed its full blockade of neighboring Yemen, and despite their current chumminess has recently criticized the kingdom over higher oil prices, echoing his long history of bashing it when convenient for his personal political goals, such as spreading distrust of Muslims.
But he's now wading into a mystery that regional heavyweights Turkey and Saudi Arabia might want to keep unsolved for the sake of their ties and international standing. And he's facing a Saudi regime that, because of his own policies, is less worried about losing U.S. support than it has been in years.
To get the kind of win Trump likes ― and may want even more because of his reported frustration with Riyadh over the case ― he has to correctly judge the capabilities of a Washington bureaucracy that he has often criticized and then put federal resources to use in a way he's not yet doing.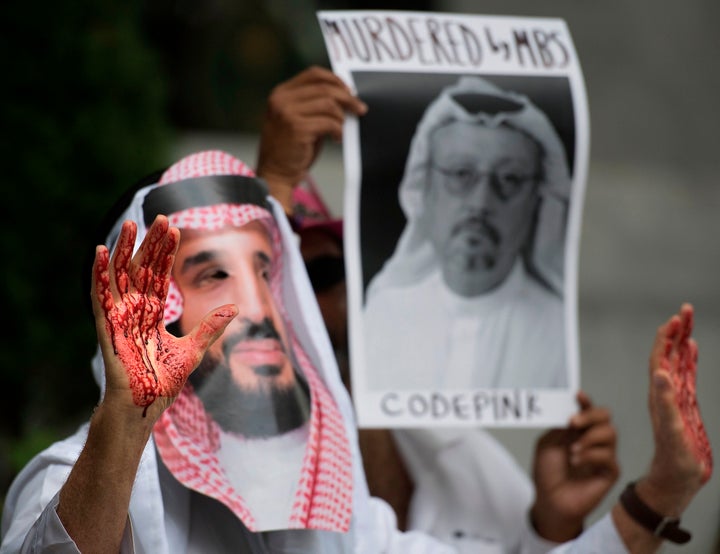 It's still unclear if the Trump administration has offered even the most basic ― and legally mandated ― support, like helping Khashoggi's children, who are U.S. citizens. "Due to privacy considerations, we don't comment on assistance we may or may not be providing," a State Department official told HuffPost in a Tuesday email, asking that their name not be used, in accordance with agency protocol.
The president has so far only used a couple of the options in his toolbox ― private diplomacy and public statements ― even as Capitol Hill discusses targeted sanctions on the prince and his allies or cuts to U.S. arms sales and military support.
And Trump-era changes have made it harder for traditional U.S. levers to work as well anyway. As the president has over the last two years blessed even widely condemned Saudi policies, such as a U.S.-backed military campaign in Yemen, and his administration has repeatedly said the U.S. has little business lecturing friends, the Saudis have become more aggressive toward international criticism, sometimes responding so dramatically it's ludicrous, and they are far less willing to shift policies.
Riyadh has also come to disdain traditional American diplomatic procedure, focusing on direct lines to the White House ― particularly Kushner, with whom the prince had conversations that were not recorded per standard U.S. procedure ― and celebrating divides in its favor, such as that between Trump and former Secretary of State Rex Tillerson, who had opposed the yearlong Saudi blockade of U.S. partner Qatar. Saudi officials assume the feeling is mutual because Trump has yet to even nominate an ambassador to deal with the relationship. (He's also left that post empty in Turkey.)
One step the U.S. and partners who have hinted they have information like Britain could take is to reveal more about what they have gleaned through surveillance and other methods.
″The intelligence reports are very direct, very short and give further credence to the fact that the focus needs to be on Saudi Arabia right now," Sen. Bob Corker (R-Tenn.), chairman of the Senate Foreign Relations Committee, said Wednesday.
It's hard for the public to make that judgment and easy for Riyadh to doubt it. A spokesman for the director of national intelligence, the U.S. official overseeing the 17-member intelligence community, told HuffPost he had no comment on what the U.S. may have known about threats to Khashoggi or any current support from American agencies to Saudi and Turkish investigators.
Revealing details on intelligence does risk sources and methods, but an overriding public interest seems clear in the Khashoggi case, and governments could reduce the risk by writing a general joint statement, former Justice Department official Carrie Cordero suggested in a Wednesday article.
And Trump or the lawmakers seeking to push the president on the issue could note that U.S. regulations direct intelligence agencies to warn potential targets of assassination attempts. National security experts are already saying the Trump administration should come clean about whether it did so for Khashoggi, a U.S. resident and Washington Post contributor.
"It's something that's done within the intelligence community as sort of a routine process," said Ned Price, a CIA veteran and former aide to Obama. He added that in sensitive situations involving key U.S. partners or enemies, the procedure might involve White House approval ― such as the case of Iraqi President Saddam Hussein, who did at one point receive a warning about a planned assassination attempt identified by U.S. intelligence.
Trump also has the option to ask the FBI to help by sending investigators to Turkey, Price said. An FBI spokeswoman declined to comment on whether such a request had been made.
Trump's next move, according to his comments Wednesday, may well be more showmanship: hosting Khashoggi's Turkish fiancée, Hatice Cengiz, at the White House over the next few days to signal support. His choices of what to do with massive American leverage will be closely watched by leaders the world over, particularly autocrats eager to get even more brutal with dissenters. They'll also be watched by regular citizens wondering if it matters anymore that the most powerful country in the world claims to stand for democracy.
"I implore President Trump and first lady Melania Trump to help shed light on Jamal's disappearance," Cengiz wrote in a Washington Post piece published Tuesday. "Jamal is a valuable person, an exemplary thinker and a courageous man who has been fighting for his principles. I don't know how I can keep living if he was abducted or killed."
Popular in the Community