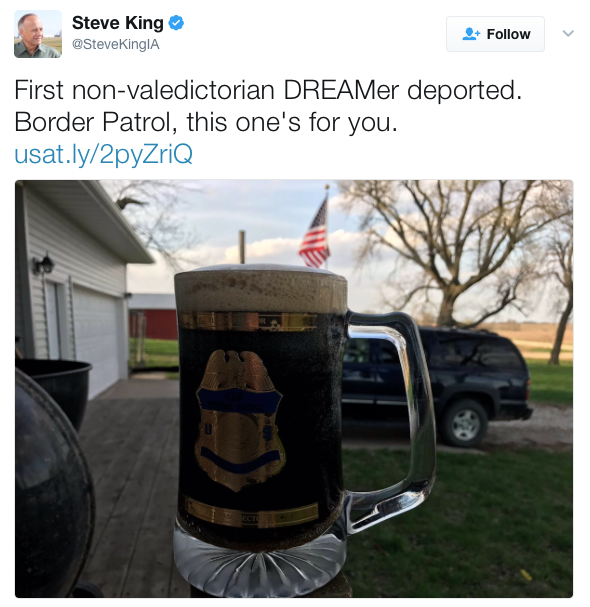 Juan Manuel Montes is the first known young immigrant, who despite being protected against deportation under DACA, was deported to Mexico in the middle of the night on February 17, 2017. While many of us are left with broken hearts learning the news, there are those who view his deportation as a victory.
Representative Steve King posted a picture toasting to Border Patrol for deporting Juan, with the caption, "First non-valedictorian DREAMer deported." USA Today broke the news earlier today, describing Juan Manuel Montes as "not a poster child" for the DACA program because he "wasn't his high school's valedictorian or a prominent advocate for fellow DREAMers."
DREAMers have been portrayed by the media and activists alike as shiny, perfect immigrants. If you are not perfect, or a valedictorian, your deportation is subject to celebration by racist, bigoted, elected officials. DREAMers are not perfect, they are human beings. Valedictorian, high-achiever, activist or not, DREAMers are more than their academic accomplishments, they are imperfect, complex, beautiful humans.
Juan was detained in Calexico, California and within three hours he had been walked to and released in Mexicali, Mexico. In a statement in the National Immigration Law Center's (NILC) press release, Juan described how much he misses home.
I was forced out because I was nervous and didn't know what to do or say, but my home is there. I miss my job. I miss school. And I want to continue to work toward better opportunities. But most of all, I miss my family, and I have hope that I will be able to go back so I can be with them again. - Juan Manuel Montes
Juan may not have a perfect GPA, but despite having learning disabilities, he was attending community college before being deported. He was attending welding classes and was paying for school by picking crops in California and Arizona. What is more American than working as hard as possible to achieve your dreams?
NILC has filed a lawsuit on behalf of Juan Manuel Montes, as he was deported despite having DACA, which allows him to live and work legally in the U.S.
Juan Manuel Montes may not be the poster immigrant according to some, but he is the immigrant that deserves our support and activism. America has been his home since he was nine-years-old, let's bring him home.
Calling all HuffPost superfans!
Sign up for membership to become a founding member and help shape HuffPost's next chapter
BEFORE YOU GO