WASHINGTON -- Senate Minority Leader Harry Reid (D-Nev.) told Republicans Wednesday morning that unless they remove an anti-abortion provision from a bill on human trafficking, the popular legislation is doomed.
"Today, the Senate is doing a good deed. We have a chance to address human trafficking," said Reid in remarks on the Senate floor. "In this legislation that is meant as an outline to stop child trafficking and human trafficking generally, there is a provision in this legislation dealing with abortion. It has nothing, nothing to do with this."
"If my friend, the Republican leader, is so in tune with getting this passed, take that legislation out of the bill. Otherwise, it will not pass," Reid added, addressing Senate Majority Leader Mitch McConnell (R-Ky.), who spoke in favor of the measure Wednesday morning.
The Justice for Victims of Trafficking Act, introduced by Sen. John Cornyn (R-Texas), would establish a fund to help victims by using fees charged to traffickers. The bill, a new version of a measure originally introduced in the previous Congress, has bipartisan support and unanimously passed out of the Judiciary Committee last month.
But Democrats learned this week that the bill contains Hyde Amendment language -- a recurring rider that often gets attached to other legislation, and that restricts federal funding for abortion and other health care services.
Republicans argue that the rider has been in there all along, and that senators should have read the bill. Democrats counter that when Cornyn introduced the current version of the bill, he did not make clear all of the ways in which it differed from the earlier version. Rather, Democrats say, Cornyn pitched it as simply a reintroduction of the measure from the previous Congress, which did not have the abortion rider.
"A list was sent to certain members saying, 'Here are the changes from last year.' This provision was not listed among them," said Judiciary Committee member Sen. Chuck Schumer (D-N.Y.) Tuesday.
"Senator Cornyn's language, restricting needed, legal health care for women, was not included in the trafficking package the Judiciary Committee reported last year. I regret that Senator Cornyn put it in his new legislation this year," said Sen. Patrick Leahy (D-Vt.), ranking member on the committee.
The Huffington Post obtained a January email exchange between Democratic and Republican Judiciary Committee staffers regarding the reintroduction of the Justice for Victims of Trafficking Act and changes from the last Congress. There was no mention in that exchange of the new abortion language.
In his remarks about the bill Wednesday morning, McConnell said that Democrats have had plenty of time to review the legislation.
"[The] bipartisan human rights bill may not be that long, but it sure is effective. And it's transparent," said McConnell. "This bill has been available for any senator and any member of the public to read since January. This bipartisan legislation was considered and strengthened in an open and transparent committee process, and this human rights bill conforms with long-standing bipartisan laws our Democratic friends have supported, repeatedly."
Cornyn also defended the Hyde Amendment language in the bill Tuesday.
"All this does is maintain the status quo by making sure this Crime Victims Compensation Fund, that funds available from that fund, are constrained by the constraint that exists under all other federal law," said Cornyn.
The bill goes further, though. The Hyde Amendment is, indeed, routinely attached to appropriations bills that are approved on an annual basis. Cornyn's bill, however, is an authorization bill for five years, meaning that the abortion restrictions would be in place for a much longer period, without congressional review. The bill also expands Hyde Amendment restrictions beyond taxpayer dollars to include revenue from traffickers' fees.
Advocacy groups that support the human trafficking legislation are now also urging the removal of the abortion language.
Darla Bardine, executive director of the National Network for Youth, wrote a letter Wednesday to Cornyn asking him to "remove the partisan piece of the Justice for Victims of Trafficking Act."
"Human trafficking is a bipartisan and nonpartisan issue," wrote Bardine. "Together, we stand united against modern day slavery, including both sex and labor trafficking. Presently, we are at an important moment in the Senate with both parties unified to take a strong stand against human trafficking, from prevention to law enforcement, and service provision to survivors... This legislation is desperately needed and we cannot let this moment pass us by because of the addition of partisan and divisive provisions."
"No woman should have her decision about abortion made for her because she can't afford medical care, especially those emerging from exploitation and in need of comprehensive health care like trafficking survivors, who are overwhelmingly young women," said Kierra Johnson, executive director of the group Unite for Reproductive & Gender Equity, in a statement.
UPDATE: 3:10 p.m. -- Cornyn took to the Senate floor Wednesday afternoon and doubled down on the bill, defending the abortion language and calling on his Democratic colleagues to move beyond the "phony distraction" and vote for cloture Thursday.
"You can imagine my surprise when -- I think it was yesterday that I got calls, letters, heard speeches that people were surprised, shocked that this provision was in the legislation, when of course it was filed in January, I think January the 13th, and made public to the world," said Cornyn. "If anybody thought it was hidden, it was hidden in plain sight to anybody who cared to read it. And to me what was so surprising about some of the reaction is that this... maintains the status quo. This doesn't change anything."
"If we don't have 60 senators vote to end debate on this bill, then basically we're dead in the water... So I would just ask all of our colleagues to examine their conscience and just to think a little bit about what we are doing here and how much good we could do if we come together," he went on.
But another group that supports the Justice of Victims of Trafficking Act released a statement Wednesday criticizing the Hyde Amendment language. From a statement by the Alliance to End Slavery and Trafficking:
For well over a decade, the work to combat modern slavery and human trafficking has been an example of Congress's ability to put partisanship aside in the interest of tackling a difficult and seemingly intractable problem. That willingness to be thoughtful, practical, and balanced in approach has proven successful in this work, and made tremendous contributions to the fight against this heinous crime. The debate that is emerging over the Justice of Victims of Trafficking Act, S. 178, and the application of the Hyde Amendment to funds collected from perpetrators of human trafficking jeopardize this pragmatic balance in favor of a partisan confrontation that undermines the achievement of our joint goal of ending modern slavery in the United States and around the world.

For these reasons, we urge all members of the Senate to turn away from this divisive debate and find a bipartisan approach to this new initiative to protect and serve the needs of survivors.
Want more updates from Amanda? Sign up for her newsletter, Piping Hot Truth.
Support HuffPost
The Stakes Have Never Been Higher
Before You Go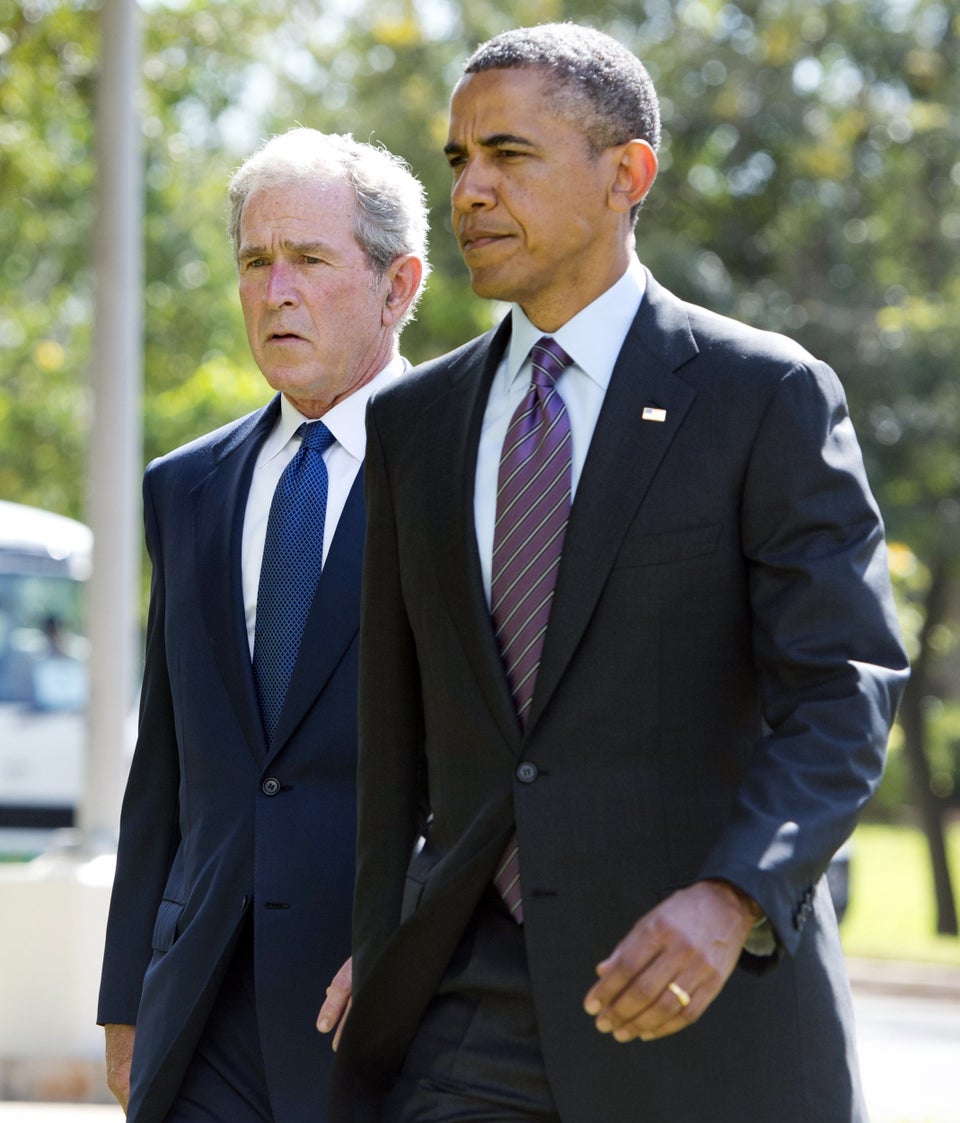 Obama & Bush Together
Popular in the Community