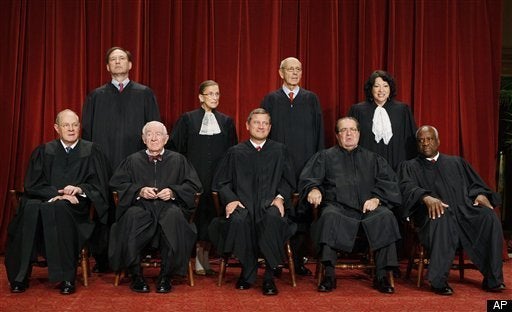 Some words and phrases ring throughout history with portent and meaning. They define new eras in democracy and inspire future generations.
"Four score and seven years ago..."
"Give me liberty or give me death."
"Under the majority's view," Stevens wrote, "I suppose it may be a First Amendment problem that corporations are not permitted to vote, given that voting is, among other things, a form of speech."
We agree. Indeed, the Court's enlightened ruling inspired Murray Hill Inc. to declare its candidacy for U.S. Congress in Maryland's 8th Congressional District. As the first corporation to run for federal office, Murray Hill Inc. took up the challenge as outlined by Justice Stevens and filed a voter registration with the Maryland Board of Elections (as a Republican, of course).
Betraying the bigotry and myopia of a bureaucracy clearly biased in favor of "bodied persons" over their corporate equivalent, the Board of Elections rejected our application, because, in their words, Murray Hill Inc. "is not a human being." Our appeal is pending.
But while the wheels of democracy grind on, however slowly, we should take this moment to acknowledge our debt to Justice Stevens, who will be remembered along with such patriots as Patrick Henry, Abraham Lincoln and John D. Rockefeller.
And now, the Court's contributions to the cause of corporate personhood can expand exponentially.
Why not have an accounting firm run for comptroller, the state's chief tax collector? Why not a law firm for attorney general? The winning firm could arrive in office with a full cadre of associates and save taxpayers money.
Why not, indeed. Or as a bodied President of note once said, "why not the best?"
In that light, President Obama, who has demonstrated a willingness to use his office in support of the civil rights of minorities, gays, women and Muslims-masquerading-as-American-citizens, has an opportunity to use this Supreme Court appointment to defend corporate persons, and their corporeal supporters, by naming a distinguished corporation to the Court.
Rumors have been circulating in recent weeks of a new project out of a certain Cupertino, California technology company that delivers jurisprudence with the touch of a finger. iJustice will streamline the legal system and replace cumbersome, expensive courts, judges and jury trials with fun, easy-to-use apps and a high-resolution LED-backlit IPS display. Great news--but we can go even farther.
Let's take this welcome revolution in our justice delivery system to its logical next step, along the same lines that Murray Hill Inc. is connecting the dots following the ruling by Justice Stevens and his colleagues in the Citizens United case by running for Congress.
Apple for the Supreme Court!
Popular in the Community