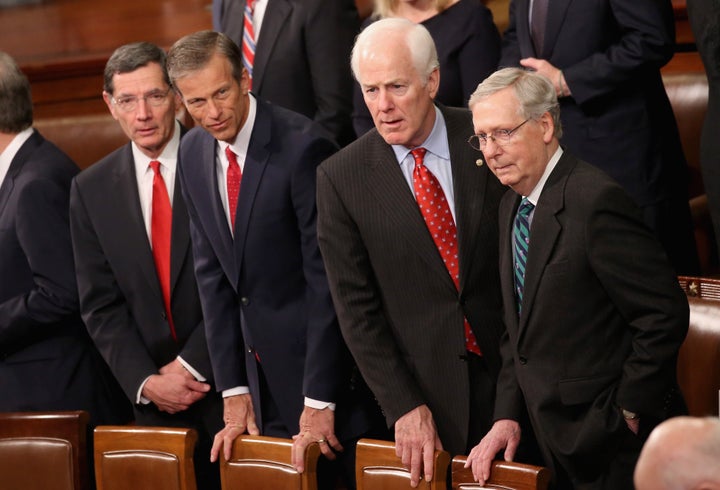 WASHINGTON -- A majority of voters in six states that will help determine control of the Senate want Congress to take action on criminal justice reform, according to a poll released Wednesday.
More than 60 percent of voters in battleground states of Kentucky, Nevada, Wisconsin, Missouri, Florida, and North Carolina think federal prisons house too many nonviolent offenders. More than 70 percent of voters in each state think the main goal of the criminal justice system should be "rehabilitating criminals to become productive, law-abiding citizens."
"The surveys from these six states are just an example of the growing momentum for criminal justice reform," said Jason Pye, a spokesman for conservative advocacy group FreedomWorks. "Once pervasive so-called tough on crime policies no longer have a grasp on the American public."
The results show stark differences between Republicans and Democrats. In Florida, for example, 80 percent of Democrats think the U.S. jails too many nonviolent offenders, compared with 59 percent of Republicans. In Wisconsin, 82 percent of Democrats think the government is spending too much to keep nonviolent offenders behind bars, compared with 58 percent of Republicans.
A recent Pew Charitable Trust poll appears to back up the new survey. Pew's results, released earlier this month, found that 79 percent of U.S. voters want judges to be granted flexibility to determine sentences for drug offenses.
The Tarrance Group survey in the six battleground states shows that voters, while polarized on candidates, are "highly engaged" and criminal justice reform is "one of the few areas of common ground," U.S. Justice Action Network said. 
"Voters are not looking at this in a partisan standpoint," said Ed Goeas, president of The Tarrance Group. "They are looking at it from the standpoint of common-sense solutions," 
The survey questioned over 3,000 voters during two weeks in January. In five of the six states, more than 60 percent of voters agree the federal government should remove barriers that make it harder for released prisoners to find jobs.
U.S. Justice Action Network briefed GOP congressional staffers and the Democratic Senatorial Campaign Committee on the poll on Wednesday, according to a group spokesperson. 
The appetite for passing criminal justice reform has steadily increased on Capitol Hill. Sens. Chuck Grassley (R-Iowa) and Dick Durbin's (D-Ill.) bill is the favorite in the Senate to move this year. But a recent skirmish with conservatives in the Republican conference threatens its movement. Rep. Bob Goodlatte (R-Va.) is the author of the companion bill in the House, which also boasts bipartisan support.
"Voters want to see action," said Holly Harris, executive director of the U.S. Justice Action Network. "This poll reveals that -- in addition to being the smart thing to do from a policy standpoint -- criminal justice reform is a winning issue with voters, Democrats and Republicans alike."
PHOTO GALLERY
Women In The U.S. Senate
REAL LIFE. REAL NEWS. REAL VOICES.
Help us tell more of the stories that matter from voices that too often remain unheard.