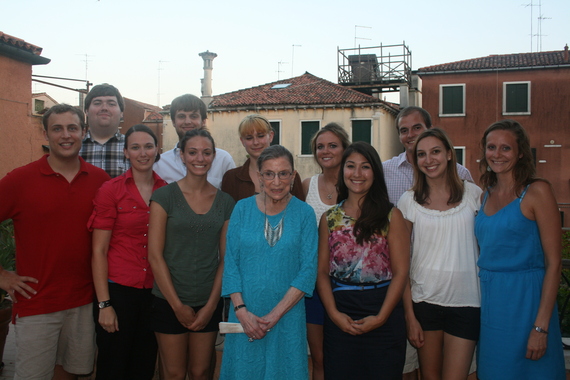 Wouldn't you agree that the losing litigant in a trial rife with falsities and error -- from an imposter judge to undeniable anti-Semitism -- deserves an appeal? U.S. Supreme Court Justice Ruth Bader Ginsburg does.
That's why today, July 27, at the intersection of the 500th anniversary of the formation of the Jewish Ghetto in Venice and the 400th anniversary of Shakespeare's death, she is hearing arguments in a mock appeal in the case of Shylock, the hard-hearted moneylender from Shakespeare's controversial comedy, "The Merchant of Venice."
The original verdict in Shylock's case resulted in a forced religious conversion and the surrender of wealth and property. His appeal has been briefed and this week is being argued in his native Jewish Ghetto of Venice.
The judicial panel hearing the arguments include Justice Ginsburg, Wake Forest Law Professor Richard Schneider and U.S. Ambassador to Italy John R. Philips.
"This is the kind of thing that only happens once," Schneider told Emily Eisert, who originally wrote this for Wake Forest Law's website.
The mock hearing, organized by Schneider at Justice Ginsburg's request, is part of a series of events hosted by Compagnia de' Colombari and Ca 'Foscari University of Venice. Other events include symposia, lectures by Shakespeare scholars Stephen Greensblatt of Harvard University and James Shapiro of Columbia University, receptions and a six-performance production of "The Merchant of Venice."
Under the direction of Karin Coonrod, an international cast will perform the work in English and other languages outdoors in the Campo di Ghetto Nuovo, or the Jewish Ghetto of Venice. This marks the first time the play will be performed in its historic, famous setting.
Shaul Bassi, who hatched the idea to celebrate the confluence of the two anniversaries and coordinated the mock hearing. Bassi is an associate professor at Ca' Foscari University and the co-founder and director of Beit Venezia: A Home for Jewish Culture, an arts and education project that promotes Venice as a center of Jewish knowledge and creativity, according to its website. Bassi is also a faculty member at Casa Artom, the Wake Forest University's Venice campus for undergraduate students.
Schneider decided to incorporate a number of old literary works into his organization of the mock hearing. Instead of applying modern human rights laws, the judges will focus on the laws and works of literature available during Shylock's original trial, such as Aristotle, Michel de Montaigne and Boccaccio.
"It's actually more interesting if we just show how, even at the time, Shylock could have been exonerated. There was a lot out there that if had been applied, could have given a much more humane outcome," Professor Schneider explained.
Nevertheless, it is up to the lawyers to determine how and on what laws and literature their arguments will be formed. Each of the three Italian attorneys prepared a 15-minute argument based on four human rights-oriented questions Professor Schneider gives them. From there, the judges will determine if Shylock prevails.
"I think this will be really an amazing opportunity for students to think about the intersections of law and literature. Because a part of law is telling a story, telling a narrative and getting people to believe it," Schneider said. "That's also the heart of literature."
REAL LIFE. REAL NEWS. REAL VOICES.
Help us tell more of the stories that matter from voices that too often remain unheard.