 Sens. Patrick Leahy (D-Vt.) and Rand Paul (R-Ky.) introduced a bill Wednesday designed to give relief to the nation's bloated prison system by offering judges leeway to consider sentences below the mandatory minimum for all federal crimes.
The bill, named the Justice Safety Valve Act, would expand a current provision in sentencing law, authorizing judges to hand down less harsh sentences if they determine doing so would not jeopardize public safety. Under current law, only certain nonviolent, low-level, first-time drug offenses are subject to sentencing below the federal mandatory minimum.
Both Leahy and Paul touted the measure as a key step toward reducing the federal prison population and shrinking the federal prison budget, which surged to over $6.8 billion in 2012.
"As a former prosecutor, I understand that criminals must be held accountable, and that long sentences are sometimes necessary to keep criminals off the street and deter those who would commit violent crimes," Leahy said in a statement. "Our reliance on mandatory minimums has been a great mistake. I am not convinced it has reduced crime, but I am convinced it has imprisoned people, particularly non-violent offenders, for far longer than is just or beneficial. It is time for us to let judges go back to acting as judges and making decisions based on the individual facts before them. A one-size-fits-all approach to sentencing does not make us safer."
Leahy has been a vocal proponent of sentencing reform. Earlier this year he called for the total abolition of federal and state mandatory minimum laws.
Paul released his own statement, criticizing mandatory minimums as counter to American principles.
"Our country's mandatory minimum laws reflect a Washington-knows-best, one-size-fits-all approach, which undermines the Constitutional Separation of Powers, violates the our bedrock principle that people should be treated as individuals, and costs the taxpayers money without making them any safer," he said. "This bill is necessary to combat the explosion of new federal criminal laws, many of which carry new mandatory minimum penalties."
Civil rights activists and fiscal conservatives have already banded together in support of the bipartisan effort.
In an op-ed in The Hill on Wednesday, Julie Stewart, founder and president of the Families Against Mandatory Minimums Foundation, and Grover Norquist, president of Americans for Tax Reform, both hailed the Justice Safety Valve Act as a "common sense" measure that would save money and help ensure that the "time fits the crime in every criminal case." Their column offered some data on prison capacity and overcrowding:
According to a recent Congressional Research Service (CRS) report, the number of inmates under the Bureau of Prisons' (BOP) jurisdiction has increased from approximately 25,000 in FY1980 to nearly 219,000 in FY2012. BOP prisons are operating at 38 percent over capacity, endangering the safety of guards and inmates alike. Last week, the Inspector General for the Department of Justice testified that it's only going to get worse: the BOP projects system-wide crowding to exceed 45 percent over rated capacity through 2018.
Wade Henderson, president and CEO of The Leadership Conference on Civil and Human Rights, met the legislation with similar approval.
"Our justice system's overreliance on mandatory minimum sentencing is a major reason our prison system incarcerates more people than any other industrialized nation in the world, a disproportionate number of whom are Black and Brown," he said in a statement. "In fact, our overcrowded prisons are almost entirely the result of the mass incarceration of nonviolent drug offenders, who make up nearly half of all federal offenders, not violent criminals."
Before You Go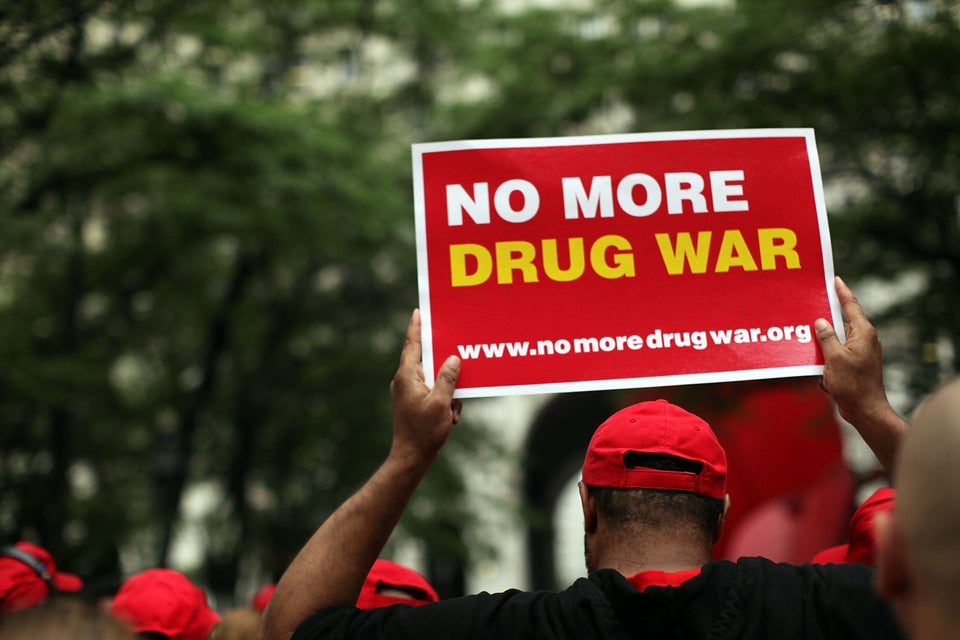 27 Reasons Why The U.S. Shouldn't Lead The War On Drugs
Popular in the Community