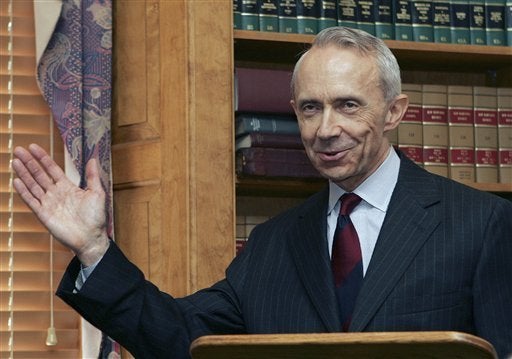 Scroll down for slideshow and video
Justice David Souter has decided to retire from the Supreme Court when the current term ends, according to several reports.
NPR, which was first to break the news, reported:
Souter is expected to remain on the bench until a successor has been chosen and confirmed, which may or may not be accomplished before the court reconvenes in October.
Reached at home, Supreme Court spokesperson Kathy Arberg repeatedly declined comment to Huffington Post on the report of Souter's resignation. Asked specifically if the report of Souter's planned resignation was inaccurate, Arberg repeated, "All I can tell you is no comment."
NPR's Nina Totenberg adds that Souter 69, has informed the White House of his decision and reports that President Obama is expected to appoint a woman:
At 69, Souter is nowhere near the oldest member of the court, but he has made clear to friends for some time now that he wanted to leave Washington, a city he has never liked, and return to his native New Hampshire.
For more about Obama's potential Supreme Court picks, click here.

According to various government officials, Justice David Souter plans to retire either at the end of this court term or once President Obama's choice to replace Souter is confirmed by the Senate. Look for more on the Souter retirement news tomorrow morning on TODAY.
Watch MSNBC's report on the planned retirement:
Click through this slideshow:
Earlier on Thursday, the Associated Press had the legal word buzzing with a story that hinted at Souter's retirement due to the fact that he has yet to hire any law clerks compared to the other eight justices who have each hired their four clerks.
Why does this matter? Under the scenario that counts, Souter, 69, would not be hiring clerks because he isn't planning to be in Washington in the fall. A retirement would give President Barack Obama his first chance to nominate a justice and the next few months would bring Senate confirmation hearings.
If Souter does indeed retire, all eyes will turn to President Obama and who he selects to fill that vital seat on the Supreme Court.
The move comes as a surprise since the most often-cited candidates for retirement have been Justice Ruth Bader Ginsburg, 76, who is undergoing chemotherapy, and John Paul Stevens, 89.
The AP points out that Ginsburg has said she plans to serve into her 80s and Stevens has expressed no intention of leaving.
Souter came close to retiring out of despair with the infamous 2000 Bush vs. Gore decision which ended the Florida recount, in which he dissented along with three other justices.
According to Jeffrey Toobin's book, "The Nine," Souter was crushed by the decision and often wept when he reflected on it:
David Souter alone was shattered. He was, fundamentally, a very different person from his colleagues. It wasn't just that they had immediate families; their lives off the bench were entirely unlike his. They went to parties and conferences; they gave speeches; they mingled in Washington, where cynicism about everything, inluding the work of the Supreme Court, was universal. Toughened, or coarsened, by the their worldly lives, the other dissenters could shrug and move on, but Souter couldn't. His whole life was being a judge. He came from a tradition where the independence of the judiciary was the foundation of the rule of law. And Souter believed Bush v. Gore mocked that tradition. His colleagues' actions were so transparently, so crudely partisan that Souter though he might not be able to serve with them anymore.

Souter seriously considered resigning. For many months, it was not at all clear whether he would remain as a justice. That the Court met in a city he loathed made the decision even harder. At the urging of a handful of close friends, he decided to stay on, but his attitude toward the Court was never the same. There were times when David Souter thought of Bush v. Gore and wept.
Souter, nominated by the first President Bush in 1990, disappointed conservatives with his more-liberal interpretations of the Constitution. His decision in Casey vs, Planned Parenthood case, in which he upheld the Roe v. Wade decision that gave women the right to choose, also provided a clear indication of his thinking.
Here is a list of Justice Souter's decisions.
Souter graduated Phi Betta Kappa in 1961 from Harvard, majoring in philosophy.
Popular in the Community