When little Nicholas Heyward Jr. was playing cops and robbers with his friends, he never thought that he'd run into a real cop that night in the Gowanus houses. Little Naquan, as his father called him, was just 13 and was playing with three other young boys when a housing cop, Brian George, spotted them from a the rooftop of another building. George was doing vertical patrols and, according to his deposition, said that he went to check the building that the boys were in, gun drawn, when little Naquan, holding toy gun, startled him and forced him to shoot the boy in the stomach in the staircase.
Brian George was never charged at any level. Nothing was presented to a grand jury. Brooklyn District Attorney Charles Hynes simply brushed the case off as a tragic accident. During a press conference after the shooting, Hynes showed the media a table of realistic toy guns to suggest that anyone could have confused the Heyward boy's toy gun with a real one. However, the toy rifle that little Naquan had that night, which was perfectly legal and could be bought at any toy store in 1994, had bright orange coloring and was not shown by Hynes.
Recently, in a case eerily similar to the Heyward shooting, a judge recommended that charges be brought against the Cleveland police officer that shot and killed 12 year old Tamir Rice. While the local prosecutor brushed off the judge's recommendation, preferring to go with the more secretive grand jury process that is now being challenged in California and New York, at least there was a level of scrutiny in the Rice case that the Heyward case never received over two decades ago.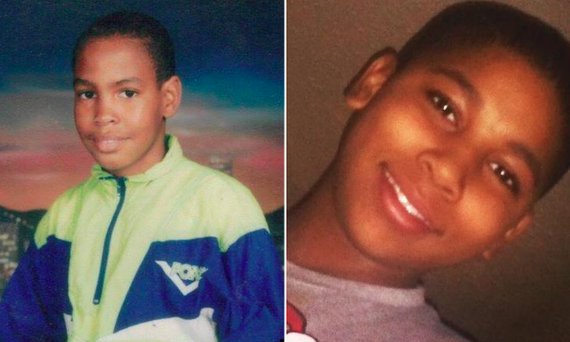 Nicholas Heyward Jr., left, and Tamir Rice, right, young boys killed by cops
"Whenever there's a toy gun involved, there still should be an indictment," says Nicholas Heyward Sr. Heyward challenges the official account of what happened to his son, pointing out that his his son's friends recall the boy yelling out "We were only playing!" before the shots rang out. "The officer jumped out almost immediately -- in a matter of seconds," he says. The shooting of Rice last year, just a year younger than Naquan when he was killed, has been one of many police-involved killings that have put the spotlight back onto police brutality lately.
"I was crying when I heard that. It brought up so many memories," he tells me as he shows me the court documents and newspaper clippings that he's collected over the years. Heyward still lives in the Gowanus houses. The room that little Naquan once slept in has been turned into a command center of sorts. There are posters of Marcus Garvey and books on Malcolm X. In the corner is the toy gun that his son held when he was shot. It has a bright orange tip and looks even less realistic than the BB gun little Ralphie got in the movie A Christmas Story.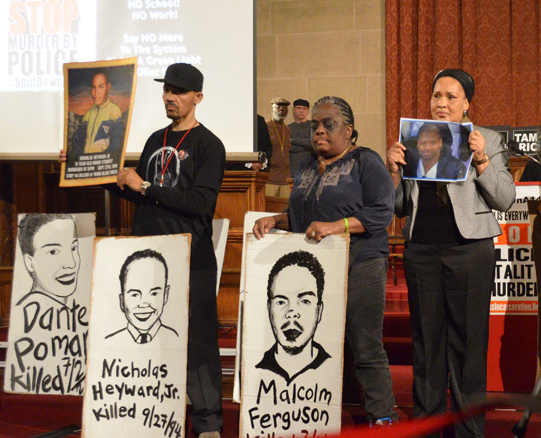 Mr. Heyward, Juanita Young and Hawah Bah, parents who've lost kids to police
While no charges were ever brought against police officer Brian George, legislation around the selling of toy guns was passed in New York. Attorney General Eric Schneiderman recently announced an expansion of laws limiting the sale of toy guns as well as a financial settlement with online retailers who've sold illegal toy guns online. Schneiderman was also tabbed recently by Governor Andrew Cuomo to be a special prosecutor in cases of police-involved killings. Heyward doesn't get his hopes up. "I signed for the special prosecutor, but do I have any faith in Eric Schneiderman? Get someone like Michelle Alexander [lawyer and author of The New Jim Crow] and then we can talk."
The enactment of the special prosecutor is debatable as a "reform," but the focus on toy gun legislation reinforces the perception that many police shootings are simply accidents, as former Brooklyn DA Hynes concluded about the Heyward case. But Mr. Heyward held out hope when one Ken Thompson stopped by his annual "Day of Remembrance" in 2013. Thompson, running for Hynes' spot as Brooklyn's top prosecutor, gave a speech heavy on rhetoric about holding cops accountable and told Heyward that he'd look into his son's case if elected. Heyward campaigned for Thompson, who did in fact defeat Hynes and became Brooklyn's first black District Attorney in 2014.
Since becoming Brooklyn DA, Thompson has earned some goodwill from criminal justice critics as he has exonerated men wrongfully convicted by past DA's, and was even able to bring charges against the NYPD officer who killed Akai Gurley last year. Gurley, like Heyward Jr., was shot in a Brooklyn housing staircase.
Thompson, however, has not returned Nicholas Heyward Sr.'s phone calls since he came into office. Perhaps no one should be surprised. Thompson, a former federal prosecutor, also dragged his feet in dropping bogus charges against a young man who filmed cops and family of street vendors, all brutalized by cops last summer in Sunset Park.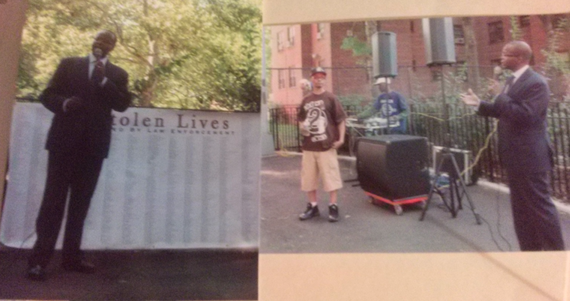 Ken Thompson at the 2013 Nicholas Heyward 'Day of Remembrance
"I am completely fed up with the system and how they allow it. In the hundreds, even thousands of cases of police shootings, there are almost never prosecutions," Heyward says. He also offers advice to families left to fight for justice when a loved one dies at the hands of police: "Family members should never take a settlement in a case. They should go all the way to trial because that's where the facts come out and police have to take the stand."
Civil cases should come before. In civil proceedings you also have your own lawyer, as opposed to a district attorney. The truth comes out better in civil cases rather than criminal cases, where it's also much harder to win.
Heyward is busy organizing for his annual event to mark his son's memory. He reminisces about all the rallies and protests he's helped to put together. He has seen it all. The predictable posturing of politicians and fear-mongering of the criminal justice system are nothing new to him. He remembers rolling up on Charles Hynes 14 years ago when the DA tried holding a press conference right in the middle of the Gowanus houses to announce the indictments of alleged gang members. Not willing to allow Hynes to use the houses as his political platform, Heyward grilled him on the daily harassment of residents by cops.
There were allegedly consequences, of course, for his tenacious advocacy. "After my son was killed, when I began to speak out more publicly, cops started to harass me. They gave me tickets for walking my dog without a license -- even though he had a license around his neck," he says.
In 2002, they came banging on my door on the morning of October 22nd, the national day of action against police brutality, saying that I had outstanding warrant for walking the dog without a license.

They arrested me right then and there. After about six hours, I was allowed to see the judge and explain my case to him. He let me go, and I made it to the protest at Union Square, where I was one of the main organizers that day.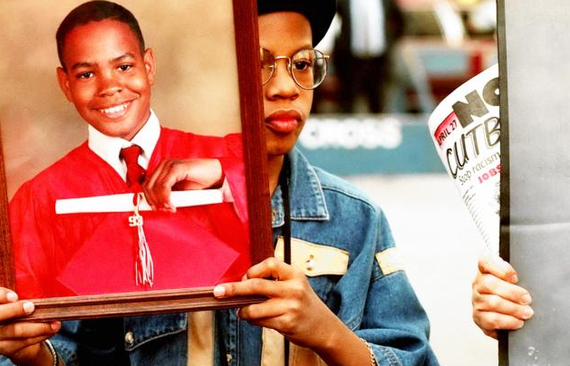 Quentin Heyward with a picture of his brother, Nicholas Naquan Heyward Jr.
His other son, Quentin, also saw police harassment, according to Heyward. In 2006 they arrested the younger brother of Naquan across the street from his house saying that he was wanted for an armed robbery. "My son was in his last year of high school and an honor student, like Nicholas Jr., and we had to bail him out after he spent two days in jail. They offered him five years, then three years and then finally dropped the charges," Heyward tells me. Quentin eventually moved down south to live with family, afraid that the NYPD had it out for him. He and his father remember that Naquan, before he was killed, had said that he had once been told by a Brooklyn cop that he wouldn't live to see 15.
The annual "Day of Remembrance" for Nicholas Naquan Heyward Jr. is this Saturday, August 22nd at Noon. It will be held at the park named after him, located on Wyckoff street between Hoyt and Bond.
Related
Popular in the Community