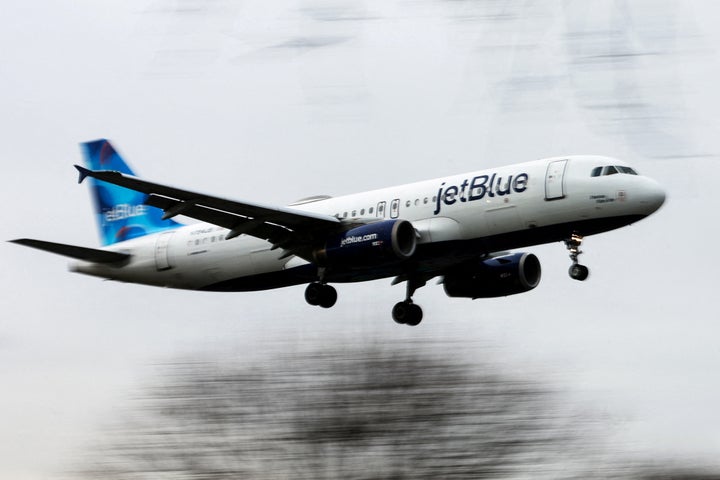 The Department of Justice has filed a lawsuit to block the merger of JetBlue and Spirit Airlines, creating a new test of President Joe Biden's aggressive antitrust strategy.
The Justice Department is filing an antitrust lawsuit to block JetBlue's $3.8 billion purchase of the low-cost carrier, while the Transportation Department is expected to deny a transfer of Spirit's airline certificate, arguing that doing so would be against the public interest.
"If allowed to proceed, this merger will eliminate choices and drive up ticket prices for customers across the country," Attorney General Merrick Garland said at a press conference announcing the lawsuit Tuesday.
Garland said the elimination of Spirit, which has a "unique and disruptive role in the industry," would be particularly hard on middle-class Americans, families and leisure travelers "who have to pay their own way."
Citing internal documents from both companies, Garland said fares dropped 17% when Spirit began flying a particular route and would rise 30% when Spirit stopped flying one.
Not long after entering office, Biden fully embraced a progressive push to revitalize antitrust policy and try to reverse 40 years of corporate concentration. The policy represented a break with President Barack Obama's administration, which followed the laissez-faire approach to mergers that has dominated American government in recent decades. (The Obama administration allowed the most recent airline merger, between US Airways and American Airlines, to proceed in 2013.)
The airline industry has consolidated rapidly since its deregulation in 1978, and now just four airlines ― United, Delta, American and Southwest ― control 82% of the U.S. market, which progressives argue has driven up costs for consumers and hurt smaller metropolitan areas who have seen flight offerings slashed.
JetBlue and proponents of the merger have argued that the combined airline would still be far smaller than the four giants, and say becoming larger is necessary to compete.
"This isn't Pepsi buying Coke," JetBlue CEO Robin Hayes said on "CBS Mornings." He noted that the combined airline would be "a distant fifth" among the others.
Hayes also argued that a bigger JetBlue could expand to more markets, bringing lower fares to customers there.
Opponents of the merger have focused on how the disappearance of Spirit, which offers much cheaper flights than most of its competitors, could drive up prices in key markets.
The states of Massachusetts and New York, along with the District of Columbia, are joining the Justice Department in filing the lawsuit.
Transportation Secretary Pete Buttigieg, in particular, has faced pressure from progressives to block the deal. His expected move is historic and would represent the first time the department has blocked a certificate transfer since the airlines were deregulated.
"It's so important to make sure that passengers have choices, that they have access to low fares, that they have access to competition," Buttigieg said on CNN. "We've seen less and less of that competition over the years."
Buttigieg said he would look for more ways for DOT to fight corporate consolidation.
"This is a shift for our department," Buttigieg continued. "We have authorities when it comes to [promoting] competition, but we haven't used those authorities very much. I think that needs to change."
Popular in the Community