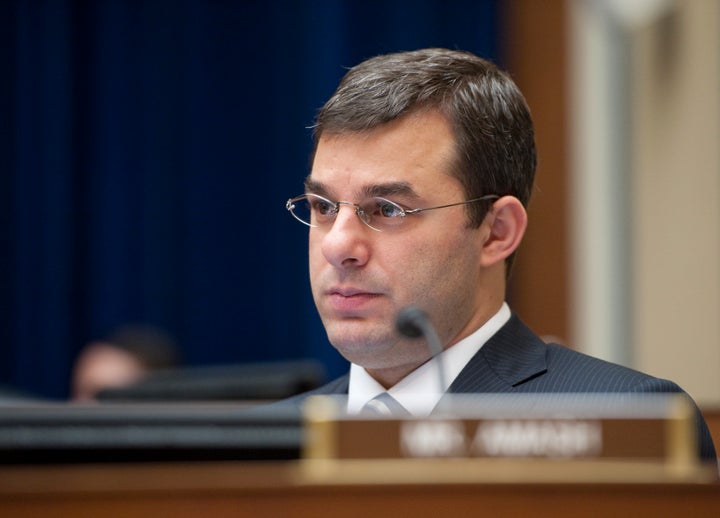 WASHINGTON ― Within the Republican rat race to shift core principles and cozy up to the Trump administration, there's one Republican in the House who seems totally uninterested in running the maze.
When Donald Trump proposed a year of jail or loss of citizenship for burning the flag, this congressman said no president should be allowed to "burn the First Amendment."
When Trump said only the media thinks his potential conflicts of interest are "a big deal," he quote tweeted the president-elect to say that it was indeed a big deal, affixing Trump's hashtag, #draintheswamp.
And when Trump indicated he would nominate Sen. Jeff Sessions (R-Ala.) to be attorney general, he said he was "deeply concerned" by the pick.
Rep. Justin Amash (R-Mich.) says it's not difficult for him to criticize Trump. He's just being consistent.
"I'm not here to represent a particular political party; I'm here to represent all of my constituents and to follow the Constitution," Amash told The Huffington Post earlier this week.
Amash, a 36-year-old lawyer entering his fourth term in Congress, has quite a bit of experience in breaking with his party. If there's a bill that passes on the House floor with one member in opposition, there's a good chance it's Amash. He's perhaps the most hated Republican in some orbits of the GOP conference ― Intelligence Chairman Devin Nunes (R-Calif.) once called Amash "Al Qaeda's best friend in Congress" ― just as he's perhaps the most respected lawmaker in Libertarian circles. He's partnered with Democrats to lead the charge against detention at Guantanamo Bay and the National Security Agency's blanket collection of telephone metadata, and he's been an outspoken critic of Trump from the very beginning to the very end, when he wrote in Sen. Rand Paul (R-Ky.) on his ballot.
"I'm not here to represent a particular political party; I'm here to represent all of my constituents and to follow the Constitution."
At no point in the 2016 election did Amash ever flirt with supporting Trump ― and not because he thought the real estate mogul couldn't win. He, in fact, said he wouldn't support Trump because he feared he could win.
And now that Trump has done just that, Amash isn't letting up with the criticism, even as other Republicans trip over themselves to shift positions they've espoused for years.
Take, for instance, House Speaker Paul Ryan (R-Wis.). Ryan ― a pro-trade, pro-immigration reform, anti-cronyism Republican ― has gone out of his way to praise Trump whenever he can. On Thursday, Ryan applauded a deal with Carrier that would offer the company tax breaks in exchange for not moving an Indiana furnace plant to Mexico.
"I think it's pretty darn good that people are keeping their jobs in Indiana instead of going to Mexico," Ryan said, after years of crying out that the government "shouldn't be in the business of picking winners and losers."
Amash had a different take.
Again, Amash believes he's just being consistent.
"I ran on a set of principles, and it doesn't really matter which party is in charge or who the president is; I'm going to stick by my principles," he told HuffPost.
He seems unworried by a potential backlash from standing up to Trump. In his congressional district, Amash noted, Mitt Romney did better than Trump ― and Amash did better than all of them.
As for Trump going after him, Amash is characteristically unflinching. "Let's see it happen," he said. "It's up to him how he takes it. I'm going to stand by my beliefs and stand up for my constituents and stand up for the Constitution."
Amash says his quote tweets criticizing Trump aren't personal ― "these are critiques on policy" ― and that he'll continue calling out his disagreements.
One of the biggest areas of discord is national security and surveillance. Trump has taken a number of authoritarian positions, going as far as advocating torture and calling for a Muslim registry. And as much as Trump has tried to bring in every corner of the Republican Party into his transition team, one branch of the GOP has systematically been excluded: Libertarians.
Nunes ― the member who tied Amash to Al Qaeda ― serves on Trump's transition national security team, as does another former intelligence committee chairman: Rep. Pete Hoekstra (R-Mich.), who was instrumental in trying to unseat Amash during a heated 2014 primary. (Amash delivered a scathing victory speech that year where he called Hoekstra a disgrace. "I'm glad we could hand you one more loss before you fade into total obscurity and irrelevance," he said.)
Yet another former intelligence chairman who shares bad blood with Amash, former Rep. Mike Rogers (R-Mich.), was also on Trump's national security transition team, before internal power struggles cost him his spot.
Which is all to say it would be difficult to find three Republicans more ideologically split with Amash on national security and surveillance than the last three Republican chairmen of the intelligence committee. Asked if it was alarming that those were the types of people Trump wanted picking a national security team, Amash was Amash.
"Those names are consistent with the positions he laid out during the campaign. It's not alarming in that sense," he said. Trump "believes strongly in the surveillance state," Amash noted, saying those names were "not inconsistent with what he said he would do."
"I ran on a set of principles, and it doesn't really matter which party is in charge or who the president is; I'm going to stick by my principles."
As for other Trump team selections, Amash has repeatedly expressed concern over Sessions becoming attorney general, citing his Senate voting record on civil rights and surveillance issues.
"The attorney general has a lot of independent authority, so it's a position we need to be really careful about," Amash said.
On Twitter (apparently the preferred method of communication for both Amash and Trump), the congressman said Sessions supports indefinite detention, mass surveillance, and civil asset forfeiture.
Regarding Trump's financial conflicts of interest, Amash noted that many Republicans were just sort of waiting to see what Trump does. But he also indicated that the president-elect's current plans of action don't seem adequate.
"He has to explain better how he's handling conflicts of interest," Amash said. "It's not enough to say, 'I'm the president, the president can't have conflicts of interest.'"
Of course, as comfortable as Amash seems criticizing Trump, there are some topics where he just won't go.
When asked about the prospect of impeaching Trump, should he not solve his conflicts of interest or increase the surveillance that he already believes is unlawful, the Michigan Republican, who already chooses his words carefully, spent some extra time coming up with a response.
He thought about what he wanted to say, pausing for a few moments over and over again, and then, three times, said: "I'm not going there."
Popular in the Community