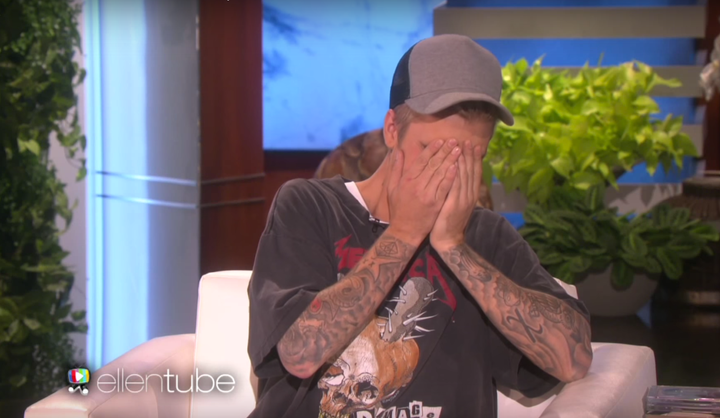 Expressing her curiosities about the viral paparazzi shot, the talk show host was a little surprised the Biebs didn't notice the photographer. 
"Usually, we're all pretty good at spotting paparazzi. They hide in boats, pretend to be fisherman ... How did you not see that there was paparazzi there?" DeGeneres asked. 
Bieber claimed he just didn't see the photographer, and it wasn't until a couple days later that he found out (thanks to his manager, Scooter Braun) the pictures had made their way onto the Internet. 
"The first thing I saw was the censored one and it had, like, the black thing over it. And I was like, 'Oh, my goodness, I don't know what this is gonna look like,' and then it wasn't as bad as I thought it was gonna be ... It wasn't as terrible," he said, to which DeGeneres responded, "I'm no expert, but I heard it was good."
The comedian went on to tease Bieber about his rumored girlfriend, Jayde Pierce, who's seen in the background of the paparazzi pic. She questioned the singer's intentions, badgering him about the details of their relationship. The Biebs tried to maintain the two were "just friends," though his blushing cheeks suggested otherwise. 
DeGeneres continued to pester Bieber by asking him to identify the songs on his album that were written about his former girlfriend, Selena Gomez. 
"I didn't really say that," he said, before admitting that "What Do You Mean?," "Sorry" and "Mark My Words" are about his relationship with the "Spring Breakers" star.
And for all the Jelena fans out there, you might not want to lose hope just yet. Bieber noted that there could be a possibility of the two rekindling their romance, but regardless of what happens, he added, "I just want her to be happy, honestly."
Bieber then jumped into an acoustic performance of "Sorry," and whether or not you're a fan, we'd say it's worth a watch. 
PHOTO GALLERY
Celebrity Splits
REAL LIFE. REAL NEWS. REAL VOICES.
Help us tell more of the stories that matter from voices that too often remain unheard.