Late last week, the Biebs' likeness turned up on a Los Angeles billboard tying minimum wage hikes to the nation's high teen unemployment rate. In the advertisement, a dejected Bieber stares out at passersby near the corner of W. Pico Blvd. and Hi Point St. in Central Los Angeles.
"Why is Justin Bieber so sad?" the billboard asks. "Could it be because 24% of teens who want a job can't find one? Teen unemployment makes us all sad. Unfortunately, raising the minimum wage will only make things worse."
The billboard was sponsored by a D.C.-based industry group called the Employment Policies Institute, which advocates against minimum wage hikes on the state, federal and local levels. Although the group does not disclose its funding, it was launched by the well-known Washington lobbyist Rick Berman, whose industry-backed groups have stumped on behalf of restaurant and alcohol companies.
The Employment Policies Institute -- sometimes confused with the liberal Economic Policy Institute -- is registered as a tax-exempt 501(c)(3). It's among the loudest critics of higher minimum wages, and its studies are often cited by conservatives arguing against such boosts. The group has cited the high teen unemployment rate -- currently 24.1 percent, according to the Bureau of Labor Statistics -- in making its case against a wage hike.
A spokeswoman for Bieber did not respond to a HuffPost query asking whether the singer approved of his likeness being used and whether he agreed that the minimum wage should not be raised. A cursory search of the heartthrob's lyrics catalogue turns up no mention of the minimum wage or labor economics more generally.
A woman who answered the phone at a Goodwill location beneath the billboard confirmed to HuffPost that Bieber's visage has been staring out at traffic for the past several days.
Michael Saltsman, a researcher at the Employment Policies Institute, said that the group did not reach out to Team Bieber before putting up the ad, but that it did purchase rights to the Bieber image through Getty.
Saltsman said it wasn't his group's intention to impart a specific policy position on the "As Long As You Love Me" pop singer. The answer to the question raised -- why is Justin Bieber so sad? -- is entirely left to the viewer, Saltsman argued.
"It could be many things," Saltsman said. "We're asking a question -- and we're speculating the answer -- but we're not implying that he supports any particular policy."
In his State of the Union address earlier this year, President Obama proposed raising the federal minimum wage to $9 per hour and pegging it to inflation. The federal minimum wage, which prevails in the 31 states that don't mandate a higher one, remains $7.25 an hour and hasn't moved since 2009, after the last of a series of increases signed into law by President George W. Bush.
Some congressional Democrats have proposed a higher wage boost -- to more than $10 per hour -- arguing that Obama's measure wouldn't do enough to restore the minimum wage to its historical highs.
Correction: This post originally said Rick Berman's consulting groups had "long stumped" on behalf of tobacco companies, among others. In fact, although Berman's company received money from Philip Morris for a campaign in the mid-90s, it hasn't done any work on behalf of the industry since then.
Before You Go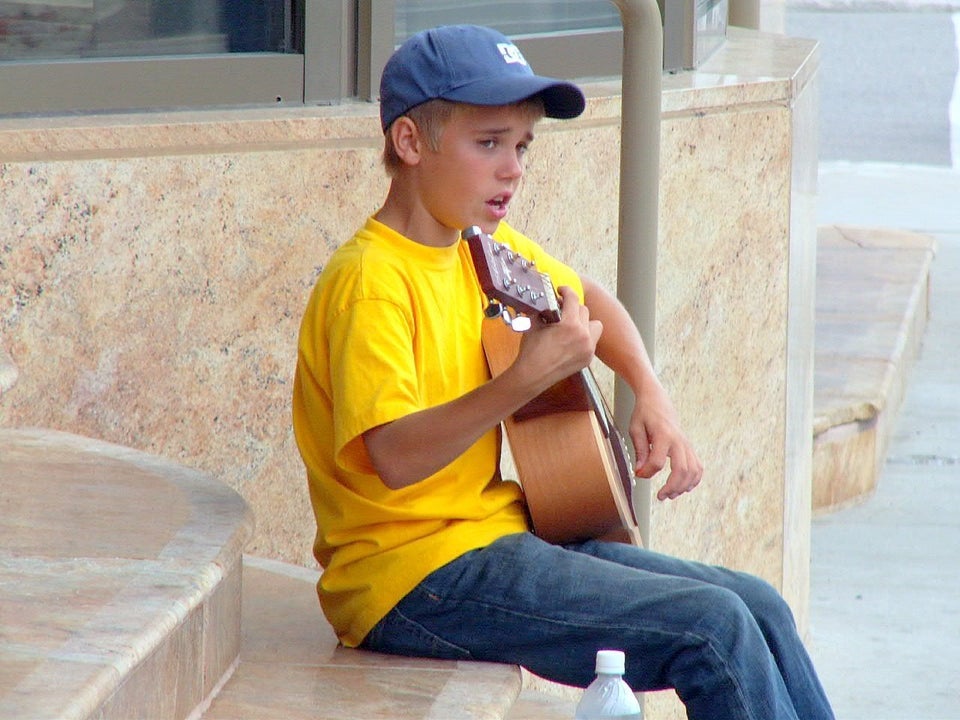 Justin Bieber through the years
Popular in the Community