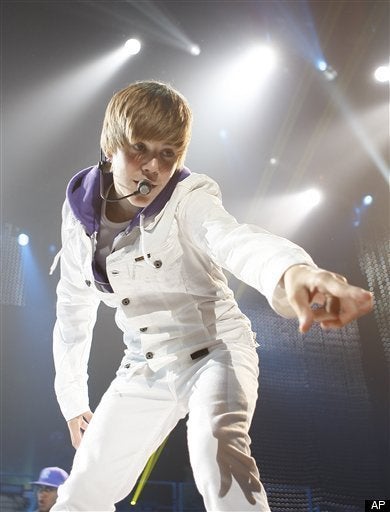 What's a Justin Bieber? Glad you asked.
The shaggy haired, diminutive popstar is taking the world by storm -- now that he's conquered every teenage girl out there -- and his movie, "Justin Bieber: Never Say Never" comes out this weekend. Here's what you need to know:
Bieber comes from the small town of Stratford, Ontario, the son of soon-to-be single mother Patti Mallette, a very devout Christian. He does remain relatively close to his father. Born into modest circumstances, he displayed an early talent for singing and considerable charm, and soon began to post videos of his singing to YouTube so that his family could see him perform.
When music manager Scooter Braun caught wind of the videos, he quickly moved to sign Bieber, introduced him to Usher and over the past few years, he's skyrocketed to stardom.
His debut song, 'One Time,' was a number one hit, reaching the top slot around the world. Girls soon began to scream for his voice, natural ease and perhaps boy next door qualities, and there have even been security concerns during his tours given their insatiable enthusiasm and desperation to even touch him.
His first album, 2009's 'My World,' went platinum in the US and twice platinum in his native Canada. Perhaps his most famous song is 'Baby.' He was helped to stardom in large part by Twitter -- he has over seven million followers, and until the site changed its algorithm, was a constant presence at the top of its trending topics list. His fans tweet him constantly, and follow anyone he mentions.
Here's a sampling of reviews. A trailer for the movie follows the reviews.
The movie is cunningly woven to show the tension between his insane success and his determination to remain a sane, normal 16-year-old. His background helps. His teenage mom and dad split when he was 10 months old -- but we're told he always had the love of his mother and her parents, not to mention God and Jesus. He wasn't hatched in a studio incubator. His talent manager, Scott "Scooter" Braun, first saw him on YouTube. He couldn't interest record companies, though, because Bieber didn't have the requisite connection to Disney or Nickelodeon. So Braun enlisted Usher, whom Bieber idolized. But in the end, says Braun, Bieber sold himself.
What the 3-D film lacks in cinematic charm and ingenuity is compensated for by its subject's high-wattage charisma and low-key earnestness. This is not A Hard Day's Night, even if Bieber has a Beatles haircut and shakes windswept locks like puppy emerging from tub.
At 70 or 80 minutes, reduced to crazy fans, backstage atmosphere and home-movie footage of Mr. Bieber playing hockey and pounding the drums, "Never Say Never" could have been entirely satisfying. At 105 minutes it's exhausting, even though it has been expertly cut together.
WATCH
the trailer:
Calling all HuffPost superfans!
Sign up for membership to become a founding member and help shape HuffPost's next chapter