Justin Bieber lauded the bravery of the crowd as he appeared at the One Love Manchester benefit concert on Sunday night.
The singer, one of many who performed throughout the night, walked onstage with just his guitar to sing "Love Yourself" and "Cold Water" (his collaboration with Major Lazer and MØ).
Before he began, the 23-year-old shared some touching words with the crowd.
"I just want to say thank you so much for having me. You guys are so brave," he said. "What an amazing thing we're doing tonight, would you not agree? Would you agree that love always wins?"
Once he finished singing, Bieber encouraged the crowd to chant "Love" and then said a prayer for the victims and their families. At one point, he held back tears as he told the crowd, "I just want to honor those who were lost, those that were taken from us. We love you so much, to the families we love you so much. Put both hands up to honor those people right now."
Proceeds from the One Love Manchester benefit will go toward the victims and families affected by the tragic attack that took place at Manchester Arena last month during an Ariana Grande concert. A suicide bomb was detonated at the arena, killing 22 people, including children, and injuring at least 59 others.
The benefit concert also took place just one night after terror struck in the U.K. once again. A vehicle plowed into a crowd of pedestrians, killing seven and injuring 50 more. The benefit seemed to take on an even more powerful meaning following the London attack, with the stars sharing uplifting messages in solidarity with both Manchester and London.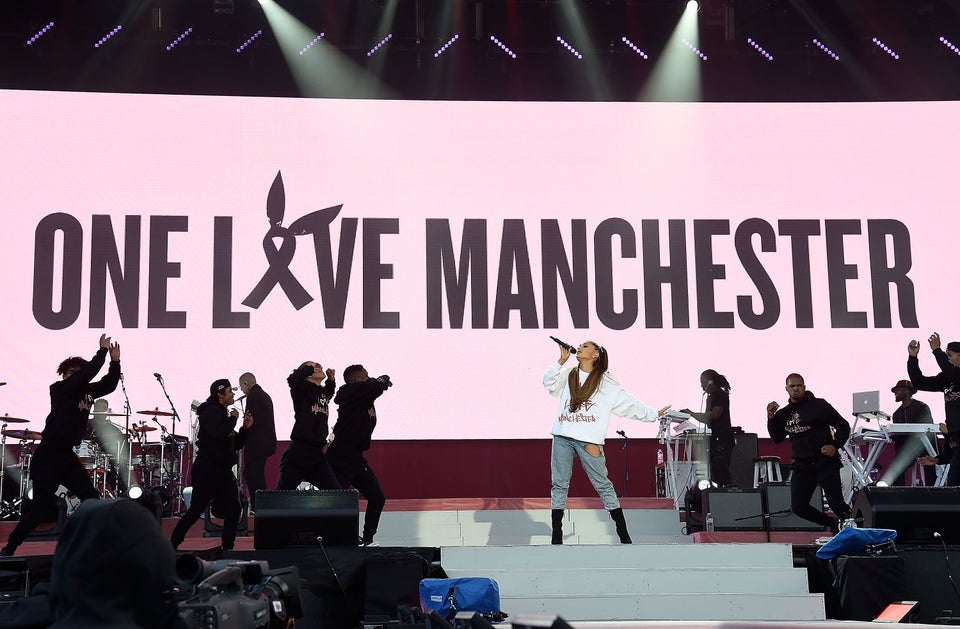 One Love Manchester Benefit Concert