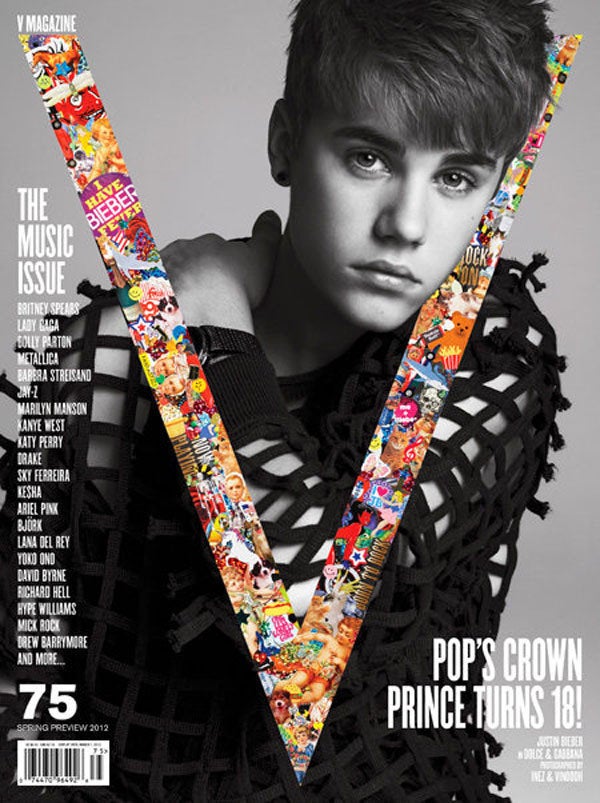 His teenage years have been filled with experiences that very few can call their own, but despite working in a grown up world, Bieber tells V magazine, he's in no rush to say goodbye to his childhood.
"People need to know I'm not a kids anymore, but at the end of the day, I'm not completely grown-up," he admits. "I'm still learning, I'm going to grow up how I grow up. I'm not going to try to conform to what people want me to be or go out there and start partying, have people see me with alcohol."
Maintaining the respect of both his young fans and their parents is the goal and Bieber has a role model he wants to fashion his career after.
"I want to be able to do what Michael [Jackson] did -- he always sang clean lyrics -- an it was always that little kids loved Michael and grandparents loved Michael," he explained. "I don't want to start singing about things like sex, drugs and swearing. I'm into love, and maybe I'll get more into make love when I'm older. But I want to be someone who is respected by everybody."
Bieber is startlingly aware of his age and his position in the music industry, explaining he doesn't want people to think of him as a teen sensation -- rather he wants to transition and "become the greatest." But how does a singer who appeals primarily to teenage and little girls plan to sustain his appeal and reach a wider audience?
Bieber believes it's all about making good music. "People hate me before they even listen to my music ... They just hate me because they hate the idea of me," he tells V. "I'm young, I'm handsome -- I don't mean to sound conceited -- but they think that I just got here because [of that], because I'm good-looking and girls like me."
Yes, the girls like him. They go crazy for him. Their love compels them to threaten his 19-year-old girlfriend, Selena Gomez. It's their fandom to an extent that boxes Bieber into the teenybopper status and makes it much harder to gain a male audience.
"I'm not worried about the guy fans because they're going to come," he boasts. "If they listen to the music and they like it, it doesn't matter if they go and act like they don't like me. They're going to go home and listen to it."
PHOTO GALLERY
Justin Bieber's Many Looks Through The Years
Calling all HuffPost superfans!
Sign up for membership to become a founding member and help shape HuffPost's next chapter
BEFORE YOU GO