[Updated at the bottom with UCLA noting that its athletic scholarships come from non-taxpayer funds.]
If that son plays football well, guess so.
Sean "P. Diddy" Combs' teenage boy Justin Combs is getting a full scholarship, worth a reported $54,000, to UCLA:
The U.K.'s Daily Mail reported the news over the holiday weekend and, of course, immediately noted that the son of a guy worth nearly half a billion dollars was getting a free ride.
The Mail:
Justin Combs, top right. (Photo: princejdc)
He is the richest man in hip-hop and last year his wealth was estimated by Forbes magazine to be $550 million.However, Sean 'Diddy' Combs won't have to trouble his fortune to pay for son Justin's higher education.
He sealed his fate with UCLA last week after graduating from high school in New Rochelle, New York, where the 18-year-old wrapped up with a 3.75 GPA. At 5 feet, 9 inches and 170 pounds he's small, but apparently effective.
That's possibly the car his father reportedly bought him for his 16th birthday.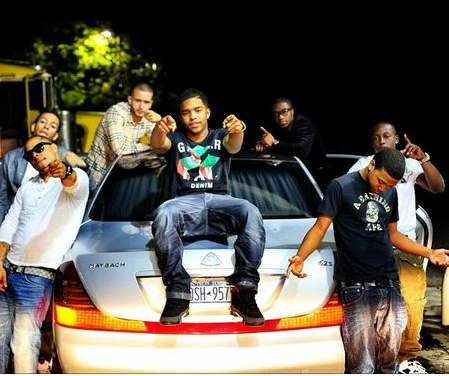 (Photo: @jdior)
It's a free ride that could pay for half dozen full-ride scholarships to UCLA.
UPDATE:[Added at 1:30 p.m.]: A UCLA spokesman wants you to know that the school does a lot for students who need financial help:
We certainly want to emphasize that 42% of UCLA undergraduates have their full tuition covered by need-based financial aid. Also, 41% of UCLA students receive a federal Pell Grant, among the highest percentages in the nation. In addition, one-third of all revenue generated by tution is dedicated to financial aid. These are clear indidations that UCLA is a leader in serving low-income students.
[Update at 4:09 p.m.]: UCLA spokesman Ricardo Vazquez adds that "UCLA enrolls more low-income Pell Grant recipients than the entire Ivy League combined" and says:
Unlike need-based scholarships, athletic scholarships are awarded to students strictly on the basis of their athletic and academic ability, and not on a student's financial need. Athletic scholarships - such as those awarded to football or basketball players - do not rely on state funds. Instead, these scholarships are entirely funded by Athletic Department ticket sales, corporate partnerships, media contracts and private donations from supporters.Each year, UCLA awards the equivalent of approximately 285 full athletic scholarships to outstanding student athletes. The scholarships are used by the Department of Intercollegiate Athletics to pay the students' tuition and fees as well as room and board. In this respect, UCLA is no different than the overwhelming majority of Division I institutions.
PHOTOS: WHERE THE STARS' KIDS GO TO COLLEGE
Popular in the Community