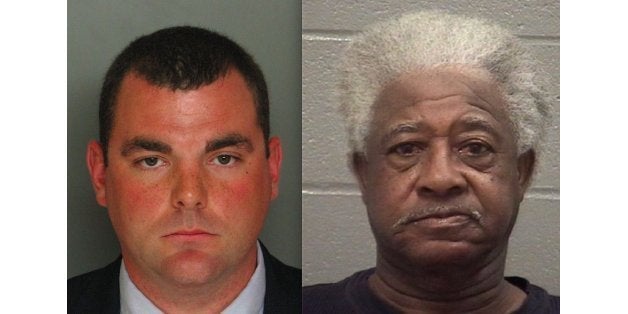 Craven was arrested in Edgefield County the same day Slager was charged with murder after Sunday's shooting in North Charleston, about 150 miles away. The cases share several characteristics: They both started as a traffic stop, they were both caught on camera, and both responding officers alleged in followup reports that the victims grabbed for the officer's weapon.
In Satterwhite's case, Craven said the unarmed victim "grabbed my gun" before he opened fire. A lawsuit filed by Satterwhite's family -- which recently ended in a $1 million settlement -- denied that there was ever a struggle over the gun, according to The Washington Post.
Craven admitted to firing his pistol into the car. He was initially indicted by a grand jury for a charge of "misconduct in office," a misdemeanor, instead of a manslaughter charge sought by prosecutors. That case is reportedly still pending, and Craven hasn't worked in law enforcement since.
With the new charge, Craven faces up to 10 years in prison and a fine of $1,000. His attorney told the Post that he plans to plead not guilty.
Police records show Satterwhite had been arrested more than a dozen times for traffic violations, most of them for driving under suspension or under the influence. Most of the charges led to convictions. He also was charged at least three times for failing to stop as officers tried to pull him over. But his record shows no evidence he ever physically fought with an officer.

Edgefield County deputies who joined in the chase reported that Craven ran up to Satterwhite's parked car and fired several shots into the driver's side door, telling the other officers that Satterwhite tried to grab his gun. The other officers couldn't get Satterwhite's door open, so they broke the passenger side window, unlocked that door and dragged him out.

Popular in the Community