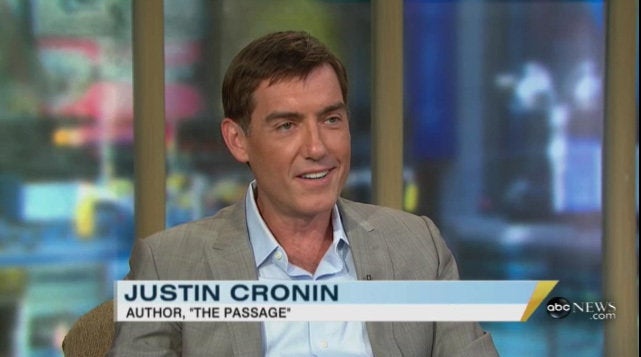 Literary fiction author Justin Cronin's new vampire book "The Passage" is shaping up to be the biggest book of the summer. Cronin didn't set out to ride the coattails of Stephenie Meyers's success, however, he explained on "Good Morning America" this morning. He said he had never read the "Twilight" books, and that they became popular just after he had started writing "The Passage," a book that his nine-year-old daughter convinced him to write while they were out jogging. He insists that, while the book is about vampires, that they are really the "vehicle," and that the book is actually "about the things I've always written about" -- "love, honor, courage, valor. . .the bonds between parents and children..."
Still, Cronin assured, the vampire story will never go away, because it asks an essential question: "What part of your humanity would you be trading away if you got to live forever? It's ultimately a fable to reassure us that it's better to be mortal."
Cronin got a surprise phone call from Stephen King during the interview -- a "voice from above," who said that he loved the book and "hope[s] it sells a million copies." "For a novelist," Cronin marveled, "I find myself absolutely speechless!"
You can read an excerpt from "The Passage" on the "Good Morning America" website.
Related
Popular in the Community